Photograph of the Royal Exchange, City of London, 1957
We are celebrating London History Day with a week-long look at the changing urban environment around Number 1 Poultry, the subject of our current exhibition 'Circling the Square'. Every day this week, members of our Young People's Forum will choose an image from our architectural collections and tell us the story of one building.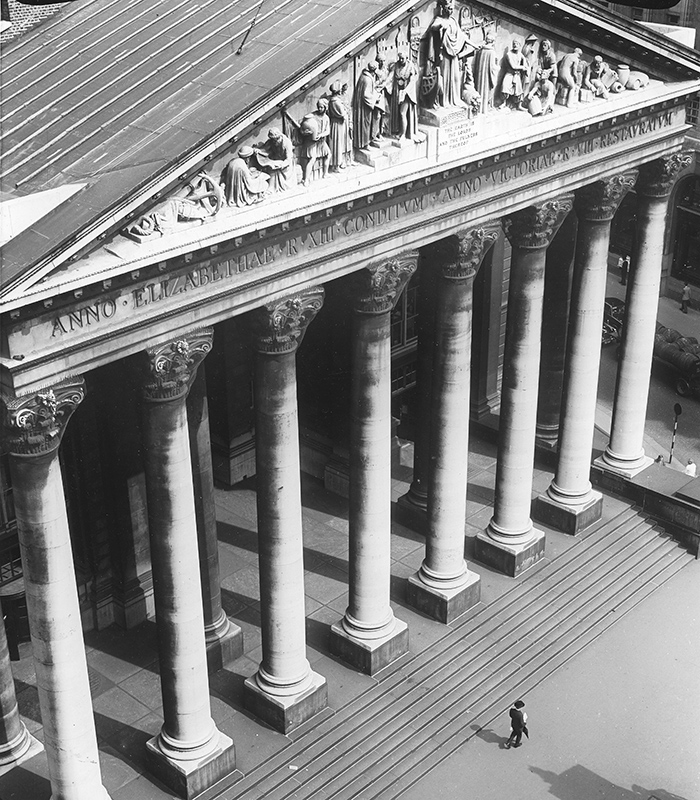 The iconic Royal Exchange has had a chequered history and served multiple functions: first as a trading post, briefly as a theatre and, currently, as a luxury shopping centre. Its columns reflect the importance of what the building was. It was founded in 1566 by Sir Thomas Gresham, establishing London's first purpose-built trading centre and was modelled on the Bourse (stock exchange) in Antwerp. The building burnt down in 1666 during the Great Fire of London and was later rebuilt, although this replacement burnt down again in 1838! In 1844, a new building was designed in a Neo-Classical fashion by Sir William Tite. Since then there has been no such ill of fate, and it serves as a monument to Britain's commerce.

Image: Photograph of the Corinthian portico, Royal Exchange, City of London, England; image from RIBApix (number RIBA5299)
Architect: Sir William Tite (1798-1873)
Photographer: Edwin Smith (1912-1971)
Credit: Edwin Smith / RIBA Collections
Article by James Skinner, 17 years old, Radley College, Oxfordshire
29 May 2017
Discover more
This is just one of over four million items in our world-class architectural collections at the RIBA Library – it's open to everyone and access is free. Visit the library to explore our collections of books, periodicals, drawings, photographs and models:
Book
Saunders, A. ed., 1997.
'The Royal Exchange'
London: London Topographical Society
Shelved at: 725.25(42.12) // ROY [REFERENCE]
Photograph
One albumen photoprint of the Royal Exchange, London, photographed by Horatio Nelson King, ca. 1872.
Record control no. P239409; Call/Ref. no. A211/25
Photographs
27 photoprints of London exchanges and trading centres, photographed by Edwin Smith.
Record control no. P010396; Call/Ref. no. ESP/LON/269-ESP/LON/295