Print of Mansion House, City of London, 1809
We are celebrating London History Day with a week-long look at the changing urban environment around Number 1 Poultry, the subject of our current exhibition 'Circling the Square'. Every day this week, members of our Young People's Forum will choose an image from our architectural collections and tell us the story of one building.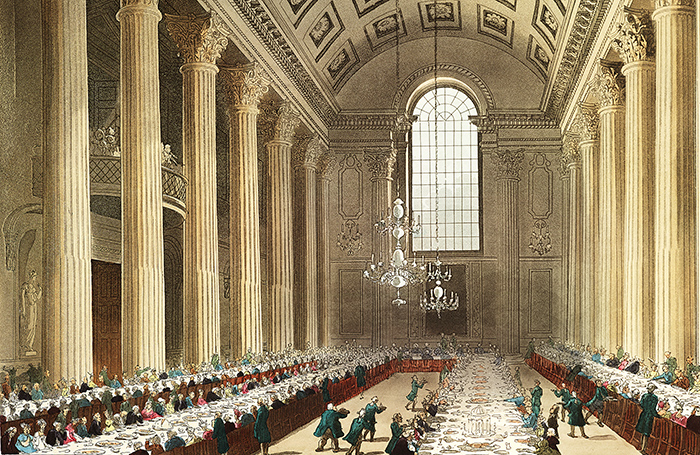 George Dance the Elder's grandiose Mansion House stands by Bank underground station, with thousands of people passing it on a daily basis. Its interior architecture whispers tales of London's history which would hardly be fathomable today (unless you're personally invited by the Lord Mayor). Judging by the awe-inspiring interiors and exteriors, it is hardly a surprise that Mansion House is a rather secretive and elusive place, housing incredible European historical paintings and the occasional fleeting tourist group. With such a rich and intriguing history (and no doubt future), Mansion House is a wonderful part of London's landscape.
Image: Print of the Egyptian Hall, Mansion House, City of London, England, 1809; image from RIBApix (number RIBA15470)
Architect: George Dance the Elder (1695-1768)
Artists: Augustus Charles Pugin (c. 1769-1832) and Thomas Rowlandson (1756-1827)
Credit: RIBA Collections
Article by Issey Scott, 22 years old
2 June 2017
Discover more
This is just one of over four million items in our world-class architectural collections at the RIBA Library – it's open to everyone and access is free. Visit the library to explore our collections of books, periodicals, drawings, photographs and models:
Architectural fragment
Fragment of carved timber cornice from Mansion House, City of London, London, ca. 1752Call/Ref. no. ODS/DANC/1 [located at the V&A]
Journal article
Worsley, G., 1993.
Mansion House, London
'Country Life'. Vol. 187, no. 44, 4 November 1993, pp.78-81.
Photographs
Views of notable buildings in London, photographed by Edwin Smith, including of Mansion House, City of London.
Record control no. P010270 (Call/Ref. no. ESP/LON/213-ESP/LON/257)