Print of the Mappin & Webb Building, City of London, 1871
We are celebrating London History Day with a week-long look at the changing urban environment around Number 1 Poultry, the subject of our current exhibition 'Circling the Square'. Every day this week, members of our Young People's Forum will choose an image from our architectural collections and tell us the story of one building.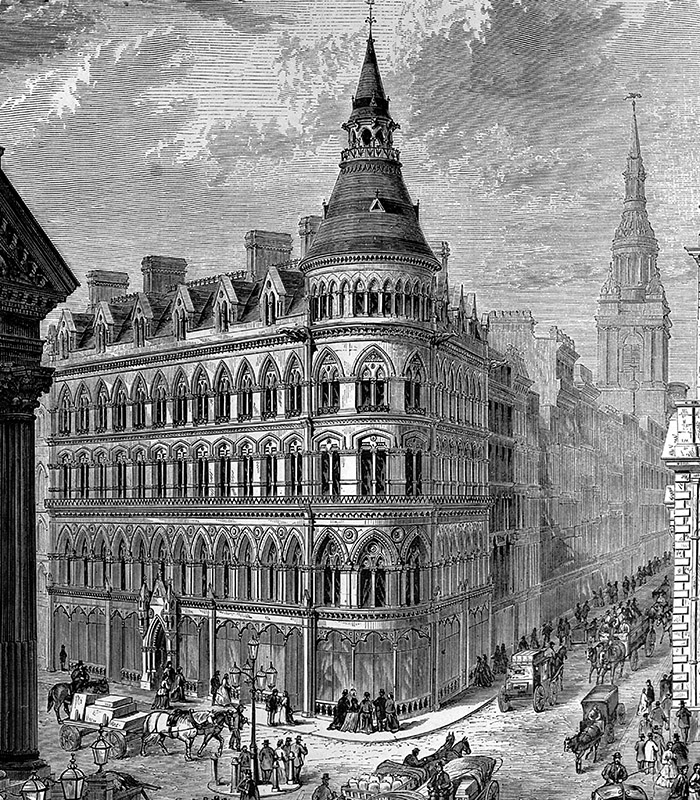 This triangular, slightly peculiar building, with a small clock face positioned discretely above its ornamental arched windows, once sat in the midst of the busy junction of Poultry and Queen Victoria Street. Designed by John Belcher, and completed in 1870, this Neo-Gothic-style building was home to a branch of jewellery company Mappin & Webb. From the outside its use was not very clear, but its Neo-Gothic features and location gave the building prominence in central London – before its demolition to make way for Number 1 Poultry.

Image: Print of the Mansion House Buildings (latter known as the Mappin & Webb Building), Queen Victoria Street and Poultry, City of London, England; image from RIBApix (number RIBA16730)
Architect: John Belcher (1841-1913), J. & J. Belcher
Artist: Benjamin Sly
Credit: RIBA Collections
Article by Ibilola Femiola, 23 years old, part 1 architectural assistant
31 May 2017
Discover more
This is just one of over four million items in our world-class architectural collections at the RIBA Library – it's open to everyone and access is free. Visit the library to explore our collections of books, periodicals, drawings, photographs and models:
Book
SAVE Britain's Heritage, 1982.
'The Mansion House Square scheme: stop it'
London: SAVE Britain's Heritage
Shelved at 711.722.4(42.12) // SAV [Box]
Journal article
Builder. Vol. 29, 1871 July 1, p. 607