22 November 2022
In 2021, RIBA attended the Conference of the Parties (COP26) for the first time. We used it as an opportunity to extend our influence and demonstrate the key role architects and the wider built environment sector must play in tackling the global climate emergency. 
Now, as an admitted observer organisation to the United Nations Framework Convention on Climate Change (UNFCCC), we are delighted that our leading sustainability experts - Duncan Baker-Brown and Smith Mordak, attended COP27 in Sharm El-Sheikh, Egypt.
We took part in meetings, panel events, and round table discussions – demonstrating how the sector is collaborating to drive change, calling on governments to deliver on the ambitious targets made at COP27, with detailed action plans. 
RIBA's Head of Policy and Public Affairs Phoebe MacDonald reflects on the outcomes of COP27, which ran from 6 to 18 November 2022 in Sharm El-Sheikh, Egypt.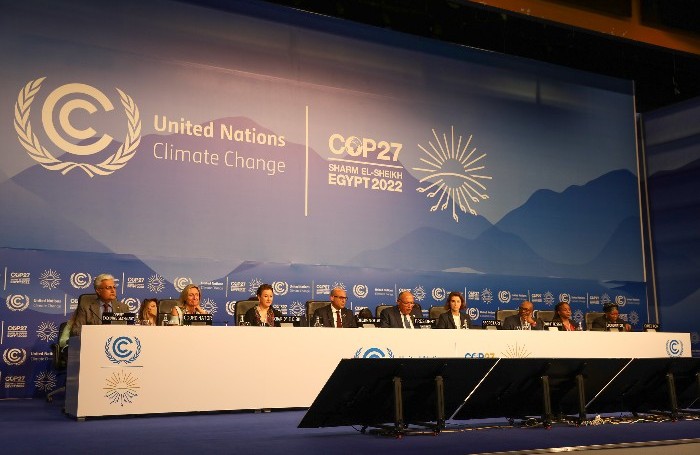 Events 
As part of Cityscape Egypt 2022, RIBA hosted a series of Powered by RIBA talks, a panel discussion focussing on the link between sustainability and design. Hear more about the speakers and what they discussed with the panel and audience.
Tuesday 15 November, 10.30am to 12pm (EET) 
Decarbonising the buildings system – how do we move from target setting to collective impact in decarbonising the buildings value-chain?  
RIBA sustainability expert member, Smith Mordak joins Jamie Rusby, Sustainability Director, VELUX; Richard Rugg, Managing Director of Programmes and Innovation, Carbon Trust; and Bex Porter, Built Environment Lead, UN Climate Champions, and others to discuss decarbonising buildings across the value chain. Hosted by VELUX, this roundtable event will take place in the Buildings Pavilion. 
Tuesday 15 November, 2pm to 4pm (EET) 
Local solutions – are they the key to realising nationally determined contributions? 
This event will look at the role cities can play in bringing people together to find solutions to societal issues. As hubs of creativity and innovation, they provide the seeds for change through cross-sector initiatives. RIBA sustainability expert member Duncan Baker-Brown will be joining the session to discuss how urban solutions can be scaled up and drive a just transition to net zero. Hosted by KPMG, this event will take place in the Innovation Zone at the Climate Challenge Lab. 
Wednesday 16 November, 10.30am to 11.30am (EET) 
Mobilising ambition loops to decarbonise the built environment  
Co-chair of RIBA's Climate Task & Finish Group, Duncan Baker-Brown will join the World Green Building Council, Parliamentarians, and VELUX in this panel discussion about how collaborative action across the sector is needed to decarbonise the built environment. It will explore the type of ambition loops needed between businesses and governments to create a thriving and resilient buildings sector poised for a net zero economy. Hosted by VELUX, this event will take place at the Buildings Pavilion. 
Wednesday 16 November, 3.15pm to 3.50pm (EET)
2030 is today: How we can act now to halve built environment emissions by 2030
RIBA's sustainability expert member Smith Mordak will join the World Business Council for Sustainable Development, and the World Green Building Council on this panel discussing terminologies, demonstrating actions beyond ambitions, and showcasing implementable solutions to reducing whole life carbon emissions through a reduction of operational and embodied carbon use. This event will take place at the Buildings Pavilion.
Thursday 17 November, 12pm to 1.30pm (EET) 
How to implement the ambitions for decarbonising the built environment in long term climate action plans
Co-chair of RIBA's Climate Task & Finish Group, Duncan Baker-Brown will join other leaders in the built environment sector to discuss how the ambitions to reduce energy demand in buildings and decarbonise the construction sector by 40% by 2030 can be implemented. The roundtable will be looking at how we can set an action oriented agenda for the built environment ahead of COP28 in UAE. Hosted by VELUX, this event will take place at the Buildings Pavilion.
Thursday 17 November, 12.30pm to 2pm (EET)
Implementation Lab: Achieving the built environment 2030 breakthrough
RIBA's Smith Mordak will join a roundtable of sustainability experts chaired by Victoria Burrows of World Green Building Council to discuss existing action based projects that signal change across the built environment, as well as the need to transform the policies that affect planning systems in order to achieve 'The 2030 Breakthrough'. Hosted by the Marrakech Partnership for Global Climate Action, this event will take place at Action Room 2, Lotus.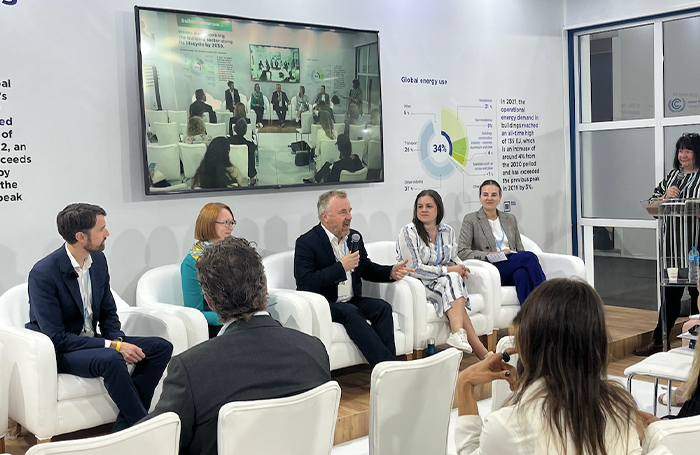 Updates from RIBA Head of Policy & Public Affairs, Phoebe MacDonald 
Monday 7 November 
We are back! With a year passed since world leaders gathered in Glasgow, they have now made their way to Sharm El-Sheik in Egypt for COP27.  
The opening session of the conference, the World Leaders Summit, saw speeches from global heads of state and key climate change bodies. The United Nations (UN) secretary general, António Guterres, announced that we are on the "highway to climate hell". 
UK Prime Minister Rishi Sunak said that government spending to tackle climate change is right for not only the environment but for moral and economic reasons too. He announced a commitment to triple funding for climate adaptation from £500m in 2019 to £1.5bn in 2025. Adaptation funding is important. We know that the climate has already changed, and further change is inevitable, even if we limit carbon emissions further – meaning we must adapt to the changing climate.  
Former UK Prime Minister, Boris Johnson, told a New York Times fringe event that "this is not the moment to go weak on net zero, this is the time to double down". He said that we were failing on our commitments made in Glasgow and at the current rate we would not meet our climate targets.  
Tuesday 8 November  
How will we pay for climate change? This was the question everyone was asking on day two – and a likely theme across the two weeks of the conference.  
A new report, commissioned by the UK and Egypt, highlighted that £1.75 trillion will be needed each year by 2030 to help developing countries, except China, cut their greenhouse gas emissions and cope with the effects of climate breakdown. This money will be necessary to move away from fossil fuels, invest in renewables and low carbon technologies, and adapt to the changing climate. It will also be needed for loss and damage – which refers to the money needed to cover the economic, cultural, and social effects of climate change that have already happened. This year, loss and damage are on the COP agenda for the first time.  
Tuvalu, the small Pacific Island nation which is vulnerable to sea level rises caused by global warming, has called for an international fossil fuel non-proliferation treaty to manage a just transition away from fossil fuels – essentially phasing out the use of coal, oil, and gas. For the first time at COP26, countries vowed to "phase down" the use of coal; however, oil and gas were not mentioned. We will be following this closely.  
Wednesday 9 November 
With opening statements from world leaders done and dusted – it's time to get down to business, with negotiations moving behind closed doors.  
Positively, some symbolic moves on climate finance have taken place. UK Export Finance, the UK's export credit agency which loans money to overseas buyers of British goods and services, will become the first agency to include "climate resilient debt clauses" in its lending. This means if a country is hit by a climate disaster, debt payments would be put on hold for two years – freeing up money to deal with the emergency at hand. In addition, Austria and New Zealand both put forward funding for loss and damage.  
The Global Alliance for Buildings and Construction (GlobalABC) has also released their flagship report - 2022 Global Status Report for Buildings and Construction. The report provides an annual snapshot of progress of buildings and the wider construction sector to establish whether the sector is aligned with the Paris Agreement goals.  
This year's report highlights that the built environment sector's energy consumption and carbon emissions have rebounded from the COVID-19 pandemic to an all-time high. In 2021, the sector accounted for around 37% of energy- and process-related carbon dioxide emissions and over 34% of energy demand globally. Operational energy-related carbon emissions reached an all-time high, an increase that exceeds the 2020 level by around 5% and the pre-pandemic peak of 2019 by 2%. 
These concerning figures show that we still have a long way to go to decarbonise the built environment. We will continue to work with government to ensure they are setting ambitious regulations for operational energy and embodied carbon, embedding sustainability within planning systems, reforming public procurement, and enabling infrastructure.  
However, we cannot tackle global climate and biodiversity emergencies without changing the way we design and construct buildings. Are you a RIBA Chartered Practice? Sign up to our 2030 Climate Challenge to place your projects on the trajectory to net zero. 
Thursday 10 November
Science day at COP27 highlighted research from the Rainforest Foundation UK and Earth Insight that revealed a third of the dense tropical forests in the Congo basin could face complete destruction as a direct result of continual oil and gas extraction. Proposals for more extraction projects are already underway and if successful, could result in the expansion of production fields to occupy almost 38% of the continent, severely compromising existing global climate action.
Friday 11 November
It appears the 'highway to climate hell' is ringing true, as the 17th edition of the major report The Global Carbon Brief ended the first week of COP27 on low spirits, highlighting that global emissions remain at a record high with no evidence that they are slowing.
If emissions remain at their current levels, the research shows that there is a 50% chance that global temperatures will not only continue to rise but will hit 1.5 degrees in under a decade, exposing up to half the world's population to fatal heat. The timing of the report is not surprising - the official topic of the day? You guessed it: decarbonisation. 
 Discussions around the fossil fuel non-proliferation treaty again took centre stage. Chair of the initiative, Tzeporah Berman remarked that in years prior, whilst emissions reductions targets were made, the expansion of the fossil fuel industry only continued to gain momentum – saying "without a treaty, we will be unable to bend the curve on emissions".  
The Global Registry of Fossil Fuels is currently in development to deliver open access and publicly available standardised information on fossil fuel reserves, available to member states, enabling the full transparency needed for negotiations on cuts to proceed. 
Saturday 12 November

Saturday tends to have a light agenda at COP however loss and damage was back on the agenda today. What this means practically and how it will be financed is still unclear. John Kerry, US climate envoy, said that the United States was "totally supportive" to address loss and damage and "100% ready" to discuss the issue in detail. As we head into the second week at COP, consensus and decisions on these issues are vital.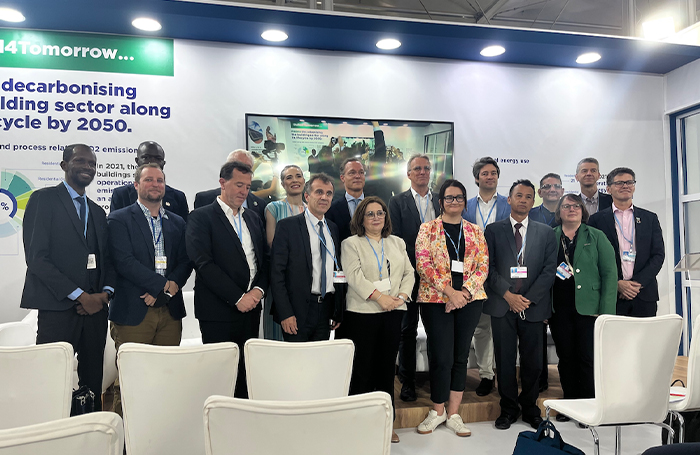 Monday 14 November

The RIBA delegation has landed in Sharm El-Sheik and we are looking forward to getting stuck into panels, debates and roundtables tomorrow.

In the Blue Zone, the second half of the conference has kicked off. Most global leaders have gone home and negotiators are now working on the nitty gritty of a text that will become the final agreement of COP27.
However, there are some concerns. Alok Sharma MP, the UK's COP26 President, has warned that the possibility of limiting global heating to no more than 1.5 degrees C is at risk - he said "we'll either leave Egypt having kept 1.5C alive, or this will be the COP where we lose 1.5C."

Without mitigating the effects of climate change, addressing adaptation and reducing loss and damage will be even more difficult - two hot topics for this year's conference.
Some promising news on the deforestation front; ministers from the three countries home to over half the world's tropical rainforests - Brazil, Indonesia, and the Democratic Republic of Congo have signed the Rainforest Protection pact, pledging to cooperate on the conservation and restoration of their respective ecosystems. Whilst the pact does not currently have any financial backing, it signals a breakthrough for the protection of native vegetation, critical to tackling climate change.
Tuesday 15 November
Today's focus was energy – how can we move away from relying on fossil fuels and move to renewable sources? We attended an event at the UK Pavilion on how we can consign coal to history – with climate leaders from countries including New Zealand and Grenada discussing how we can put this pledge into action.
It was a busy day for RIBA, with sustainability expert Smith Mordak joining a roundtable with VELUX, Arup, and the Carbon Trust to discuss how regulation and policy can progress decarbonisation in the built environment and the role of the value chain. Smith and I also joined a roundtable with US Green Building Council, the American Institute of Architects, and team members of US Senate Majority Leader, Senator Charles E. Schumer, to discuss retrofitting and technology policy.
Over in the climate innovation zone, sustainability expert, Duncan Baker-Brown joined a session on how we can use local solutions to reduce global emissions. The key role that architects play in reaching net zero and the importance of reducing whole life carbon were discussed.
Wednesday 16 November
With only a few days to go until everyone leaves Egypt, the news that some countries are trying to backslide on their climate commitments, with draft texts showing some attempts to water down promises, is cause for concern. We know we must make strides forward not take two steps back if we are to keep 1.5C alive.

Today's focus was on biodiversity - and I attended an event at the UK Pavilion, in the Blue Zone, where the Secretary of State for the Department of Environment, Food, and Rural Affairs (DEFRA) Thérèse Coffey called for renewed global action on nature. The UK government is asking countries to come together and agree on a robust global plan for tackling nature loss at UN Convention on Biological Diversity, taking place in Montréal next month. The UK government also committed £30 million of seed finance into the Big Nature Impact Fund – a new public-private fund for nature in the UK which aims to unlock private investment into nature projects.

It was another busy day for the RIBA with Council Member, Duncan Baker-Brown joining a roundtable to discuss the role of ambition loops in getting our building stock to zero carbon. Duncan highlighted the RIBA 2030 Climate Challenge and the importance of Post Occupancy Evaluation. Sustainability expert, Smith Mordak, joined a jam-packed event to discuss the role of data in the built environment sector. Smith highlighted that we should collaborate and share data, through tools and projects such as the Built Environment Carbon Database and the UK Net Zero Building Standard.
Catch up on the sessions on Vimeo.

Tomorrow is the final day and focuses on solutions - including the role that green buildings will play in not only reaching net zero but providing safe, healthy buildings for all.
Thursday 17 November
The focus on Thursday was solutions - including how the built environment can help to reach net zero. A busy day for RIBA, we started off in the Buildings Pavilion, where climate ministers from across the world gathered to announce the new Buildings Breakthrough. The Buildings Breakthrough states that "near-zero emission and resilient buildings are the new normal by 2030" and serves as a joint vision and a rallying point for all countries. UK Climate Minister, Graham Stuart spoke at the event, acknowledging that buildings are an enormous source of emissions and the importance of harnessing the full power of collective action.
RIBA sustainability expert, Smith Mordak, then headed over to an event, organised by the World Green Building Council and C40 Cities, on how the built environment needs to transform and scale up action to achieve the Buildings Breakthrough. The role of public demand, private demand, finance and policy, and regulation were all discussed.
Meanwhile, our other sustainability expert, Duncan Baker-Brown joined a roundtable discussion hosted by VELUX on long term climate action plans. Joined by representatives from Sustainable Energy for ALL, the UN Environment Programme Copenhagen Climate Centre, and Arup, reflections on COP27 and what concrete actions need to be taken by COP28 were discussed.
Back in the UK, the Chancellor of the Exchequer, Jeremy Hunt, was delivering his autumn statement. The recommitment to the Glasgow Climate Pact which was agreed upon at COP26 was welcomed, as was the clear statement that we must improve the energy efficiency of our buildings. However, in his response, RIBA President, Simon Allford said: "the extra funding is welcome. But, to meet the scale of the challenge, and for people and our economy to benefit from the relief, it needs to be accelerated. Time is of the essence." Read the full response.
Friday 18 November
Here we are – at the final official day of COP27. Negotiations will likely go into the weekend, as is the norm.
It was welcome news that the EU announced they would agree to a loss and damage fund to help poor countries deal with climate disasters. As ever, the devil will be in the detail, and getting other big emitters on board will be key. But this signals progress.
However, we know we need to act further and faster. If architects scale and speed up the drive to net zero – using our 2030 Climate Challenge targets – we can dramatically reduce global carbon emissions.
Stay tuned for my final blog, where we'll be sharing a summary of the final COP27 agreement and what this means for our sector and the fight against the climate crisis.
Read more insights about COP27: