28 June 2018
The RIBA London Incubator is expanding and adding an extra ten desks from September, which the RIBA London team is seeking to fill with start-up practices looking to take advantage of affordable desk space in a supported co-working environment.
One of only a handful of incubator spaces for architects in London, the RIBA London Incubator benefits from the RIBA's tailored business mentoring programme, access to the London Region CPD offer as well as use of the Institute's Forum space for meetings.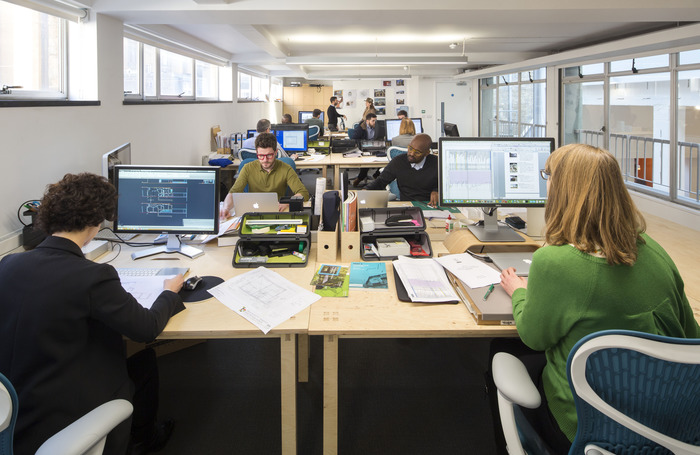 Located adjacent to the RIBA office and sharing a common meeting space and cafeteria, it also comes with a prestigious address that will not be lost on potential clients.
The current arrangement comprises 14 desks that are home to a diverse mix of nine start-ups. Any architect can apply for desk space, including those with qualifications gained in Europe, though if selected, practices are expected become RIBA Chartered Practices and RIBA Chartered Members before taking up the space.
Many of the Incubator's current residents point to the benefits of its networking and collaboration opportunities, which can help shape the profile of practice they are creating.
'I joined the Incubator almost a year ago, when launching my practice was on my wish‐list but not quite a plausible scenario. I'm still holding on to a day‐job in academia, which is challenging, but this is almost always the case in a start‐up situation,' says Eva Sopeoglou.
'The Incubator is firstly the "mind‐space" for me to consider and reflect on the kind of practice I'm interested to set up. On a practical level, the RIBA Incubator provides opportunities to access mentoring and RIBA resources, meet and network. Of course, it also adds prestige, but it is a great place to meet and collaborate with fellow incubatees!'
Eva has already collaborated with Alicia Cantabella of Cantabella Architecture & Design on a design competition. Alicia sees the network environment as particularly beneficial and expects there will be more collaborative jobs in the future:
'Working surrounded by architects with different backgrounds and experiences really helps me to understand what kind of company I would like to create, and it supports me with all kind of issues.'
'The networking opportunities expand out of the incubator itself to the whole RIBA organisation and the architects who come to attend various events.'
The hope, of course, is that practices will outgrow the business nursery of the incubator and move on. David Bellis of Bellis Architects says his practice is now on 'countdown' to finding its own space.
He credits the low costs and fixed rent for allowing him to take on a Part 2 assistant and to support him through Part 3, a process he is hoping to repeat.
'The location and address has enabled us to raise our profile and although only a small business, clients seem to take more notice. Training and mentoring opportunities have been excellent and have made me sit back and think more about business strategy, rather than just churning out work,' says Bellis.
Find more information on the application process, business support and mentoring, and desk space rent at RIBA Incubator.
Thanks to Eva Sopéoglou, Alicia Cantabella, David Bellis.
Text by Neal Morris. This is a Professional Feature edited by the RIBA Practice team. Send us your feedback and ideas
RIBA Core Curriculum Topic: Business, clients and services.
As part of the flexible RIBA CPD programme, Professional Features count as microlearning. See further information on the updated RIBA CPD Core Curriculum and on fulfilling your CPD requirements as an RIBA Chartered Member.
Posted on 28 June 2018.