RIBA Student mentoring programme, Mentors' experiences in the East Midlands
13 April 2018
On a very cold February morning, John Morgan, director at Leonard Design Architects, took a group of nine Year 3 Architecture students from The University of Nottingham and Nottingham Trent University on a visit to see one of the practice's projects close to the new Broadmarsh bus station development, which they also designed. Course leaders from both Architecture Schools as well as East Midlands Regional Director, Mike Baulcombe also attended.
The visit was part of the RIBA's Student Mentoring Scheme, during which, students experience a brief introduction to life in practice, an opportunity that they otherwise wouldn't have at this stage in their career. It also helps students to better understand their strengths, weaknesses and helps start to narrow down where they see themselves in three to five years' time.
The 2017/18 programme was launched last September for the current academic year, resulting in places for 104 architecture students at the four RIBA validated Schools of Architecture in the region: The University of Lincoln, Leicester School of Architecture, De Montfort University, Nottingham Trent University and The University of Nottingham.
David Short, Associate Professor at the University of Nottingham, commented: 'This is a unique opportunity for the students and one that they've grasped with both hands.'

Ria Lohse, a mentor from Franklin Ellis Architects, added: 'Mentoring students for the last three years has been extremely rewarding and I want to continue to inspire the next generation of architects as I know I would have valued the guidance of a mentor when I was studying. I think the RIBA mentoring scheme is a fantastic initiative and I would encourage more architects to get involved.'
Pictured is mentor Noel Barrowclough from Studio-G Associates in Collingham and his mentees from The University of Lincoln. Noel has been supporting the scheme since 2014 and always happy to receive new students each autumn.
Safwan Sheikh, architecture student at Leicester School of Architecture, De Montfort University, found the scheme very useful:
'I would like to thank RIBA East Midlands for helping provide this opportunity and for your assistance during this scheme. It was a very informative opportunity giving me the chance to learn about the industry and to prepare myself better for my plans next year in placement.
'Our mentor, Keshiv Sudera, Director at Design Studio Architects in Leicester, was very helpful and explained things to us very clearly as well as giving us the chance for questions and further enhancing our learning.'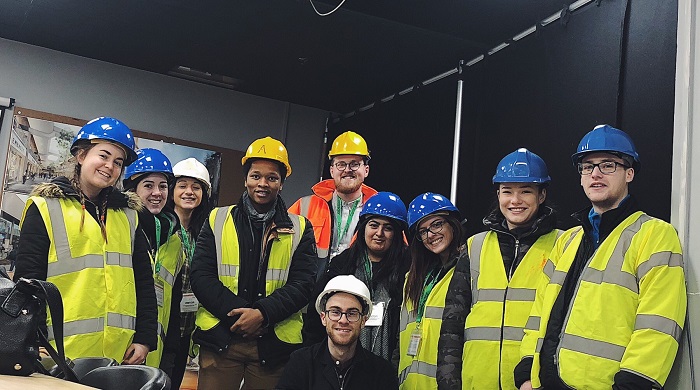 RIBA Student Mentoring is a benefit of RIBA Student Membership available to Part 1, Year 3 students at Schools of Architecture in the East Midlands offering RIBA Validated courses. Please see our Student Mentoring page for further information. If you would like to join the scheme as either a mentor or student mentee for next September, please contact cecilia.godoy@riba.org