10 September 2020
The coronavirus pandemic has severely challenged the resilience of practices over the last six months. Useful Studio is a practice that has weathered the storm well. None of its staff have been made redundant, none have taken pay cuts and repeat business continues to be a practice mainstay. Catherine Ramsden, its Director, credits much of the practice's strength to its alternative staff structure: an Employee Benefit Trust (EBT).
The small team at Useful Studio has several sister companies within the Useful Simple Trust. This umbrella is constituted as an EBT, rather than as the more common Employee Ownership Trust (EOT), the ownership model that has grown in popularity among practice owners.
Ramsden cites the main advantage of an EBT to both general staff and practice directors as being one of empowerment.
"There is a sense of a collective control of the practice's destiny, as we have no shareholders or owners," she enthuses. "We can measure our impact and set our own goals. This means a higher personal satisfaction and reward through our work and research. I believe we have a high commitment and energy level across our staff, and this is evidenced by our very low staff turnover."
Technically an EOT is a particular type of EBT, a corporate structure that has occasioned some notoriety over the years for its potential to avoid tax payments via loopholes, before a major clampdown by HMRC.
That was clearly not the motive for Useful Simple Trust founders Chris Wise and Ed McCann. They were drawn to the EBT model as part of their succession planning (although they are both still working at the Trust), but they chose not to follow the EOT finance model, which usually guarantees a dividend to outgoing owners.
Instead, their EBT was set up as 'naked in, naked out': meaning that there was no buy-in investment imposed on staff or pay-outs for the outgoing founders. Part of the aim of becoming an EBT was to commit to a strong ethical and environmental purpose.
There are two standard terms set out at the top of the Trust's 'Employee Benefit Ethos' document, which sum up some of the key benefits and responsibilities that employees experience from this set-up:
"We will encourage the employees … to assume responsibility for maximising their contribution to the business … in their capacity as employees, having regard to future as well as present employees"
"We will ensure that employees receive information concerning the major policies and actions of the Trust"
Less formally, Wise and McCann state that the Trust recognises that their most valuable asset lay in the minds and skills of their staff, and they wanted a company structure that empowered them to the benefit of all. They also saw becoming an EBT as the best way of formalizing and guaranteeing a commitment to "the field of integrated, intelligent and ethical provision of the human environment".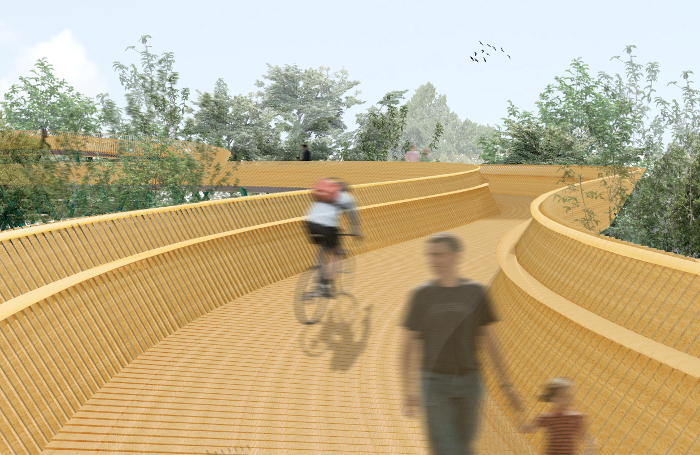 Useful Studio operates as a social enterprise accredited by Social Enterprise UK. Membership brings with it the requirement to dedicate 50% of profits to research and education, impart design skills to projects with social value, and strive for maximum social impact and minimal materials usage.
This raises interesting questions concerning profitability: it clearly has a different imperative to standard business models. Ramsden certainly does not downplay profit, considering it essential to run the practice as a thriving business.
"The notion is of business for good," she states, "but you must still make a profit."
Profits at Useful Studio are distributed to staff as bonuses, across the board, from top to bottom. The 50 percent of profits that remain are used for pro-bono design work and not for profit research.
There are distinct goodwill and reputational gains to be had from being associated with such research, and the trust has set up a 'useful giving group' that decides how this 50 percent should be spent.
Recent research at Useful Studio has included minimising the use of materials in design, and work on recycling for the circular economy. The value of such research to the practice is demonstrated by the fact that, working alongside sister company Useful Projects, the practice has been appointed by the Greater London Authority to develop guidance on circular economy statements.
Ramsden credits the practice's visible commitment to researching such ideas and to social value that attracts sympathetic clients and staff to the practice.
There is also a strengthening tailwind of client support for social enterprises. Ramsden points out that supporters of SEUK's Buy Social Corporate Challenge, which include big construction names such as Wates, Willmott Dixon, Lendlease and Mace, are aiming to collectively spend £1 billion with social enterprises through their procurement.
Catherine Ramsden will be discussing the advantages of Useful Studio's Employee Benefit Trust model at the RIBA's livestreamed event Guerrilla Tactics 2020: Reinventing Practice. Tickets are now available.
Learn further insights from this year's Guerrilla Tactics speakers: Forward to the stone age and Make a new project happen with a visionary idea.
Thanks to Catherine Ramsden, Director, Useful Studio.
Text by Neal Morris. This is a Professional Feature edited by the RIBA Practice team. Send us your feedback and ideas.
RIBA Core Curriculum: Architecture for social purpose.
As part of the flexible RIBA CPD programme, Professional Features count as microlearning. See further information on the updated RIBA CPD Core Curriculum and on fulfilling your CPD requirements as an RIBA Chartered Member.
Posted on 10 September 2020.