25 February 2020
Undeterred by the controversy that followed their RIBA Award winning 15 Clerkenwell Close, architect Amin Taha and engineer Steve Webb have since gone on to collaborate on another stone building - this time, a block of flats on Finchley Road in North West London.
At ten storeys high, it lays claim to being the "first ten storey, load-bearing self-finished stone structure without the need for stainless steel reinforcing threads or secondary structure, since the last stone cathedrals were erected".
Not only did Camden's planners support the reintroduction of stone in a conservation area, they also allowed the client to double the building's floor area. This was on the condition that they retain the architect to complete a load-bearing stone structure.
With construction expected to conclude in early 2021, Taha and Webb argue that architects should embrace building with stone as one credible low carbon option.
While minimising operational energy consumption remains a key challenge for the industry, the elephant in the room is embodied carbon, particularly of steel and concrete. Webb makes clear that this goes for recycled steel or low carbon concrete made from blast furnace slag as well, which remain by-products of highly energy-consuming processes, and do little to reduce overall demand in the market.
Whereas timber is carbon neutral or even carbon negative, stone comes in at between 5% to 40% of the carbon footprint of concrete and steel, depending on the level of energy spent on adding finishes and on transportation. Quarry finished stone, as at Clerkenwell Close, can achieve a 95% carbon saving. In absence of a UK supplier at the time, transportation from France reduced total carbon savings to a still impressive 92%.
With CLT wall structure now effectively banned in residential buildings over 18 metres to meet new fire safety regulations, could stone be the nearest carbon-friendly alternative?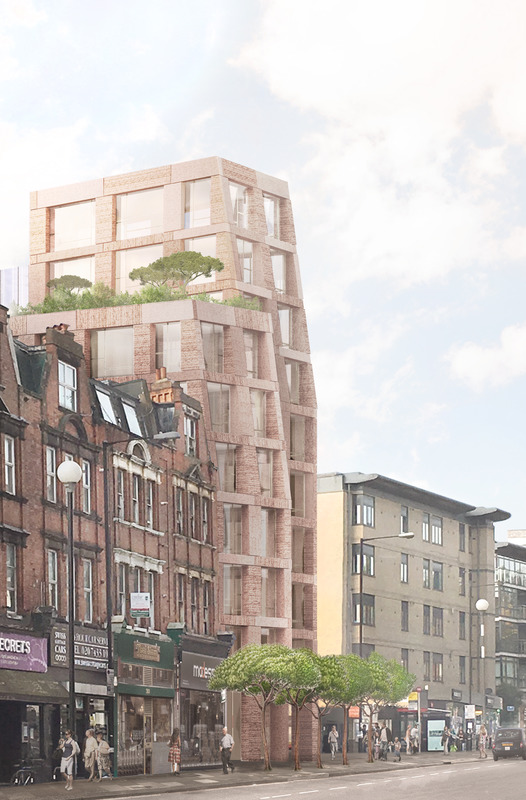 Fire safety can be a concern for stone buildings, mainly due to a lack of performance data available. As with timber, Webb insists the conclusion should not be to limit its use, but rather to develop solutions for identified problems, and to gather more performance data as he and Taha have done on their projects.
The pair ran fire safety tests for Finchley Road with the BRE, at a negligible cost compared to project volume, yet admittedly "a hassle, a risk, an unknown". As a result, basalt was chosen over limestone for its greater fire resistance. Volcanic in origin, it withstands high temperatures without spalling.
Nevertheless, temperature increases need to be allowed to occur evenly to avoid asymmetric expansion, Taha explains. He points to geologically active regions like Italy or Iceland as the best sources of volcanic rock, where it may be mined as young as a year old.
As a global industry with both local and international suppliers, it is vital knowing stone's origin to help reduce the risk of exposure to unethical practices in the supply chain. These are a concern in major stone producing countries like India. A number of certified schemes have emerged in recent years to support responsible procurement, among them Fair Stone or the Ethical Stone Register.
Stone outperforms concrete not only on carbon metrics. At 150, its average compression strength exceeds that of concrete several times over. This means better tensile strength and potential for slimmer load-bearing structures. Generally, construction should be no more challenging than working with precast concrete, Webb confirms.
The biggest hurdle to more widespread use in the UK appears therefore to be cultural rather than practical – the perceived risk of working with an 'untested' material leads many in the industry to shy away from it.
Collaborating with a specialist sub-contractor will do much to overcome such resistance. Taha recommends discussing even the earliest idea with leading firms such as The Stonemasonry Company or Ateliers Romeo to understand how far a budget will go. Their structural engineers can develop a pre-engineered and cost-demonstrated concept to help get the QS and project engineer on side. As the design is being developed, the stonemason will fix a price and programme for the client and design team.
When weighing up construction costs, the price of the material should not be considered in isolation. Building with stone simplifies construction and reduces the number of trades on site as plasterboard, studs and cladding become redundant.
Where stone is used as superstructure and finish, significant savings of up to 50% can be achieved without the need for complex detailing of thermal isolation, fire and water proofing, typically required in concrete or steel frames.
That describes the best case scenario, but Taha cautions that a risk premium should be added until more contractors have gained relevant experience. For now, the potential for cost savings may even deter some from tendering while more profitable conventional work is on offer.
While it may be unlikely to replace steel and concrete at scale, stone should firmly be part of architects' low carbon toolbox. As Webb and Taha would argue, not only for its environmental benefits but because it produces better architecture. It is hard to disagree with Taha's reasoning: "Why use more material, time, cost and CO2 when you can do the same for less?"
And what are the limits to building with stone? For now, there is a long way to go before hitting the heights of Europe's medieval stone cathedrals again: approximately another 30 storeys on top of Finchley Road to match Cologne Cathedral. There is room for expansion.
Amin Taha will be speaking further about building with stone on Friday 13 November 2020 at RIBA's online Guerrilla Tactics conference. Tickets are now available.
Learn more insights from other speakers at the conference by reading Is design work moving to the countryside? and Five smart project management boosts.
With thanks to Amin Taha, Chairman, Groupwork; and Steve Webb, Director, Webb Yates Engineers.
Text by Gesine Kippenberg. This is a Professional Feature edited by the RIBA Practice team. Send us your feedback and ideas.
Ethical Sourcing: A guide for designers and specifiers provides an overview of the various certification and accreditation schemes in the market related to supply chains.
For more information on embodied and whole life carbon, see the RIBA Sustainable Outcomes Guide.
Take the RIBA 2030 Climate Challenge.
RIBA Core Curriculum Topic: Business, clients and services.
As part of the flexible RIBA CPD programme, Professional Features count as microlearning. See further information on the updated RIBA CPD Core Curriculum and on fulfilling your CPD requirements as an RIBA Chartered Member.