30 October 2019
When you used RIBA's Find An Architect service, you were matched with a number of architects who are RIBA Chartered Practices - highly qualified, regulated, and quality-assured home design professionals.
The design of your home is a significant consideration. It has the potential to be award winning.
Success takes time, money, and good teamwork. Most importantly, though, it takes an architect who 'gets' you and your vision for your home.
How do you decide who to work with?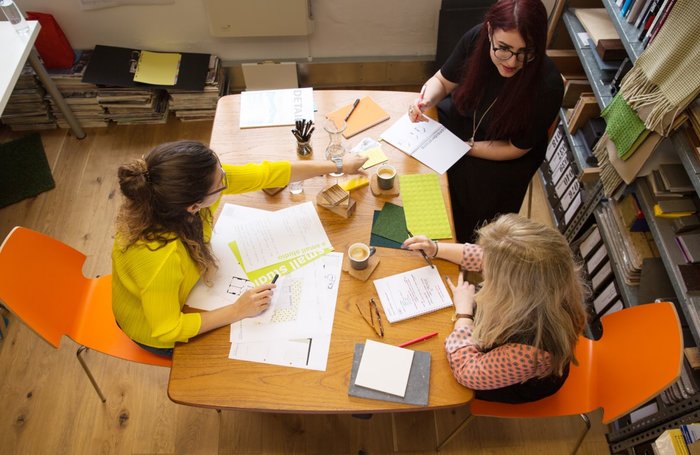 How do I know which architect to go with?
First, narrow your matches down to a manageable shortlist. Research them: read their profiles on Find an Architect, browse their websites, or Google them. Satisfy yourself that you like what you see.
Next, arrange to meet with them. Architects generally don't charge for an initial conversation, but it is polite to ask.
Expect your first meeting to be exploratory: a chance for them to assess whether they can help and for you to get to know them a little.
What should I ask?
Specifically, ask them to explain what they can do for you. Most recognise that it takes time to build trust and confidence and so offer varying levels of service.
Confirm that they have designed projects similar to yours.
Find out how familiar they are with your local authority planning department and how successful they are at securing planning consents in your area. Local authority planning officers get to know and trust architects by reputation, which will be a great help when it comes to securing permission to carry out work on your home.
Discuss their previous projects. Ask to see photographs and, if you are meeting in their studio, models. It might even be possible to visit an example of one of their completed projects.
However, respect their professional boundaries. For example, do not expect detailed design advice or too much of their time before agreeing a contract and fee.
How should I appoint an architect?
When you have made your choice and are ready to proceed, appoint them.
As professionals, architects will expect to formalise the appointment by agreeing a contract in writing. Contracts make good sense and are the basis of good working relationships.
We recommend that you use the standard Domestic Project Agreement. Published by the RIBA, this plain English contract is fair and tailored to situations where private domestic clients like you wish to agree an architect's scope of services and fee.
You can appoint your architects to do as little or as much as you like – see 'What are the project milestones?' below. However, we recommend that you commission them at least to design your scheme and prepare a set of drawings. Drawings are essential for securing planning permission and Building Regulations approval. Also, they will eventually enable you to get reliable prices from builders, which will help to avoid arguments later on.
How much will it cost?
Every project is unique and so it is impossible to generalise about the cost of architectural services.
Architects' fees generally reflect their qualifications, experience, and especially the time they invest in doing the work.
Provided they have enough information from you, they will be able to give you a ballpark figure, sometimes expressed as a percentage of the total contract value.
Some will offer fixed prices for small, discrete packages of services.
The common experience of clients is that the cost of using architects is more than compensated by the quality of the outcome.
What are the project milestones?
Architects' services are aligned to the RIBA's standard project stages. Discrete packages of architects' services often fit these stages.
Stage 0/1: Preparation and Brief
This is when the architect takes your brief and begins to interrogate it: a process that can add real value.
The architect will assess options, producing anything from sketched design solutions to full feasibility studies.
If you are extending, renovating or remodelling then they will also want to carry out a measured survey of your existing home.
They will identify the need for any approvals and other consultants, most commonly a structural engineer.
Stage 2: Concept Design
This is when your architect will develop outline design proposals based on the initial project brief.
An exciting time during any project, it is your first chance to see initial concepts: usually as sketches. They will show you everything you need to understand the architect's ideas, including the plan arrangements, layouts and external appearance.
The choices you make at this stage will form the basis of the design that you and your architect go on to develop together.
This is also when you finalise the design brief. It should reflect your functional, technical, aesthetic, and quality-of-life aspirations for the project.
Stage 3: Developed Design
If planning permission is needed, this is when the architect liaises with local planners for preliminary advice, which most local authorities charge for.
Your architect will then produce detailed drawings of your proposals, which, once you have signed them off, will be submitted for planning approval (if required).
Stage 4: Technical Design
The chief output from this stage is a 'Full Plans' Building Regulations application. This is a set of drawings, calculations, and specifications describing the basic construction of the work. They are used to demonstrate that your design complies with Building Regulations.
Your drawings and specifications will also be used to obtain quotations from builders.
The drawings show the detailed design and arrangement of the building components and usually include details such as the stairs, fireplaces and the internal fittings.
The specifications describe details of materials, construction products, fixtures, and fittings.
Stage 5: Construction
It is important to agree a clear, comprehensive contract in writing with your builder, and of course your architect can help you do so.
The contract should outline the agreement in full, not least the responsibilities of both parties, the price, the start and completion dates, and the extent and quality of the works required. Some contracts give you the power to have inadequate work rebuilt before you pay for it.
Once the building work has begun, your architect can administer your contract with your chosen builder.
Architects can also carry out regular inspections, deal with queries, instruct any additional work needed, monitor progress on site, keep track of cost, value the works, and certify payments due to the builder.
Stage 6: Handover and Close Out
When the project is ready to be handed over, the architect can make a final inspection and, if satisfied, formally certify completion.
The architect can remain available after handover and during any defects liability period to inspect and certify the final payment to the builder.
This is a brief overview of what to expect. A useful booklet, A Domestic Client's Guide to Engaging an Architect, explains the process in more detail and is available from the RIBA Bookshop.