The Water Tower
by Tonkin Liu
Client Dennis Pedersen
Awards RIBA East Award 2021, RIBA National Award 2021, Stephen Lawrence Prize 2021
This project was shortlisted for RIBA House of the Year 2021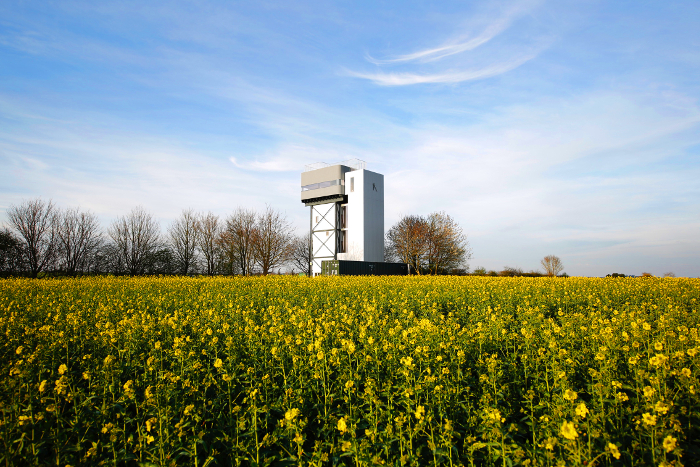 The challenge to convert a disused historic Water Tower into accommodation has been handled effortlessly, completely avoiding pretentious reinterpretation or cliché. Standing tall within a setting of fields of Barley, the Water Tower, whilst extensively refurbished, has retained a strong and honest agricultural aesthetic.
In heritage terms, its status as one in a sequence of historic ruins within Castle Acre is not impacted, and in this particular case, the familiar unobstructed stilted silhouette figure.
Purchased for the equivalent value of scrap metal, a strong attitude towards reuse has been tirelessly pursued, with all materials already within the existing structure carefully reconfigured or relocated to formulate a new domestic programme, and with all necessary new materials hoisted carefully through the retained externalised braced structure.
The entire structure has been ingeniously (re)engineered to account for the absent weight of water and the additional distribution of new accommodation loads. The existing water tank is cut laterally to create a 360 panoramic window aligned with the visible horizon. This forms an elevated living space in which the original water equilibrium devices remain suspended.
Larger interventions include a CLT cantilevered stairs serving as a compression spiral to stabilise the adapted structure and to also function as a passive stack ventilation chamber. Whilst highly technical in description, it is very graceful.
The tower is infilled with a series of accommodation floors also in CLT and window units used in optimised dimensions, with each floor containing a mezzanine bed bunk. The appearance of the original stilted silhouette is achieved by the inclusion of an enclosed bridge link between the stair and stacked floors.
With nowhere to hide in this amazing setting, the structure is both brave and frugal, a gentle giant. Not only is the architectural salvage an excellent example of a new emerging construction methodology, the design also intelligently fuses both low carbon measures and structural engineering.
The overriding feeling is one with a very happy ending; a fairy-tale in which the Tower magically re-builds itself.
Contractor MNB Services
Project Management Dennis Pedersen

Structural Engineer Rodrigues Associates

Environmental / M&E Engineer Integration
Internal area 160 m²