Chapel
by Craftworks
Client Private client
Awards RIBA London Award 2021
This project was shortlisted for the 2021 Stephen Lawrence Prize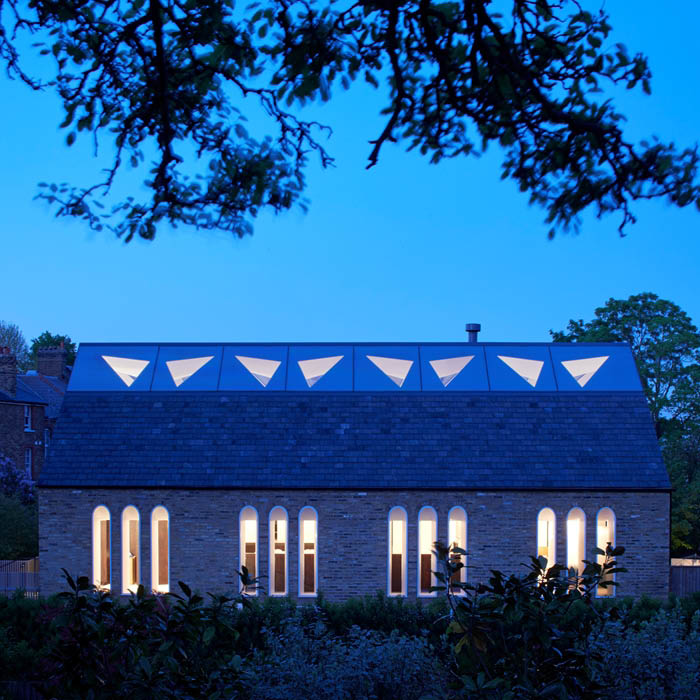 This project converted a derelict chapel into a two-storey family home with a pulpit-like mezzanine under the roof. Unusually, the chapel is in the middle of a domestic garden. As it is also in a conservation area, the planners demanded that the existing ruin was rebuilt, leaving the architect scope to transform the interior. The architect reused bricks from the original building and left the pre-existing window openings unaltered.
Despite flipping the usual internal arrangement, the layout is logical: four bedrooms are on the lower ground floor, with living quarters at entry level above. The open-plan living quarters have a fanciful, dream-like quality heightened by a captivating ceiling that is reminiscent of muqarnas, the ornamented vaulting in Islamic architecture. The bold, Mannerist geometry has an ethereal quality, with triangular roof-lights allowing daylight to wash over the angled plasterwork.
A fireplace towards one end rises to reach the Mannerist plaster work of the ceiling and allow its chimney breast to immerse itself into the geometry of the ceiling. Looking like a pulpit or church organ, the structure holding up the mezzanine occupies the space near the entrance. It hides a cloak room and leads up to a study area overlooking the upper floor living area. A beautifully detailed, dark-stained timber staircase leads to the lower floor, opening onto the bedrooms.
The garden, beautifully landscaped, accessed from the living quarters and overlooked by the bedrooms, its fantastical, undulating topography and skillful arrangement of wild planting complements the house perfectly.
This may not be a house for everybody, but the architect has met the brief with wild imagination, creating truly inspiring and unique space.
Contract value £725,000
Internal area 225.00 m²
Contractor Habitat Construction LLP
Structural Engineers Cooper Associates
Landscape Architects Jane Brockbank Gardens