Cork House
by Matthew Barnett Howland with Dido Milne and Oliver Wilton
Client Matthew Barnett Howland and Dido Milne

Awards RIBA South Award 2019, RIBA South Sustainability Award 2019 - sponsored by Michelmersh, RIBA National Award 2019 and Stephen Lawrence Prize 2019
This project was shortlisted for the RIBA Stirling Prize 2019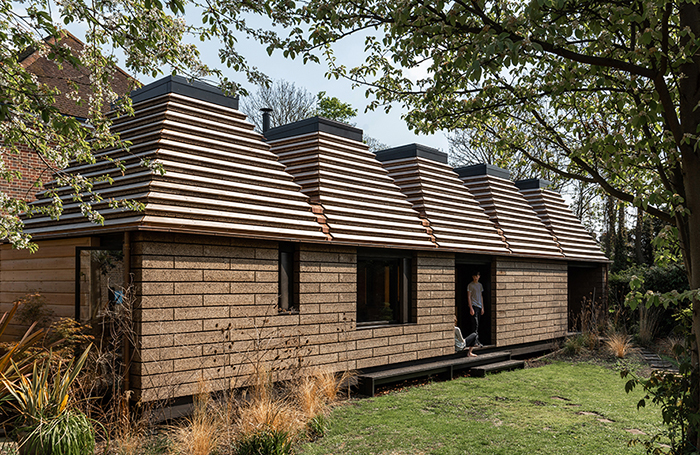 Designed with immense attention to detail, Cork House is a structure of great ingenuity. Sited within the area of a Grade II Listed mill house dating back to the early nineteenth century, the Cork House beautifully reflects and respects the natural surroundings in form and construction. The 'whole-life approach' to sustainability truly sets this project apart. Designed, tested and developed in partnership with The Bartlett School of Architecture UCL, they have delivered a project that is the first of its kind.

An entirely cork construction, with solid structural cork walls and roof, the building has exceptionally low whole life carbon. The biogenic construction of prefabricated cork blocks and engineered timber is carbon negative at completion and has remarkably low whole life carbon. All the components can be reused or recycled, and the expanded cork blocks have been made using by-product and waste from cork forestry and the cork stopper industry. Internally, the biophilic elements such as the exposed cork and oak flooring captures the light and creates a wonderfully tranquil sensory experience. In summer the skylights open to bring a sense of lightness to the space and in winter the snug interiors emanate a sense of warmth and protection. As sustainability becomes integral to all construction, this development pushes us further to look beyond the requirements and aspire to really integrate ourselves with nature.

The inventiveness lies within the structure's ease of assembly. The whole house is 'designed for disassembly' and can be constructed by hand. An incredible feat by the architects to achieve such a delicately intriguing home that sits humbly amongst its surroundings, is sustainably sound and can be easily assembled. As the first of its type, it is truly exciting to think what this project could inspire within the architectural world. MPH Architects and the collaborative team, which includes not only The Bartlett School of Architecture UCL but also The University of Bath, Amorim UK, Ty-Mawr the BRE and consultants Arup and BRE, have really done something special with this project. The detailing is very clever, and the structure draws upon ancient inspiration, harking back to a time when humans and nature were more intertwined.

Form, function and footprint are all equally considered and respected. This is a truly well thought through, carefully researched project that has created a home that inspires those that are lucky enough to visit. A noble, momentous model to aspire to.

Internal area 44 m²
Contractor Matthew Barnett Howland (assisted by M&P London Contractors Ltd)
Executive Architects MPH Architects
Structural Engineer Arup
Fire Engineer Arup
Whole Life Carbon Assessment Sturgis Carbon Profiling LLP
Cork Fabrication Research B-Made at The Bartlett UCL
Cork CNC Machining Wup Doodle