Walmer Castle and Gardens Learning Centre
by Adam Richards Architects
Client English Heritage and the Heritage Lottery Fund
Awards RIBA South East Award 2021, RIBA National Award 2021
This project was shortlisted for the 2021 Stephen Lawrence Prize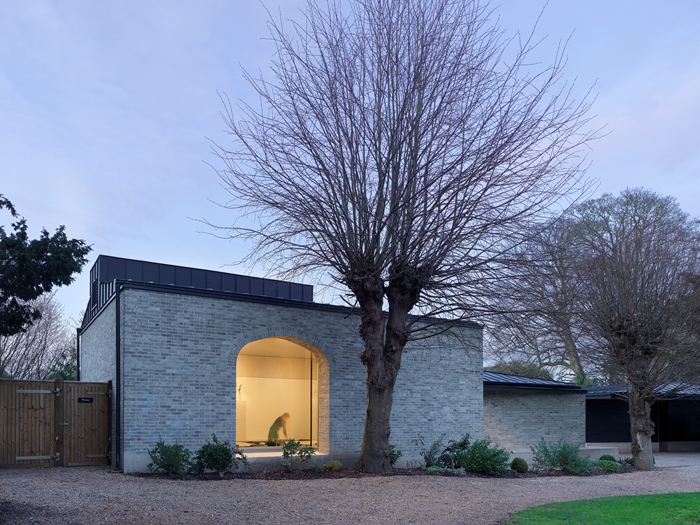 This understated, well-detailed building fits a huge amount into a small space. Brickwork and the shape of windows reflect the neighbouring historic buildings, and an old greenhouse is reused as part of this development. Good consideration is given to the use of the spaces; they are comfortable and practical issues like storage are well considered.
This collection of small buildings has been carefully positioned using existing sightlines, and is almost unnoticeable behind the existing tree when viewed from the Tudor fortress. This compact scheme achieves a big task of providing a comfortable and engaging space for education for all kind of users and age groups through the architect's careful and considerate multi-function design features.
This project offers delightful little surprises everywhere; changing ceiling heights responding to the functions and volumes of the spaces, unobstructed views from carefully aligned windows providing visual connectivity to the gardener's shed, or the seated gathering space formed from the cleverly-detailed concrete base of the building. The form of the 'vitrine' window takes cues from the original fortification's gun embrasures, opening into a kitchen garden that supplies produce to the new adjacent cafe.
The detailing of the little cafe is contemporary, referencing the historic building in its materials and form, and it reutilises the existing lean-to greenhouse to create a light-filled and spacious yet carefully articulated space that serves visitors to the garden. Overall, this is a very good example of repurposing an existing structure in a creative way to sustainably generate income that supports the current usage.
Internal area 200.00 m2
Contractor Walker Construction Ltd
Structural Engineers Historic England
Services Engineer Martin Thomas Associates
Landscape Design LUC
Play Equipment Studio Hardle
Quantity Surveyor / Cost Consultant Press and Starkey