The Dominion Screen
This carved timber screen, known as the Dominion Screen, is located in the Henry Florence Memorial Hall of the RIBA's headquarters building at 66 Portland Place, London. The hall was designed to be one of the building's main event spaces and has hosted exams, exhibitions, banquets, and balls. 
The fixed screen was designed by the sculptor Denis Dunlop (1892-1959) and was part of the building's original decorative scheme. Dunlop made clay models, called maquettes, which were then carved by the specialist joinery firm, Green & Vardy.  
Collaboration between architects and craftspeople was common at the time of the building's construction. The screen was clearly important to the building's architect, George Grey Wornum, and his wife, artist Miriam Wornum. It was paid for by Miriam's father, William Gerstle. 
The screen was carved in Quebec pine, from Canada, at a time when 'empire timber', was a prized commodity in Britain. It depicts the animals, people, industries, and flora of the Dominions of the British Empire and of India. It was intended to be celebratory, but with modern awareness of colonial legacies its exploitation of natural resources and primitivist depictions feel problematic.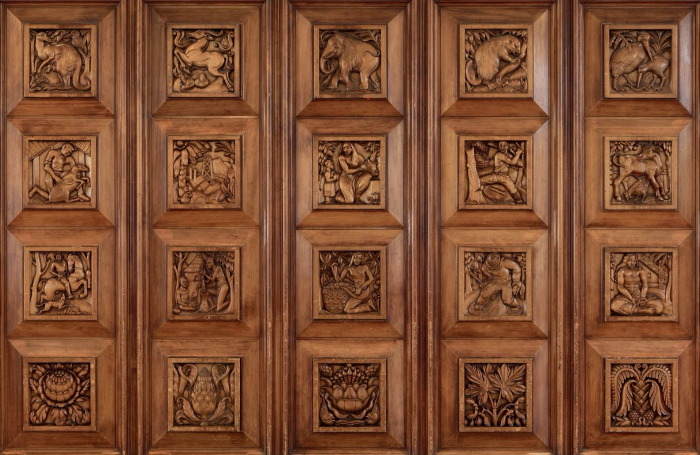 The screen's panels represent (left to right) Australia, South Africa, India, Canada and New Zealand. The individual panels show:
Upper row 
The fauna, using familiar 'national' symbols: a kangaroo for Australia, a springbok for South Africa, an elephant for India, a beaver for Canada, and a kiwi for New Zealand.  
Middle row 
Industry and agriculture, alongside trades and crafts carried out by Indigenous peoples of the colonised regions. The South African panels, for instance, show an oil refinery and a bare-breasted women pounding grain next to a seated child, while a crow feeds off the child's plate. There are scenes of sheep-shearing in Australia, and lumberjacking and fur-trapping in Canada. A seated Maori woman is depicted weaving a kete (basket) in front of carved totem poles.  
Bottom row  
The flora: a waratah for Australia, a giant protea for South Africa, a lotus for India, a maple for Canada, and silver fern for New Zealand. 
Find out more about symbols of the British Empire in RIBA's building and collections.
This interpretation is based on research by Dr Neal Shasore.
The Jarvis Mural sits alongside other features in our building, and materials and descriptions within our collections, that are outdated and offensive or need further contextualising. We continue to work to address this to ensure our building, collections and descriptions are appropriate for audiences today.