21 October 2021
"Working onsite, once you have made friends with all the other builders, is a hugely rewarding experience," enthuses Owen Pearce, Director of Pearce+ Architects.
"On 'standard' projects, there is often a barrier between architect and contractors: you arrive onsite to check that work is being carried out according to the contract and perhaps ask workers to re-do it. Breaking down that barrier is liberating."
Pearce is speaking from experience. For the East Quay Pods project in Watchet, Somerset, he is delivering the construction as well as the design.
Pearce+ is a micropractice and collaboration is therefore a key factor here. East Quay Pods is a competition win, for which Pearce teamed up with long-term collaborators to form 'PEARCE+Fægen with Isabelle Mollé'. The project is to design the interiors of five quirky rooftop buildings on the roof of a huge £7 million community arts and gallery project.
Their success in winning the competition was partly due to their demonstrable commitment: they stated that their team - four architects and a structural engineer - would move down to Watchet for the duration, set up a workshop, and carry out the construction themselves rather than tendering it out.
"We are doing a lot of joinery," Pearce reveals, "and everything from making furniture to laying floors, from building kitchens to tiling bathrooms and putting up plasterboard."
The team are using a shipping container as a workshop capable of turning out whatever they need, from CNC fabrication to sofas made from recycled bath tubs.
The fact that their project is part of a much larger scheme, being delivered by community interest company the Onion Collective and architects Invisible Studio, means that they can rely on some of the expertise of fellow builders.
"They see us working hard and are very willing to offer help and guidance," enthuses Pearce. "Collaborating with other architects, designers and structural engineers has been very stimulating, but the subcontractors onsite have far more experience of construction than we do. If you build relationships with them, they will help."
Pearce will be one of several architects discussing how practices can empower themselves to punch above their weight at the RIBA's online conference Guerrilla Tactics 2021: Stop, Collaborate and Listen, on Wednesday 10 November 2021. Tickets are now available.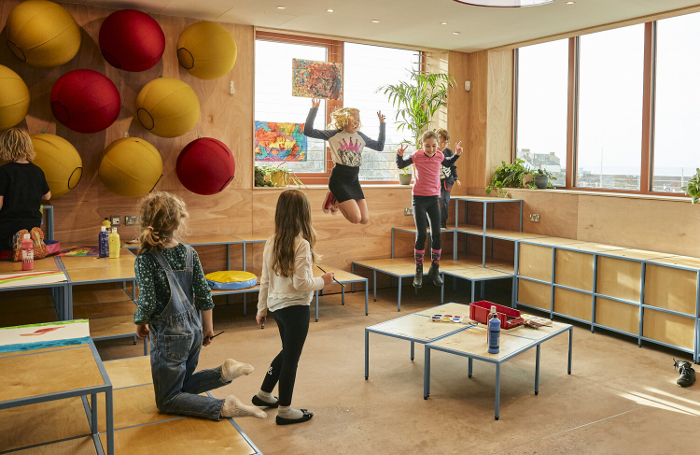 All members of the small team were paid for their design work and are now being paid as contractors, all on the same flat-rate payments. Pearce created two separate jointly owned companies to deliver the building work, one of which is the official contractor for the five interiors. They had to become registered for VAT for purchasing purposes, to satisfy health and safety requirements and carry insurance.
He explains that, while securing the insurance was not difficult in itself, insurance companies typically expect a client that will be renewing a premium annually. As this was set up specifically for a one-off project, many companies were only offering higher premiums.
"We stated that, obviously, we would pay our run-off cover but if we do not have any additional construction projects we might make the company dormant or close it at the end of the project. Some insurers then thought we might be a higher risk, although this was not especially problematic in the end."
Christian Knight, of LEAN Structures, is the small team's structural engineer. He too has found hands-on building work an enlightening experience.
"Some parts of a structure might, in practice, come out at slightly different sizes compared to our drawings, which requires adapting and adjusting design," Knight explains.
"The overall lesson is 'buildability'. You start thinking much more pragmatically and purposively about how things are going to be constructed. One example is how quickly you internalise and anticipate how heavy different design aspects are."
"How easy will it be to get that building component through a doorway? Instead of just deciding to hire a crane or a genie lift, you realise what is saved in avoiding a trip to the rental yard. The economies of time and money become much more explicit and apparent."
Getting one's hands dirty can also be a learning experience from a sustainability perspective.
"One of the pods is being built out of lost and found parts. Its theme is 'object exchange': to stay there you have to bring something to leave. We have been raiding the skips on site, and using CNC offcuts and any residual materials we can rescue."
"When you are building it yourself and you create wastage you immediately start trying to work out how to reuse and repurpose it. Everything starts falling into place."
Each of the five buildings has a separate theme related to the local community in Watchet in some way. One will allow visitors to play with the architectural fabric of the space and reorganise interactive artworks.
All of the interiors are designed to evolve over time as visitors or temporary residents leave their imprints; so participatory design and collaboration will continue long past practical completion.
Thanks to Owen Pearce, co-founder, PEARCE+ and Christian Knight, Director, LEAN Structures.
Text by Neal Morris. This is a Professional Feature edited by the RIBA Practice team. Send us your feedback and ideas.
RIBA Core Curriculum topic: Business, clients and services.
As part of the flexible RIBA CPD programme, professional features count as microlearning. See further information on the updated RIBA CPD core curriculum and on fulfilling your CPD requirements as an RIBA Chartered Member.
First published on Thursday 21 October 2021.