22 September 2022
The RIBA's Guerrilla Tactics event is set to take place between 8-10 November, with this year's theme Wellbeing in Practice.
The conference day on 9 November will explore mindsets and strategies employed by practice directors to safeguard their and their teams' time, develop their leadership skills, build a culture of trust with co-workers and clients, and empower staff in an ever-changing workplace environment.
Sam Goss, Founding Director at Barefoot Architects in Bristol, will address attendees about his practice's switch to a four-day working week – a model gaining increasing attention and momentum.
The 4 Day Week Campaign is making inroads across industries
Depending on who you talk to, four-day working weeks have manifold benefits. Some studies have concluded that working less hours per week has the potential to increase productivity, reduce carbon footprints and redress the work-life balance.
In the UK, campaigning group 4 Day Week Global and think tank Autonomy are halfway through a 12-month a trial to determine whether a shortened working week can improve productivity, efficiency and happier employees. More than 70 firms are taking part in the trial which is also being conducted in countries like the US, Ireland and Australia. Here in the UK, 95% of firms taking part report that their productivity has either stayed the same or increased.
On the flipside, some have suggested that a four-day working week is only cost-effective if companies have the right kind of technology and culture already in place. And for an industry notorious for long working hours such as architecture, can this ever be a viable model?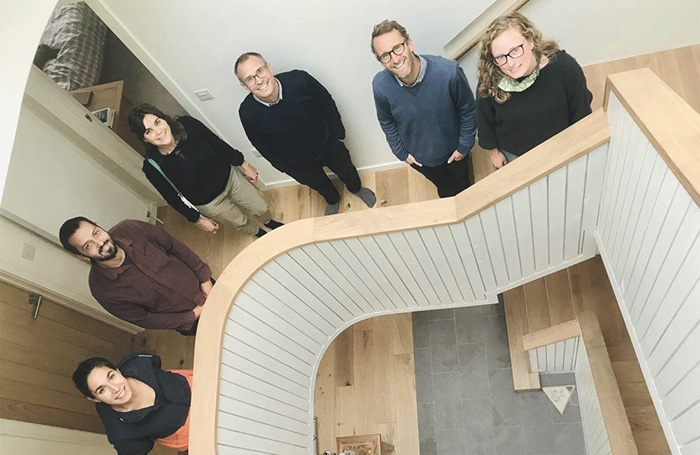 Changing the long working hour culture in architecture
"I say that there's a huge amount of inefficiency in the way most people operate," Sam posits. "I say that every single one of our clients and contractors that we work with has responded positively when they heard about our 4 Day model. It actually enhances our brand perception rather than takes away from it, explicitly."
"Clients see [the concept] as progressive and something they themselves would like to do. They think, 'how progressive, we want to work with you'. It represents the ethos they feel supports the kind of world they want to live in."
Sam and Barefoot's Co-Director Rob Hankey installed the practice's own four-day working week model in January 2020, before Covid lockdowns prompted wider changes to the world of work.
"I'd found myself working as a young architect driving home at three o'clock in the morning and genuinely feeling as though I was going to die one day if I kept working in this way," Sam recounts.
When he and Rob founded Barefoot, they set out to do things differently. Inspired by authors like Rutger Bregman (Utopia for Realists and How To Get There) and the 4 Day Week Global campaign, they eventually took the plunge and posed the question to their staff: what would a four-day week look like at Barefoot and how would they feel about this new way of working?
Involving the team in choosing the model that works for the practice
In finding the right model for their business, Barefoot settled on a plan - its team of seven architects now work four days a week, Monday to Thursday, with 80% of the workload for 80% of the wage. Sam, Rob and the Practice Manager choose to work five days a week, but use Fridays to work 'on the business, rather than in the business'.
Although staff saw their base salary decrease by 20% - in divergence of the full pay model promoted by the 4 Day Week campaign - the directors received little resistance from their employees.
"We put many options on the table, and it was felt that the stress and pressure of being asked to produce 100% output in 80% of the time didn't outweigh the benefit of the guaranteed income", Sam explains. "People felt like the benefits outweighed the risks."
Now, every three months or at the end of each quarter the directors review the financial performance of the practice and pay out staff bonuses if income targets were met. For five out of the past six quarters, Sam says, the company has been able to issue bonuses to get employees back up to 100%.
Be transparent about performance targets and business finances
For this model to work, however, the directors had to explore ways to increase the team's productivity during working hours. Tips and guidance issued by the 4 Day Week campaign have been very helpful. Meetings are now never held without an agenda, actions always agreed and followed up on, and mobile phones kept away from desks while at work, all measures designed to improve flow and focus.
Increasing focus and productivity comes at a cost to the social side of work, Sam acknowledges. As a countermeasure, lunch breaks are safeguarded and the team goes on regular walks together. Transparency about the practice's financial performance and project targets are equally vital to keeping the team on side.
"We set clear KPIs for each member of the team so they can understand where we need to be at in order to achieve certain requirements for practice, business-wise."
"Secondly, we've relatively recently introduced one-to-ones with members of the team once a month. It's not an annual review or a performance review, it's a check-in to see how they're feeling, and ask if they feel overworked or underworked."
So far, the model has been a resounding success. Team members use the extra day off to spend time with family, go on short trips, focus on personal interests or volunteer in the community.
As for other practices looking at four-day working weeks, Sam offers this piece of advice:
"Talk openly with your team and have a conversation. People will surprise you. They will think differently to you, so don't be afraid of that. Treat [the transition] like a project – an internal project where creative people look jointly for solutions."
Thanks to Sam Goss, Director, Barefoot Architects.
Text by Paul Hirons. This is a Professional Feature edited by the RIBA Practice team. Send us your feedback and ideas.
RIBA Core Curriculum topic: Architecture for social purpose.
As part of the flexible RIBA CPD programme, professional features count as microlearning. See further information on the updated RIBA CPD core curriculum and on fulfilling your CPD requirements as a RIBA Chartered Member.