23 September 2021
In designing a building with the smallest carbon footprint, how far can architects go to minimise cement and concrete use? Is it feasible to avoid them altogether?
Ralph Carpenter, founder of Suffolk-based Modece Architects and a member of the RIBA's Sustainable Futures Expert Advisory Group, is adamant that there is no need to use cement at all in a low rise residential building, with the exception of instances where the ground necessitates especially robust foundations.
He is one of many advocates of natural lime products as an alternative and believes they can replace all of the applications for cement and concrete if used creatively, with an understanding of how breathable buildings work.
This is not a new idea. He points out that there are seven-storey Georgian buildings standing on footings that used lime. Furthermore, conservation architects have always used lime-based mortars and renders on historic buildings as a matter of course.
Using lime in footings
Modece employ a "strip footing" footing system using limecrete: a mixture of natural hydraulic lime with rubble or aggregate. Rubble is generally plentiful, helps to bear the load and can make up 50 to 60% of any strip footing, reducing the need for sand and gravel. Most of Modece's buildings are timber-framed superstructures sitting on a limecrete raft or masonry plinth wall. Any supporting masonry sitting on strip footings can use hydraulic lime mortar.
Carpenter argues that a modern timber-framed house can safely sit on shallow lime foundations, avoiding brickwork and blockwork. The exceptional circumstances in which cement might be required include ground that has been disturbed, complex basements and civil engineering works. Modece Director Matthew Bell adds that assessment of the soils should examine any impact of clay and trees.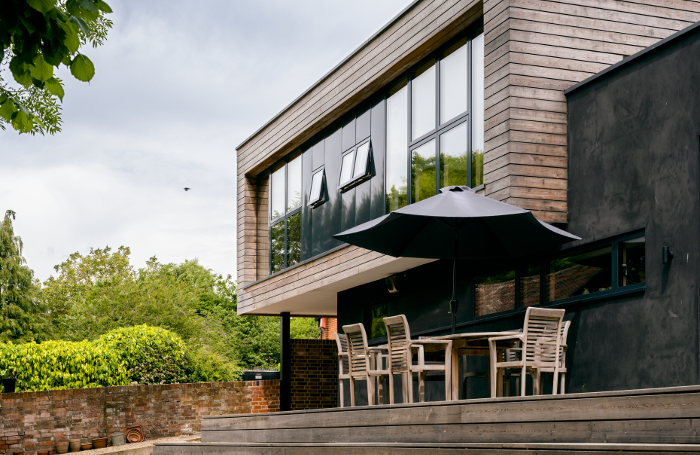 Breathable buildings and airtightness
The practice describes itself as "deep green" and its use of lime-based materials is part of an overall commitment to designing breathable buildings using natural materials.
Insulation will typically be lime-based hempcrete, sheep's wool or wood fibre and their buildings commonly roofed with low carbon clay tiles. Internal renders will be lime-based, although Bell points out that occasionally a residential client will request plasterboard simply because it is very cheap.
There is a time consideration with hydraulic lime, as it cures slowly. Depending on the thickness, lime may take a couple of weeks to cure. Bell reveals that he will leave a cast in place hempcrete wall – which consists of lime reinforced by hemp shives - for five weeks before covering it with 100mm of wood fibre. The lime will continue to cure for months, becoming completely moisture free when fully cured.
Cement and concrete do not breathe, unlike lime-based alternatives. Modece's designs are therefore breathable but airtight: there is an important distinction here. Breathable structures allow moisture to be transmitted to the outside, so there should never be any problems with retained moisture or fungal attack.
The airtightness of Modece's projects is superior to Building Regulations standards and there is no impermeable membrane involved, Bell states. The practice prefers not to use the MVHR systems required for certified Passivhaus, but opts instead for passive stack ventilation or tempered air brought in from below floors.
One of the biggest changes in residential design over recent years has been mandatory airtightness, often relying on a synthetic membrane. Bell believes we will begin to see a pushback over time as more people realise that being sealed up in layers of synthetic materials does not produce a good environment. In his experience, clients are usually persuaded to go with natural materials as an alternative route to airtightness when the benefits are explained to them.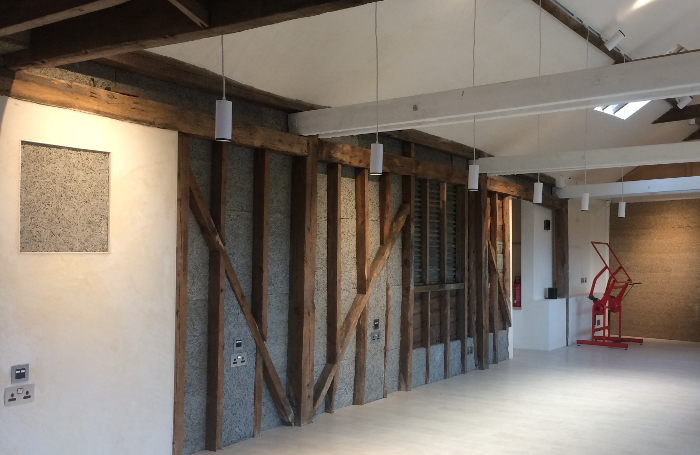 Sourcing lime-based products
Modece used to import hydraulic lime directly from a supplier in Alsace, acting as supplier to other local UK firms, including contractors. The practice currently sources its lime products from Ty-Mawr in Wales. Natural lime products are readily available in the UK, although Bell says the quality of the limestone used in them will vary.
Many of the natural materials suppliers offer good guidance on specific build-ups and standard details, he adds. While lime-based products are still a specialism for contractors, Bell knows a growing number that have not only skilled up but prefer using lime to cement.
On 30 September, the RIBA will host a day of presentations and discussion about sustainable materials, part of this year's two day online RIBA Smart Practice Conference: Stepping up to the Climate Challenge. If you wish to learn more about the use of natural building products, tickets are still available.
"More architects need to understand the physics of breathable buildings," Bell suggests. "Once you experience the air quality of a breathable home, you realise just how well it works."
Thanks to Ralph Carpenter, founder, and Matthew Bell, Director, of Modece Architects.
Text by Neal Morris. This is a Professional Feature edited by the RIBA Practice team. Send us your feedback and ideas.
RIBA Core Curriculum topic: Sustainable Architecture.
As part of the flexible RIBA CPD programme, professional features count as microlearning. See further information on the updated RIBA CPD core curriculum and on fulfilling your CPD requirements as a RIBA Chartered Member.
First published Thursday 23 September 2021