08 July 2021
If we are serious about addressing the impact of our buildings, we need to consider their carbon footprint as comprehensively as possible. A whole life carbon (WLC) approach considers all the carbon emissions produced over the entire life cycle of a building.
A simple working definition of WLC might be: the operational energy plus the embodied carbon of a building. But a thorough WLC approach should consider the building's afterlife too; the carbon cost of its disposal as well as its construction.
A rigorous WLC assessment would take into account all of the following:
raw material extraction and supply
transport of raw materials to where they will become building products
manufacturing of building products
transport to site
the construction process and disposal of waste
use of the building during its lifetime
end of the building: its disposal, demolition, deconstruction or reuse
The need for joined up thinking
"Despite the fact that whole life carbon includes operational and embodied emissions, the two disciplines are too often addressed separately," points out Mirko Farnetani, Embodied Carbon & Circular Economy Lead at environmental engineering consultant Hilson Moran.
Farnetani will be providing RIBA online CPD webinars on Whole Life Carbon Strategies for Smaller Scale Projects on 14 July, 5 October, and 10 November.
"Embodied carbon reduction strategies influence building performance and vice versa. But in many cases, design team members carry out assessments in silos and the final outputs are combined at the end without any collaboration – without the joined up thinking needed."
For example, a WLC analysis of a typical UK office building concludes that around one third of the total emissions are tied to embodied carbon at practical completion stage; while a similar amount is tied to embodied carbon over an anticipated 60 year life cycle. Taken together, these dwarf the total emissions associated with operational energy (both regulated and non-regulated).
The first stop for architects looking for guidance on how to reduce embodied carbon in their projects should be the Climate Emergency Design Guide, from the London Energy Transformation Initiative (LETI), and its supplementary guidance the Embodied Carbon Primer. Farnetani recommends these as the best introductions to embodied carbon reduction.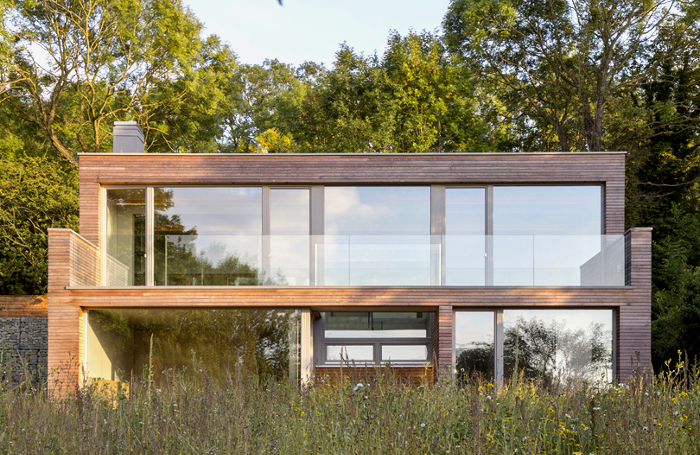 Circular economy principles
A thorough approach to achieving net zero whole life carbon should involve circular economy principles. The overarching circular economy concept is well articulated by the Ellen MacArthur foundation, Moran suggests.
It is a "cradle to cradle" principle that seeks to use as little as possible and reuse as much as possible. In constructing a building, materials should retained in use for as long as possible and then reused or recycled as much as possible. Buildings should be designed for adaptation, easy deconstruction, and reuse.
Circular economy principles must be discussed right from the beginning of a project, and be plotted out and monitored at every stage of design and construction. A sustainability brief, agreed with the client, that defines all the goals and aspirations should be drawn up by at least Stage 1, Farnetani recommends.
But he also directs architects to Buildings As Material Banks (BAMB), an EU-funded research collaboration focussed on circular building solutions, for a look at some emerging design tools and how some of the technical challenges to reuse and recycling are being addressed.
BAMB activities included small prototype built projects illustrating the principles of reversible building design, electronic materials passports designed to keep or increase the value of materials and components over time, and a Circular Building Assessment prototype that compares and assesses product and material resource flows during the lifetime of a built asset, where data can be imported directly from a BIM model.
Will planning policies shift towards a circular economy?
Farnetani points out that, while a few leading developers have started to address materials reuse – Grosvenor's Accelerating materials reuse research programme, there remain considerable challenges in educating and winning over clients.
Planning policies are starting to appear that will be drivers of WLC and reuse of materials. The new London Plan is already calling for the adoption of circular economy principles for large scale applications that are referable to the Mayor, and for large infrastructure projects. These will require a formal Circular Economy Statement.
Farnetani believes it is only a matter of time before other local planning authorities follow the London Plan's lead and start to make similar demands. In the longer term, he sees WLC becoming a key factor in the quest for net zero carbon development.
As well as providing practical and technical suggestions for a whole life carbon approach, Farnetani's webinar will introduce the GLA's draft guidance on Whole Life-Cycle Carbon Assessments and explain how to integrate embodied carbon and circular economy principles with the emerging policy.
It will also provide an interpretation of the RICS Professional Statement on Whole Life Carbon Assessment for the Built Environment and the UK Green Building Council's Net Zero Carbon Buildings: A Framework Definition.
Stepping up to the climate challenge is the theme of this year's RIBA Smart Practice Conference. The two day event takes place online on 29 and 30 September 2021 and will feature architects, engineers, and clients who are pushing our understanding of sustainable design and construction in different ways. Tickets are now available.
Thanks to Mirko Farnetani, Embodied Carbon & Circular Economy Lead, Hilson Moran.
Text by Neal Morris. This is a Professional Feature edited by the RIBA Practice team. Send us your feedback and ideas.
RIBA Core Curriculum topic: Sustainable architecture.
As part of the flexible RIBA CPD programme, professional features count as microlearning. See further information on the updated RIBA CPD core curriculum and on fulfilling your CPD requirements as an RIBA Chartered Member.