16 September 2021
Emerging practices may find it challenging to move upwards onto bigger projects. If a practice wishes to work on larger buildings or masterplans - or perhaps to move into a different sector - collaborating with a big, well established practice could be a crucial entry point.
"Small practices can be more agile than large ones," believes Dennis Austin, director at the five-strong practice daab design. "This is what makes them interesting and useful to big practices."
He points out that when a large practice wins a major project, resourcing frequently becomes an issue. Such projects may take many years, over which time the number of people required in the team will fluctuate.
"A large practice may find it difficult to redeploy staff, but it still needs to have the right team for the project," he explains.
A small practice can expand and contract more rapidly. They can also be much quicker in responding to a design critique or generating an urgently needed report. Austin worked at RSH+P, Santiago Calatrava and Rafael Viñoly before founding daab, and so has experienced such collaborative teamwork from both sides.
How might a small practice interested in such collaboration get itself noticed by a large one? Austin urges small practices to be proactive. They should put together a dossier of appropriate work and be unafraid in contacting practices to make it clear that they are interested.
Be confident, he advises. It does not matter that your practice has not carried out work on huge projects. Do not be afraid to show small residential work.
Demonstrate your strengths and successes, whether they lie in your striking presentations, eye-catching drawings or in your design and access statements. Show where you have achieved success in winning planning permission.
Large practices, Austin assures, will have some tuned-in staff members who will appreciate such approaches, and who can spot the value in your ideas. They may be working on a framework project for which your practice would be a perfect fit.
You should research your target thoroughly: what the large practice does, how it works, and what projects it has coming up. If you are making an approach with a particular piece of work in mind, Austin suggests that you could also present an organogram: an organisational chart that clearly sets out a road map of how the work could be done, showing precisely who will be communicating with whom.
"With an organogram, you are demonstrating that you know how work is organised and how project delivery works," he points out. "There is no great mystery to the delivery of large projects. They all go through the same steps at Stage 2, for example. There is just more of it."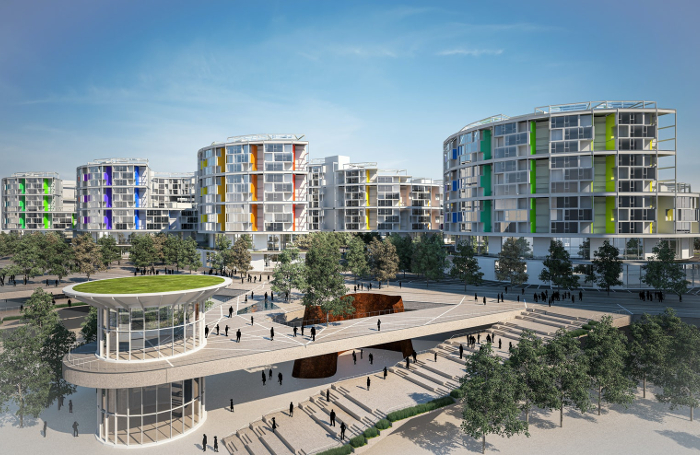 Nimi Attanayake, director and co-founder of eight-strong Nimtim Architects, agrees with Austin's exhortations to be proactive. She has found that bigger practices can be very receptive to small practices that are demonstrably generating excitement about their ideas. For her practice, getting the right message out was enough to bring large practices to them.
"Know what you really believe in and be vocal about that," Attanayake urges. "We refined our message and made it simple and got an amazing response."
The networking that the practice would usually engage in was not an option during coronavirus lockdowns, so the practice spent some of this downtime reflecting on what exactly were the qualities that drove them, which had brought them success so far. They became much more active on social media.
Nimtim were then approached by several large practices that were on procurement frameworks and in the process of bidding for projects. They subsequently won two projects and were shortlisted on a third competitive bid that gave the practice good exposure.
"We are small and nimble and can apply ourselves to a lot of different things," Attanayake points out. "We can come into a large practice and question how they do things: this is a quality that those practices want."
The smaller practice has to bring something new to the table. This might be knowledge of a particular area, with the established contacts, success with local planning departments and good relationships with the community that a large studio lacks.
It might be specialist experience of a particular building type, method, or sustainability or technical expertise. It might equally be a track record of working with particular social sectors. Demonstration of social value is another factor that many frameworks require, and which small practices may be able to provide. All of this underscores the value of clearly explaining your strengths when reaching out to potential partners.
"But you do not want to find your practice is a token 'tick in a box' for a project," warns Austin. "You should be involved in discussions on resourcing, not just taking the minutes of the meeting."
His previously mentioned organogram can be doubly useful here: it sets an early precedent. If followed through, it can minimise the risk that the more junior partner is sidelined. It can be very supportive of collaboration by setting expectations, formalising goals and suggesting responsibilities.
Dennis Austin will be presenting a CPD session on Collaborating with large practices: Getting it right at the RIBA's three-day conference Guerrilla Tactics 2021: Stop, Collaborate and Listen. It takes place online from 9 - 11 November.
Nimi Attanayake will be participating in a panel discussion, Designing for Change on 29 September at the RIBA's online conference Smart Practice 2021: Stepping up to the Climate Challenge. Tickets for both conferences are available now.
Thanks to Dennis Austin, Director, daab design; and Nimi Attanayake, Director, Nimtim Architects.
Text by Neal Morris. This is a Professional Feature edited by the RIBA Practice team. Send us your feedback and ideas
RIBA Core Curriculum topic: Business, clients and services.
As part of the flexible RIBA CPD programme, professional features count as microlearning. See further information on the updated RIBA CPD core curriculum and on fulfilling your CPD requirements as an RIBA Chartered Member.
First published Thursday 16 September 2021