15 November 2023
Architects David Tigg and Rachel Coll formed Tigg + Coll in 2010. Their project House for Theo and Oskar was shortlisted for RIBA House of the Year 2021.
Theo and Oskar live with Duchenne Muscular Dystrophy. The challenge was to remodel a small family cottage into a home that would cater to the children's developing needs, considering their reducing mobility and interaction with their environment, both now and in the future. 
To celebrate Disability History Month (16 November to 16 December), David tells the story of this project.  
When Rachel and I think about what we do and what we can really give to society as architects, we often think about what kind of environment we want our own young children to be brought up in.
It is a theme that is present and real in everything we do as a couple, in life and in work - indeed, thinking about the world we leave for our children is instinctive for us both. We all think about what or who comes next, and how we can help. Children are our collective future. 
In our role as spatial generators, or architects, as is the more familiar term, we have this incredible opportunity to help shape the future not just of the built environment but also of the people that will use it.
We can be generators of social change too, and it is so crucial we have this at the heart of how we think about every project.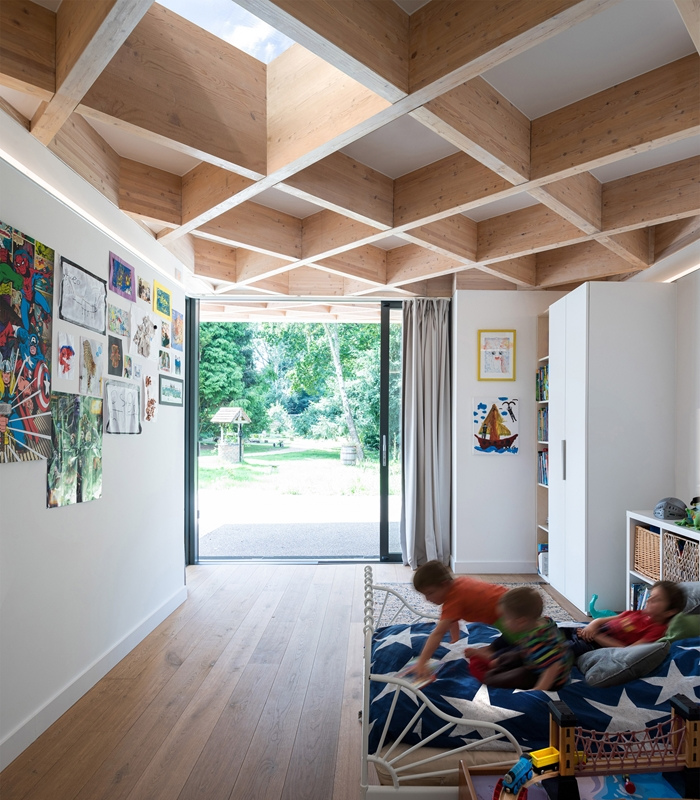 Our skillsets as architects ultimately find their value in helping to inform and shape communities of all sizes, from the macro to the micro, be it part of a town or cityscape, right down to the most important community of all, the family.
These are the places where we can give a metaphorical structure to enable each of us to thrive.
This Disability History Month, we must think about how we can enable society at all levels. This starts with the next generation - how can we help them thrive?
The initial brief
For our practice, Tigg + Coll, this huge opportunity came in late 2017 when there was a competition advertised in the Architects' Journal looking for young architects to help a family with some very complex and changing needs.
When we read the brief and learnt about Oskar and Theo, we were hugely touched by the story of this family. We saw some obvious synergies and jumped at the chance to really use our skills and help in the truest sense we could.
Theo and Oskar are two young boys who have Duchenne Muscular Dystrophy, which means that their needs will significantly change over time.
We were tasked with the challenge to radically remodel the family's small cottage, designing a home that would cater to the children's developing needs, considering their reducing mobility and interaction with their environment, both now and in the future.
Our ambition was to create a building that would help to create an enabling environment for the boys and to provide them with spaces to live life as they choose.
As the boys' father Nick Taussig said, our final design "captures what we were after, intelligence, creativity and practicality coming together perfectly to create the very best home for Theo and Oskar, to meet all of their needs, present and future […] this home, designed and built for Theo and Oskar, will make a deep and lasting impact on the quality of their lives. It will enable them, not disable them further".
The challenge was to deliver a new accessible extension to the existing home that on the one hand carefully considers the vernacular height, scale and massing of this cottage site, whilst also delivering a purposeful contemporary home for the challenging future needs of the family.
The brief required us to consider and understand how the condition will affect the children over time, including their mobility and how they might need to interact with their environment. An important aspect of the brief was also to ensure that the boys could appreciate the magical garden space, both now and when they are less mobile in future.
Ultimately, the existing cottage was adaptable only to a degree, so the proposed design created an entirely new 'wing' to the house. This wing, all contained on a step-free ground floor, created new bedrooms and living spaces and a new accessible main entrance.
Reflecting on the journey
This was very much also an emotional journey we all went on together. The boys were so brave in confronting a very difficult and uncertain journey. In fact, the conversations we were having with parents Nick and Klara even before we started to share our ideas were at times frank and tough about life together as a family with Duchenne's.
It really made Rachel and I reflect on what is and isn't important in life, and particularly when designing a home for Theo and Oskar. I believe that architects are intrinsically hopeful people, and it is this spirit that drives us all in our day to day when trying to solve problems, big and small.
When working with children, you can't help but be infused by their energy and innate hopefulness that the future can and will be better. So, the pressure was on to make this true for their home as well.
Watch the RIBA Surrey virtual tour of House for Theo and Oskar:
Design considerations
In creating a new extension for the house that would be specifically for Theo's and Oskar's needs, we wanted to make sure the extension was integrated not only in its form but also in terms of how it would be used with the rest of the existing house.
We added an accessible entrance hall with level access, two large bedrooms for the boys overlooking the garden, a large wet room and accessible WC, and a spare bedroom for guests or carers as required.
The kitchen and family room were also relocated to the middle of the plan and opened out into the rear extension to improve natural light and connections to the garden.
While the boys were not wheelchair users at the time of the design, we knew that this would eventually become a reality for them and the family. So, we considered how the house would support and enable future wheelchair users.
For example, sliding doors were used throughout the house to avoid door swings that are difficult to manoeuvre in a wheelchair.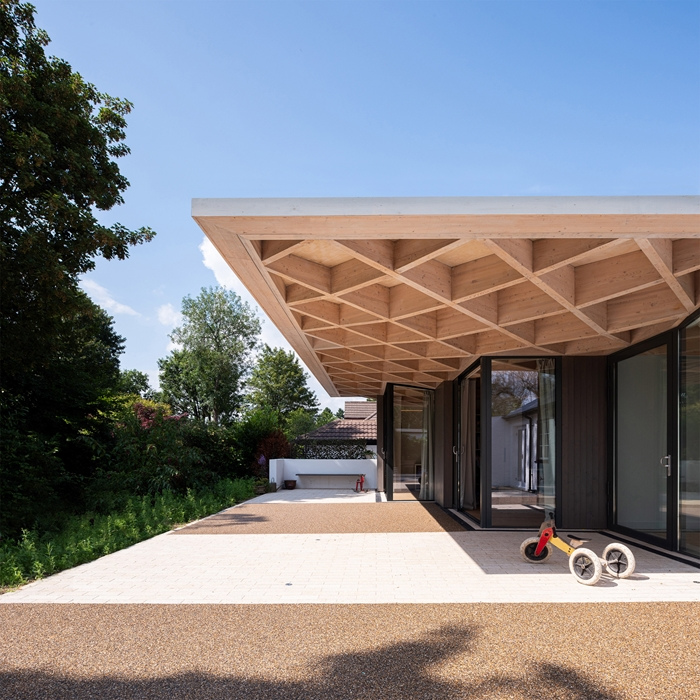 We also spent a good deal of time with the family's Occupational Therapists to ensure the layouts and bathroom designs were suited to the boy's specific mobility.
For example, we carefully considered the placement and specification of sanitaryware to ensure that the design supports the boys' needs both now and in the future.
This all came back to the key consideration of making sure the house was adaptable and usable over the long term - a home that can evolve and grow along with the boys.
Given the main entrance to the house and vestibule were relocated to the new extension to improve access by providing level surfaces, this also allowed us to reimagine what the remaining ground floor of the existing cottage could be.
Often, accessible spaces are cordoned off from those used by non-disabled people, which can isolate and alienate disabled people, especially children.
By placing the accessible kitchen and dining spaces as the pivot point in the house, we provided enabling spaces for Theo and Oskar, supporting the family to create intimate, social spaces that each family member can fully be a part of. This design enabled the family to co-create the space into something that is uniquely valuable to them.
Some things in life are universal. We all change over time, our needs change, we all get old. So, while Oskar and Theo's needs are quite clear, most of us will need different support from the built environment as we get older, and that is something that is often overlooked.
In this way, buildings must be agile, flexible and responsive to change for those people and families that live in them.
Treehouse spirit: the canopy
The most important aspect of the brief was to ensure the boys could appreciate the magical garden space, now while they are mobile, but also when they are less mobile and will, perhaps, be spending more time in their rooms.
The key driver was creating spacious rooms for the boys with expansive views of the garden, as well as providing flexibility for their future needs. The boundary between the inside and outside has been blurred by introducing large scale glazing that opens fully up by sliding into the walls, linking the inside with the rear garden.
The extension is stepped to allow dual aspect views from the boys' bedrooms. In order to unify and simplify the stepping forms and to create a covered veranda over the terrace, the roof form acts as a large canopy, shading the extension, and sheltering the user from the elements, as do the tree canopies in the beautiful garden setting.
The timber diagrid cantilevered roof form is a playful insertion, yet also a practical structural solution, that is read clearly from the existing form of the house.
The roof acts as a continuous timber canopy over the internal spaces and external terrace, punctured by roof lights which invite dappled light deep into the main living spaces. As it sails over the external walls it forms a play space and veranda under its protective, tree-like canopy.
This design also spoke to the imagination and magic experienced by young children, to create a safe yet engagingly imaginative space for curious young minds. In this way, the roof canopy acts like a treehouse for the boys.
The roof has the spirit of play embedded into it - the longest cantilever corner of the roof can have a swing attached to it, able to carry the weight of an adult. We all need fun in our lives!
Crucially, the free-spanning roof allowed for large bedrooms for the boys that can fit adjustable beds and turning circles required for motorised wheelchairs.
In future, hoists and other health equipment that the boys may need can be supported from the exposed roof joists. Often beautiful, even magical design is set aside in the name of functionality. The canopy is evidence that design can be magical, functional and most importantly, enabling, all at once.
Enabling architecture as collaboration: engineering design and construction partnering with Ballymore
Both the design and construction process have been influenced by a special collaborative process of consultants, contractors and suppliers willingly donating services, time and materials.
The principal donor and the main contractor, Ballymore, engaged with the project at a very early stage, offering access to their supply chain.
UK Construction Director of Ballymore Peter McCall said:
"It is a very special project that Ballymore are fully committed to undertaking on behalf of Nick, Klara, Theo, Oskar and Luca […] As a father, I wanted to help in any way I could, and I knew my company would feel the same."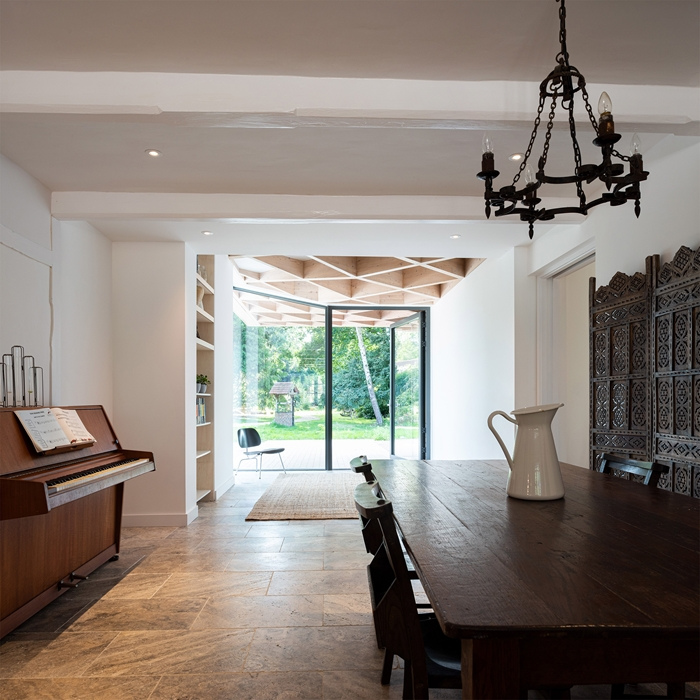 Understanding that structural engineering would be critical for the design, we worked closely with structural and civil engineers Engenuiti on both the initial competition pitch and to refine the overall design.
Their specialist knowledge of timber structures helped bring the concept of the floating canopy into reality as the free-spanning diagrid roof structure.
We were given access to Ballymore's large-scale commercial procurement arm and as a result, it provided the opportunity to use material and construction technology not necessarily normally used in one-off bespoke homes.
Working with and incorporating these brought the design team additional challenges but also opportunities, in further refining off-site construction techniques to benefit the efficiency and quality of the product during the site phase of the works.
This was a real collaboration and hints at the innovative possibilities that inclusive, enabling architecture could create in different contexts.
A good example of this collaborative innovation is the combination of the diagrid timber roof structure cantilevered off pre-cast insulated concrete sandwich panels, typically used in high-rise and multi-unit construction.
The visible and accessible joist structure enables maximum flexibility and use for the extension, being able to support additional weight at any given point, if necessary, to adapt for any future medical support and equipment which the boys may require.
Reflections during Disability History Month
During Disability History Month, we must learn from our past, but with children and youth as this year's theme, it is incredibly important to remember who our future belongs to.
Unfortunately, there are too many children living in, learning in and using spaces that actively disable them further, as opposed to empowering them. It is worth remembering that creativity and imagination is something all children, disabled or not, have in bucketloads - but they can't change the spaces they are stuck with.
So, it is up to us as architects to show what a better future could look like, using precisely that imagination to give disabled children the freedom to grow, be inspired and be hopeful about the future.
For Theo and Oskar, we believe their new home showcases what is possible through collaboration, thoughtful design and challenging architectural assumptions. It gives an exceptional family a sense of that freedom to grow and be who they want to be.
Find out more about House for Theo and Oskar.
About Duchenne Muscular Dystrophy
Duchenne Muscular Dystrophy (DMD) is an inherited (genetic) condition which affects the muscles, causing muscle weakness. It is a progressive condition, which means it gets worse over time. In early childhood it may be noticed when a child has difficulty standing up, climbing or running.
In the UK, around 70,000 people have Muscular Dystrophy or a related condition, and DMD is the most common type. In the UK, about 100 boys are born with DMD each year, and there are about 2,500 people living with the condition in the UK at any one time.
Find out more about living with DMD in the film A Space in Time, a candid, lyrical, intimate portrait of one family's struggle.
About the author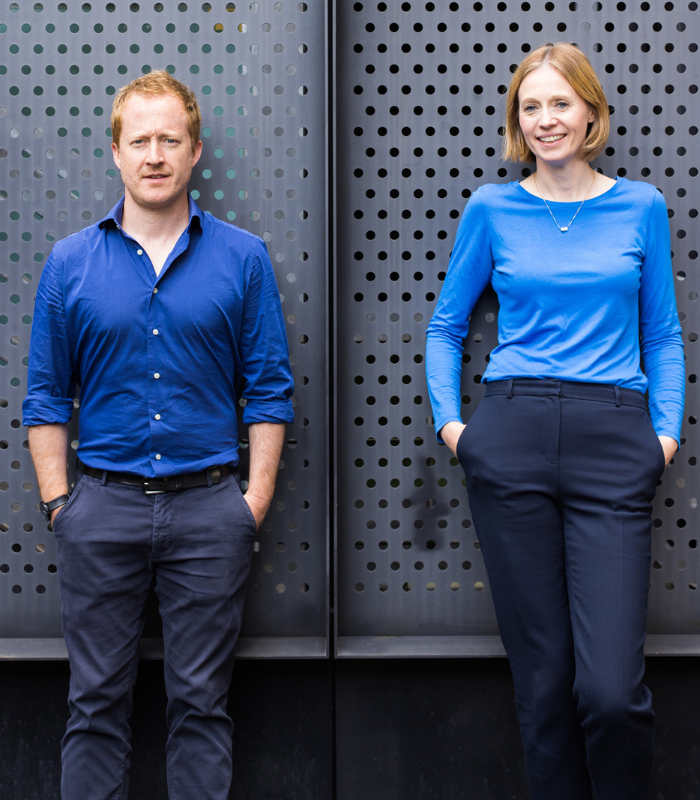 Prior to establishing Tigg + Coll Architects, David Tigg worked at some of the leading Architectural Design practices in the UK, including Wilkinson Eyre Architects, Marks Barfield Architects and Foreign Office Architects, working at a variety of scales on a comprehensive range of project typologies.
In this period he honed his skills in both the design and construction of a cross-section of building typologies including Arena and convention centres, commercial office space, prime and community residential and educational buildings.
David notably worked on the RIBA award-winning £125 million Liverpool Arena and Convention Centre project that opened as the show piece project for Liverpool's year as European City of Culture in 2008.
He has also worked on award-winning education and infrastructure projects in particular City and Islington College opened in 2006 and the initial stages of Euston Station redevelopment.
Since setting up a design studio with Rachel Coll, he has maintained a focus on a broad range of scales and enjoys bringing an innovative and fresh approach to dealing with site complexity to create exceptional architecture.