22 October 2020
"The idea of disruption has become trendy over the last years, but I question it a bit when taken to the extreme. We don't want to throw everything up in the air, but exploring the edges is a great thing to do. That is what I love about Guerrilla Tactics: it gives you permission to explore."
Speaking about the theme of Reinventing Practice for this year's RIBA Guerrilla Tactics from the tool shed in his Gloucestershire home, Tomas Millar pauses to consider his next words.
The co-founder of Millar + Howard Workshop and Guerrilla Tactics 2020 Creative Director has found considerable success in practice, winning awards and founding a business spin-off for custom build development, all while pushing the boundaries and exploring the scope for digital technologies to transform everyday practice. Currently undertaking a one-year data fellowship through the South West Creative Technology Network and Bath University, he has had the opportunity to test a developer version of advanced AI which he expects will relieve architects of many of the mundane, repetitive tasks that consume their time at the expense of creative work.
In the early days this success seemed a far way off, having retreated home after his studies at the Bartlett during a difficult time in his life and watching from afar as his peers built their careers and thrived in London. With no clear plans for his future in architecture, he accepted an invitation from a former fellow student to join in building a treehouse for a client. This turned out to be a pivotal moment. Not only was it the starting point for what would become their joint practice, it taught Tomas an important lesson about the emotional connection between people and architecture.
"People were so excited to see architects who were building. All we had to do was say, 'We are architects and we also build' and they would tell us why that was good: 'Oh, so you know both design and construction'. We had to do no marketing".
It seemed to confirm what had been a common thread throughout Tomas' work and education: the desire to bring together design and making, and to achieve a deep connection between the building and its users that he had first experienced as a child while living in an autonomous community in Canada. There, everybody built their own homes. While not designed by professional architects, they responded directly to their users' needs and desires. This early experience of craft and making was balanced with what he calls a "highly technical upbringing", with an architect father who applied his skills in early computer chip design.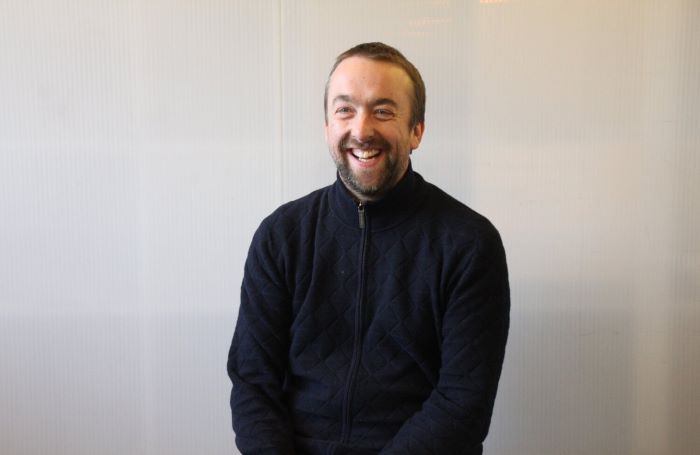 Guerrilla Tactics 2020 – Reinventing Practice
All those influences are evident in the programme Tomas has curated for Guerrilla Tactics, the RIBA's long running business conference for small and medium sized practices. Running online for the first time this year, it is equally accessible to RIBA members in any location. The programme is held in two hour chunks each afternoon from 9 to 13 November, with each day dedicated to a distinct topic. Thanks to online recording, viewers are able to tune in live or on demand as preferred.
For all the havoc it is wreaking, the coronavirus pandemic has provided an opportunity to reassess the way we live and work, and has opened a space to contemplate even quite profound change. Tomas sets out to empower architects and involve them in a joint conversation about the future of practice: one that may more closely meet architects' values and passions and relieve some of the unrelenting pressure small practice directors in particular are exposed to.
This year's Guerrilla Tactics speakers are initiating their own projects, and connecting more closely to the communities whose lives are shaped by the quality of the built environment. They are investigating the emerging opportunities in rural locations that are rising to the fore thanks to remote working. Some speakers are also exploring the benefits of alternative practice structures and practice to practice resource sharing in uncertain times. Others are interrogating how traditional crafts and digital technologies may close the gap between design and construction to put architects back in the driving seat. Each speaker, in their own way, is adding to the building blocks of a reinvented practice. This idea is central to Tomas' thinking: "While we are part of the system, we are in turn all building the system together."
Last but not least, Tomas has dedicated one afternoon to exploring the "Goldilocks zone" of office systems for small practices, which optimise the balance between investment and return in time savings and better business insights. While many architects would rather spend the least amount of time possible on setting up their office management systems, Tomas argues that a bit of time spent upfront will pay off greatly in the long run, with lots of capacity freed up for creative work.
He concludes: "Don't underestimate the power of a great design. But at the same time, don't ignore the peripheral stuff. Apply your creativity more broadly, and you have something really exciting."
Tickets for the 2020 RIBA Guerrilla Tactics conference are now available, starting from £25 for students and £55 for practitioners.
Learn more insights from other speakers at the conference by reading our recent features, Is design work moving to the countryside? and Five smart project management boosts.
Thanks to Tomas Millar, Director, Millar + Howard Workshop.
Text by Gesine Kippenberg. This is a feature edited by the RIBA Practice team. Send us your feedback and ideas.