14 October 2021
The word 'networking' might conjure up mental images of 'working the room' in a conference hall full of businesspeople in suits. However, the opportunities that could utterly transform your practice or career might lie in your local neighbourhood.
For Siri Zanelli, Partner at Collective Works, the projects that have allowed her practice to punch above its weight came about organically: from a curiosity about local spaces; from the part she plays in her area as a local resident; and from simply pursuing the activities that interests her.
"It is more about attitude than 'networking' as such," she explains. "The work is out there, and if you genuinely share and open up good things will happen."
This is where networking intersects with involvement in your locale: it is sociable, coincident with your own interests, and might even be fun. Zanelli will be discussing ways practices can empower themselves to 'punch upwards' at the RIBA's conference Guerrilla Tactics 2021: Stop, Collaborate and Listen on 9 November 2021.
The work that results might be small scale. But the important point here is that these can be transformative, pivotal projects for a practice: for Collective Works, they have directly led to satisfying further work. It is difficult to get a foothold in the public sector, and a practice that can plug itself into local community networks can find they have opened a 'back door' into this realm.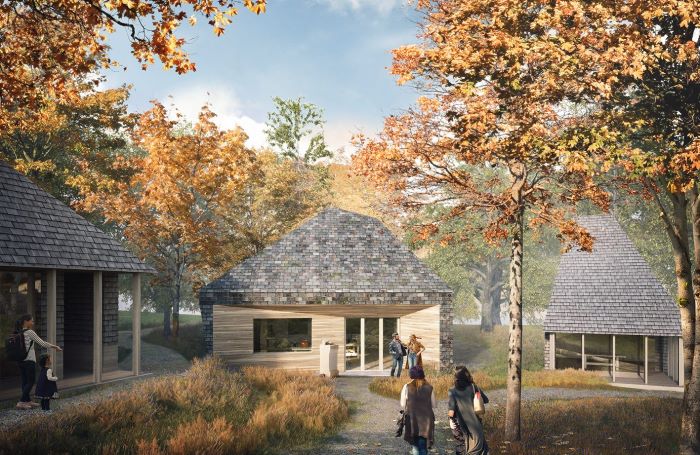 Zanelli suggests weighing up the amount of practice time and resources that might be spent on a competition entry (which could be won or lost) against the learning experiences, long term benefits and likelihood of a tangible build that community-based projects can bring. Her opinion is that developing local knowledge and contacts, and perhaps carrying out some pro bono projects, may be a better option.
"We are taught that competitions are great, but for a small practice they might create a resourcing problem," she points out. "Respecting people's time does not necessarily sit well with competition entries. We want to run our practice responsibly in terms of our staff: we don't let people work overtime."
A project for a primary school in Highgate, north London, where Zanelli lives, is a particularly good case in point. It was known locally that she was an architect, and the schools' headmaster asked her if anything could be done with a dark, underused area of the playground. There was no budget for an extension, so she suggested an outdoor classroom, which could be delivered for about £5000 with some volunteer effort.
Any budget at all is a challenge for small projects of this kind, and Zanelli contacted an altruistic local member of the Highgate Society to host a fundraising event. The money was raised and the project was delivered thanks to generous local volunteers.
The successful delivery of this modest but stylish project led, via the Highgate Society connection, to their work on a master plan for a threatened local green space, the Highgate Bowl. They were commissioned to design a building - the Artists Workshop designed to RIBA 2030 Climate Challenge targets – and given a lead role in community engagement for a planning application.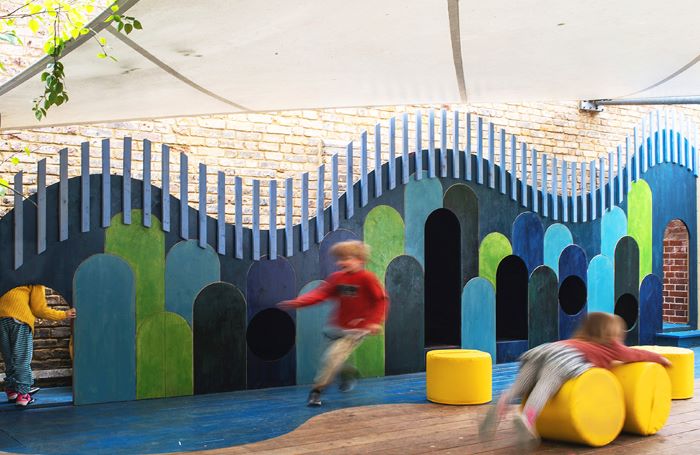 Their Highgate work also led directly to being commissioned for an outdoor play space for Haringey Council. There was a 'back door' approach here. The Highgate Neighbourhood Forum had already identified that some of Haringey's CIL money should be spent on projects nominated by the community through the Forum.
Play spaces were at the top of the list and, through volunteering at the Highgate Festival and running the first public engagement event, Collective Works could support the Neighbourhood Forum with the formal application for funding.
When the play space project came up for tender, the practice was best placed for the job through in-depth knowledge of the requirements of the Highgate Neighbourhood Plan, the outcomes of the initial consultations as well the sensitivity of the site.
"We would never had won that job had we not spent a festival day talking to families about what's missing in the area," points out Zanelli, "and getting children involved with sketch sessions."
The back door was also the practice's route into two projects for the NHS. These were direct appointments for the practice; they were not via competitions or bids. But they came about thanks to fellow partner Alasdair Ben Dixon's work at the Remakery, an upcycling project in Brixton.
The construction manager there, who was impressed by the practice's social values and commitment, reconnected with Alasdair Ben Dixon years later. He was now a Social Prescribing Manager at the NHS, leading the upgrade of facilities to help GPs refer people for health and wellbeing services, commissioned Collective Works to upgrade some NHS spaces.
"It is hard to be strategic in this regard," Zanelli admits. "You cannot think 'let's do the playground and perhaps philanthropist will offer us further jobs'. But in terms of business development, getting away from the computer and involving yourself in different organisations and networks is very important. That's where the work is."
Siri Zanelli will be talking about how practices can empower themselves to 'punch upwards' at the RIBA's conference Guerrilla Tactics 2021: Stop, Collaborate and Listen, which takes place online between 9 and 11 November 2021. Tickets are now available.
Thanks to Siri Zanelli, Partner, Collective Works.
Text by Neal Morris. This is a Professional Feature edited by the RIBA Practice team. Send us your feedback and ideas.
RIBA Core Curriculum topic: Business, clients and services.
As part of the flexible RIBA CPD programme, professional features count as microlearning. See further information on the updated RIBA CPD core curriculum and on fulfilling your CPD requirements as a RIBA Chartered Member.