30 September 2021
"From the outset, we had a rule that we would not do house extensions or small scale domestic projects," reveals Becca Thomas, Creative Director of emerging practice New Practice. "We wanted to stay focused on a goal of public sector work and making community-led spaces."
This is a bold and uncompromising attitude for a young practice to adopt. It meant that New Practice had only delivered one building when they put in a bid to work on Kinning Park Complex. However, they successfully communicated their values and commitment to the client, a charity called the Kinning Park Complex SCIO.
"We were up against much more well established practices," Thomas explains. "We applied for a feasibility study, Stages 0-2, and made very clear the degree to which we wanted to work with the client: not quite a full co-design but close to it."
"In making it clear we wanted to involve the community in design decisions we struck a chord. The previous feasibility study they had carried out had been very much about architectural outputs, but our proposal was more about community requirements. When the time came, we did not have to rebid at Stage 3, so were able to take it through the design process to construction."
New Practice specialises in projects that create community-led outcomes, while also providing on consultancy to help community-led briefs and collaborative decision making that shapes the built environment. It has won credibility as an enterprising engagement specialist while operating from both Glasgow and London, where it is part of the mayor's Architecture, Design and Urbanism Panel (ADUP).
The practice compiled many of the lessons they have learned into A Building for your Community, a free online resource produced by New Practice that provides a great deal of "hand-holding" information for clients. It tells them how to start, how to organise and sets out the steps they are going to have to go to develop a brief, secure funding and realise their project. It explains architectural jargon, describing what a feasibility study is, among other essentials.
'A Building for your Community' has been of great interest to early career architects in particular, Thomas reveals, and has prompted a number of enquiries from community groups. It has also bolstered New Practice's reputation as an all-around engagement specialist. The practice has become an experienced pre-application engagement specialist on many large projects, which Thomas sums up as "decision making" work; often for big developers or in collaboration with large practices.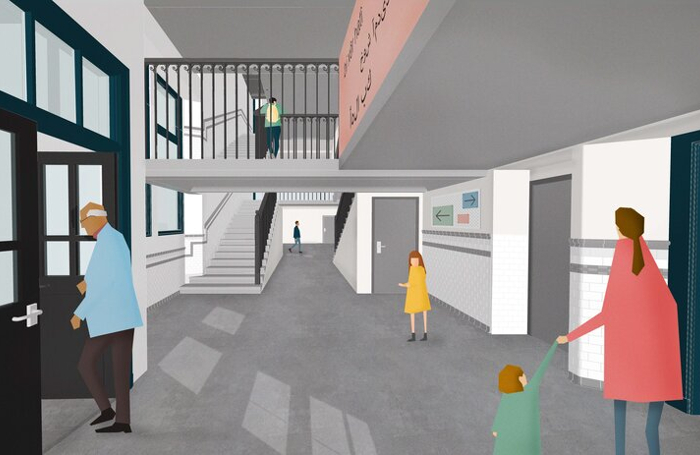 This part of the practice's activity has included pre-application work for the redevelopment of the King Street car park site in the heart of Glasgow's city centre, a mixed-use scheme backed by The Barclay Brothers. New Practice has also worked on Scotland's largest Build to Rent scheme to date, a £200m scheme by developer Get Living that boasts high quality public realm.
In both cases the sites were vacant, so Thomas could see that there was a synergy between big development and the public good.
"You can therefore make the honest case to concerned communities that, while these developers want to make money, they can feed into that to make it better more their community," Thomas explains.
"We ask questions such as: 'What are people going to push back on, what are people going to respond badly to?' And we work to identify solutions to those concerns before we begin to show proposals to stakeholders."
More recently they have been working at Custom House Quay on the Clyde riverfront, where Hawkins\Brown is drawing up a master plan for a series of development sites. New Practice have devised empathetic engagement events to address community concerns, such as dusk walks in the quayside area to discuss personal safety issues; and youth activities that involve those currently using the space unofficially (such as skateboarding).
It is all part of providing platforms for all parts of the community to engage. The aim is to ensure that it is not just the "usual suspects" that get listened to - the local planning lobbyists who may well already have platforms to support or object.
"Nobody involved in the process should ever see a planning application and think 'that is not what anybody said was going to happen'. We want the community to feel their voice has been balanced against multiple other voices."
Becca Thomas will be providing further insights into participatory planning and community engagement on 9 November 2021 at the RIBA's online conference Guerrilla Tactics 2021: Stop, Collaborate and Listen. Tickets are now available.
Thanks to Becca Thomas, Creative Director, New Practice.
Text by Neal Morris. This is a Professional Feature edited by the RIBA Practice team. Send us your feedback and ideas.
RIBA Core Curriculum topic: Business, clients and services.
As part of the flexible RIBA CPD programme, professional features count as microlearning. See further information on the updated RIBA CPD core curriculum and on fulfilling your CPD requirements as a RIBA Chartered Member.