02 March 2023
For most architects, giving a project a high level of accessibility is largely a matter of Part M compliance. But when a project is a historic retrofit with no need to comply, the inclusive design process can include a series of judgement calls.
This was the case with Clementine Blakemore Architects' refurbishment of a clutch of derelict 19th century barns in West Dorset to create accommodation for supported holidays. The barns are set on an organic farm falling within an Area of Outstanding Natural Beauty and are part of the Dorset Hideaways collection.
One of the most challenging aspects of designing the Wraxall Yard project was the fact that there were no specific requirements to meet beyond the client's desire to make the five holiday cottages as inclusive as possible for guests with a wide range of accessibility needs.
What key principle was used in the design stage?
At the same time, Clem set herself the task of making accessibility provision almost unnoticeable, with no demarcation between areas for those with accessibility needs and their carers or other family members.
"The principle from the start was that everything should be accessible, but with no separate routes, no separate parking, no special features signposting accessible design," she says.
Clem spent three months at RIBA Stage 1 visiting potentially similar holiday properties in the south west to see what was on offer. Many were operated by charities offering accommodation for families with a member with accessibility needs. Her research left an impression of institutionalised-looking facilities, making the holiday homes places where a family without a disabled member would be unlikely to stay.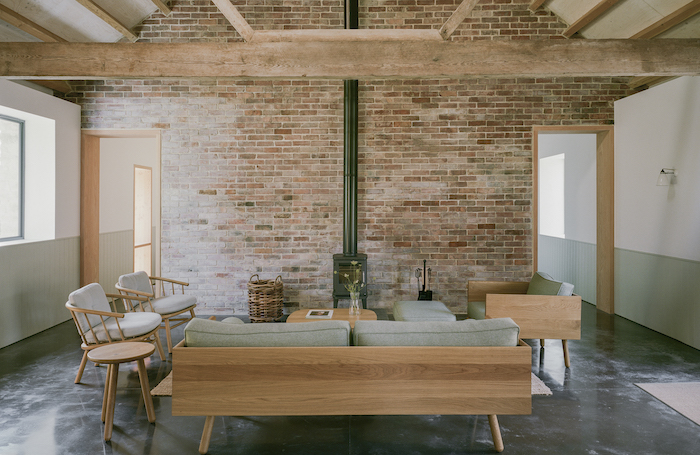 What guidance was used for Wraxall Yard?
There is a lot of guidance available on inclusive design, too many different sources to take in, Clem suggests, who ended up reverting to Part 3 Approved Documents for clarity. The target was Part M Category 3 for wheelchair user dwellings, but this specification is primarily for new builds and was simply not viable given the nature of the existing buildings, and the constraints of the budget and business mode.
Category 3 kitchens, for instance, are far larger than anything that would have been viable if they were to keep all five cottages independently lettable. So, working with an access consultant, Clem spoke with local wheelchair users about what they could provide in terms of turning circles and clear access to doors and windows that would still meet their needs.
Although all kitchens have a height-adjustable 'rise and fall' worktop, with space for a wheelchair to slide underneath, the overall length of the kitchen counters and the amount of storage space is less than the regulations stipulate.
Given these are short term holiday lets rather than homes, it was agreed with the access consultant that this would be a suitable provision. There are visual contrasts, switches at an accessible height, and vibrating fire alarms for those with hearing loss.
Each accessible bedroom in the MacEwan Award-commended project has height adjustable and profiling beds, with bespoke timber surrounds. A decision was taken to provide only one of the bedrooms with a hoist (with the ability for a second hoist to be retrofitted in a second cottage), but the track is recessed into the underside of an existing timber beam and the hoist motor is detachable so that when not in use, the hoist is not visible at all.
Bathrooms are broadly compliant, but Clem was keen to avoid unnecessary visual clutter where possible. She discovered that attractive sinks are now available with integrated handrails, for instance, and she suggests that case studies of higher end inclusive design projects have become one of the best resources for architects trying to avoid institutional-looking rooms because new products are becoming available.
Externally, the topography and layout of pathways have been designed to provide gently sloping routes without a wheelchair ramp or handrail in sight.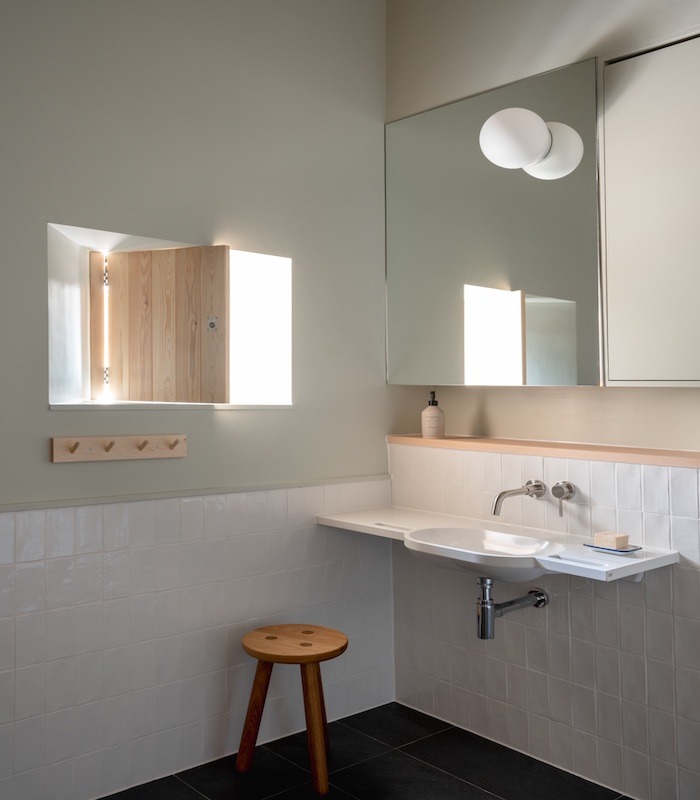 Creating elegant spaces via inclusive design
"The challenge was that we had to make judgement calls all the time about what level of accessibility to provide when there was no obligation to do it," Clem explains.
"We did not want to compromise the character of the cottages, we wanted to create elegant interior spaces. Above all, we wanted to avoid anything that said 'wheelchair users over here, non-users over there'."
The client for Wraxall Yard, Nick Read, says the brief from the outset was to create a beautiful and peaceful place for people with accessibility requirements who are invariably short-changed in the environments they are provided. He says the results have exceeded all expectations.
Thanks to Clementine Blakemore, Director, Clementine Blakemore Architects.
Text by Neal Morris. This is a Professional Feature edited by the RIBA Practice team. Send us your feedback and ideas.
RIBA Core Curriculum topic: Inclusive environments.
As part of the flexible RIBA CPD programme, professional features count as microlearning. See further information on the updated RIBA CPD core curriculum and on fulfilling your CPD requirements as a RIBA Chartered Member.