18 May 2023
Mental health awareness within architectural practices has grown significantly during the past few years, and it's now accepted that employers should be promoting an office culture where people have the confidence to talk about their mental health problems, should they want or need to.
And increasingly, the empowering figure at the centre of these vital conversations is the practice's Mental Health First Aider (MHFAider®).
The number of MHFAiders® in the workplace may have grown in recent years, but with the impact of the COVID-19 pandemic, it has been more important than ever to support mental health.
Vicki Cockman, Workplace Lead at training provider MHFA England®, points to a report from Deloitte last year that found that 47% of workers reported workplace-related stress accentuated by COVID-19.
Flexible working and the blurring of demarcations between work and home, longer working hours for many, isolation associated with virtual working environments, and job security fears were found to have put more pressure on employees.
Subsequently, there's never been a better time for individual staff members to become MHFAiders® to support their colleagues as part of a well-rounded, holistic wellbeing strategy that promotes a practice's supportive culture.
How Mental Health First Aiders can help reduce the stigma surrounding mental health
"Since the pandemic," Vicki says, "we have seen people talking much more about mental health at work, which is helping to reduce the stigma surrounding it. This increased awareness is helped in no small part by the rise in mental health awareness training".
While an MHFAider® is not a replacement for professional medical advice and treatment, they can learn how to spot the signs and symptoms of mental health conditions among colleagues and fellow employees, which can stop conditions escalating to crisis point. MHFAiders® can also be a first point of contact allowing a person to take that first, important step to seeking help.
The MHFAider's® training gives them the knowledge and skills and a framework for approaching a conversation about mental health, Vicki continues. The training also teaches how to listen non-judgmentally, empathise, and then signpost ways to find support, whether via self help, internal support available through their workplace, or professional support.
Recognising early warning signs of poor mental health and intervening early can be crucial in preventing more serious mental health deterioration and so greatly assists in better outcomes.
What are the benefits of becoming a Mental Health First Aider?
Beyond personal outcomes, having MHFAiders® in the workplace is seen as providing broader benefits for organisations and their work environment.
Reducing the stigma around talking about mental health issues at work, and encouraging people to talk more openly, without judgement, is the most obvious benefit. But the presence of MHFAiders® is seen as helping to foster a supportive work culture more generally.
"Increasing awareness of mental health has to be a good thing," Vicki says, "but this must be part of a drive to build a supportive workplace culture where everyone is safe to bring their whole self to work, no matter their age, gender, or race. By bringing together diversity and inclusion with health and wellbeing, employers can drive positive transformation in workplace mental health and performance".
Vicki works with many organisations, ensuring that MHFAiders® are integrated into a more holistic and strategic management approach to mental health. She has no doubt that employers are recognising there are links between open management cultures and supportive workplaces that encourage wellbeing and better productivity and performance.
The presence of MHFAiders® in itself sends a message that the employer values their staff's mental health, however, it shouldn't be considered in isolation. Mental Health First Aid should always be one part of a much wider strategic organisational approach to health, safety, and wellbeing at work. HR practices and policies should continually be scrutinised, and good job design needs to be at the heart of an organisation.
Interventions by MHFAiders® can also help to reduce absenteeism and presenteeism (presenting at work while unwell) if poor mental health is managed more effectively. And earlier recovery, assisted by early intervention, can support people back to work more quickly. Wherever possible, returning to work in a supportive environment should become a positive part of the recovery process, Vicki adds.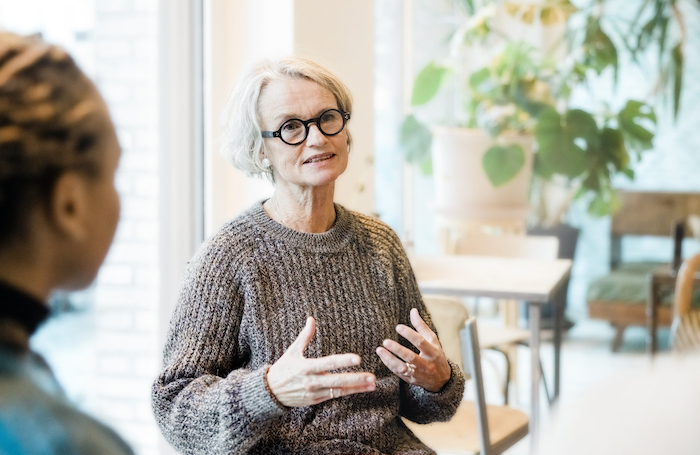 How do you become a Mental Health First Aider?
MHFA England® courses first came to the UK in 2007 and are available all year round.
This certified Mental Health First Aid course can be taken face-to-face over two days, or online in four sections over a fortnight. Qualifications can be added, and there are shorter mental health awareness courses, courses for people managers, and consultancy available too.
Vicki says that people can benefit from MHFA England® training whether or not they want to be certified and become a designated MHFAider® in an office or organisation. The knowledge and skills gained can be put to good use supporting family, friends, and their wider community, she adds. Courses also encourage self care and will provide tools and resources that MHFAiders® can use to look after their own mental health.
Thanks to Vicki Cockman, Head of Client Delivery at Social Enterprise , MHFA England®.
Text by Neal Morris. This is a Professional Feature edited by the RIBA Practice team. Send us your feedback and ideas.
RIBA Core Curriculum topic: Health, safety and wellbeing.
As part of the flexible RIBA CPD programme, professional features count as microlearning. See further information on the updated RIBA CPD core curriculum and on fulfilling your CPD requirements as a RIBA Chartered Member.