13 July 2023
Published this week (Thursday 13 July 2023), the Inclusive Design Overlay to the RIBA Plan of Work seeks to embed inclusive design across all stages of construction projects and empower each of the teams involved - from architects and clients to operators - to contribute to creating inclusive environments.
Over 100 professionals from 25 professions, representing 50 built environment companies, bodies, and organisations, have provided insights and best practice content to the new overlay. It is the first industry-coordinated technical framework for delivering inclusive design.
Pareisse Wilson, Inclusive Design Overlay Project Lead and Inclusive Design Strategy Lead at Motionspot says the overlay should discourage the practice of seeing inclusive design as an add-on, often assumed to be delivered by an inclusive design specialist in silo. Instead, the overlay encourages weaving inclusivity and accessibility together to create a good design process, where everyone is given the confidence to contribute to the Inclusive Design Strategy, work closely with the Inclusive Design Lead and engage user groups.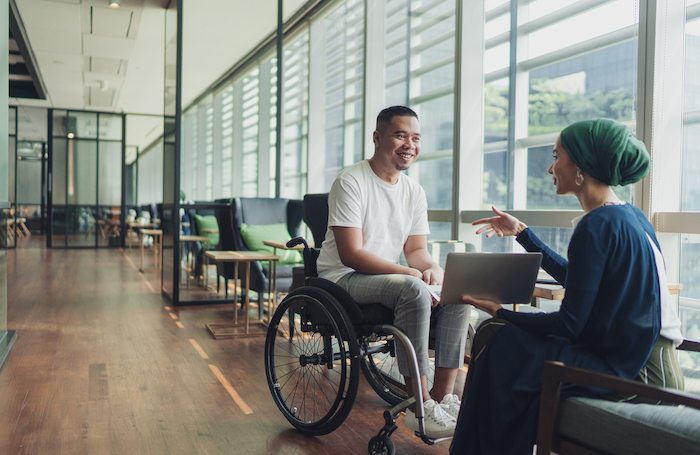 What roles does the Inclusive Design Overlay cover?
Contributory project roles are separately referenced in the overlay across RIBA Plan of Work Stages for:
Client
Project Management Team
Design Team
Construction Team
Asset Management Team
From the outset, for instance, the client can be involved at Stages 0 to 1 by defining their inclusive design vision and commitment. They can set aside a dedicated budget and in partnership with the Project Management Team appoint an Inclusive Design Lead. Across Stages 2 to 7 the Project Team will be engaging regularly with user groups.
The Design Team and Construction Team in Work Stage 5 can work together alongside the Inclusive Design Lead to conduct an inclusive design audit of the environment, for both end users and their teams on site.
At Work Stages 5 to 7, the Asset Management Team will be developing Building Manuals and Post Occupancy Evaluation Surveys with contributions from across the Project Team.
The Inclusive Design Lead will typically be an independent Inclusive Design Consultant facilitating the effective implementation of inclusive design in partnership with the wider Project Team. It is recognised that on smaller-sized projects an Inclusion Champion might be better suited to the project budget, and can be identified from within the Client, Design Team or any of the wider project roles. The Inclusion Champion will then take on responsibility for raising standards for diversity, access, and inclusion throughout the project.
A review at the end of each stage gives different team members an opportunity to report back to the client on how the aims of the Inclusive Design Strategy have been addressed. This is known as the Inclusive Design Outcome Review.
The overlay encourages the Project Team to look beyond application of Building Regulations and apply inclusive design best practice in the spirit of the RIBA Inclusion Charter, which calls for a commitment to "embedding inclusive design in all projects, contributing to the development of inclusive environments".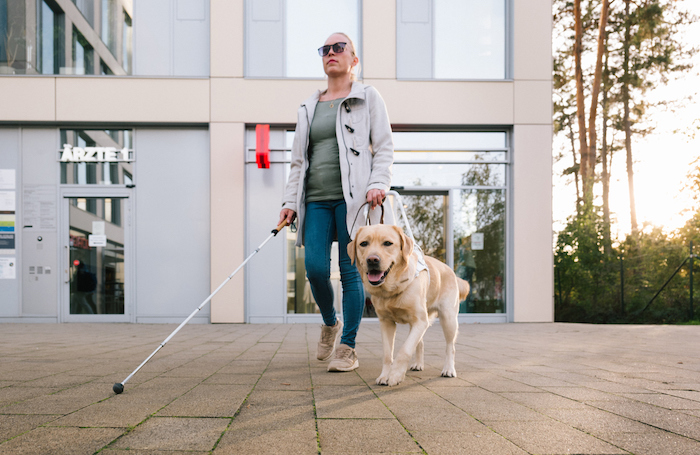 What are Pareisse's three key principles of inclusive design?
1. Placing people at the heart of the design process
"Designing inclusively means making sure that you are engaging with people who are going to use the space, the product, or the environment. If we are designing for an eclectic range of people – from diverse faith groups through to people with different disabilities – then the engagement of people with these characteristics and identities should be at the heart of the design process throughout the project."

2. Creating and providing options in design
"It is vital that when anyone goes to a space they have options that work, so they can equitably engage with the environment. For some people that might be the choice between an all gender, gender-neutral, male or female toilet. For others, an inclusive option is having access to a wheelchair accessible, ambulant disabled or Changing Places toilet. Similarly, the provision of a dedicated quiet room, prayer/reflection space or baby feeding facility can meet an individual's specific needs. That would be true inclusion. It is really important that those options are offered so that everyone feels seen, acknowledged, and can engage with the environment."

3. Creating an environment where everyone feels safe and welcome
"Making sure everyone feels they can use a space independently is so important. For me personally I have Dyspraxia (DCD), and there's nothing more frustrating than when I enter a space when there are no maps and directional arrows to help me navigate a building. Someone who is anxious, someone who has dementia, someone experiencing migraines, someone with a health condition that requires regular trips to facilities such as toilets, will feel more in control and more welcome when they know how to navigate the environment. Instead of seeing inclusive wayfinding as a feature only for those with accessibility requirements, we should see it as good design, fundamentally."
When to use an Inclusive Design Specialist
The first stage of using the overlay is understanding who is using the environment and who might use it in the future, Pareisse says. This can mean undertaking an impact assessment to identify the likely effects of the project on users (such as the protected characteristics listed under the Equality Act, 2010 and beyond, such as neurodiversity).
Where a building is being refurbished, commissioning an inclusive design audit to be carried out by the Inclusive Design Lead - who is a specialist in identifying barriers and providing recommendations for improvements against best practice - is recommended. Understanding the building's users will always be key to designing inclusive and accessible environments.
Pareisse continues: "At the very front end of the RIBA Work Stages you will have the client thinking about what their inclusive design goals are in the project brief and Inclusive Design Strategy. What we do in the overlay is clearly outline the opportunity for all the project roles to feed into the creation of the Inclusive Design Strategy or identify how they will support the delivery of it. From the Project Management Team through to the Asset Management Team, everyone is encouraged to contribute to the delivery of inclusive design.
This gives the project team the chance to ask questions and find out how they can make the inclusive design vision a reality on the project. By being involved in shaping the strategy, members of the project team are more likely to have the confidence to embed inclusive design across their discipline."
At this point, it is essential to know when to identify the Inclusive Design Lead, who will support the whole project team in understanding how designs will impact people and how they can be improved upon."
Why good design should be fundamentally inclusive
"At Motionspot, our clients are increasingly understanding the connection between inclusive, accessible and equitable environments, and creating an inclusive, diverse culture," Pareisse says.
She argues that good design must be fundamentally inclusive, just as it should be sustainable and resilient. With sustainability no longer seen by architects as optional, she hopes the overlay will elevate inclusive and accessible design to the same level: essential.
Download the Inclusive Design Overlay to the RIBA Plan of Work.
Thanks to Pareisse Wilson, Inclusive Design Overlay Project Lead, RIBA and Inclusive Design Strategy Lead, Motionspot.
Text by Neal Morris. This is a Professional Feature edited by the RIBA Practice team. Send us your feedback and ideas.
RIBA Core Curriculum topic: Inclusive environments.
As part of the flexible RIBA CPD programme, professional features count as microlearning. See further information on the updated RIBA CPD core curriculum and on fulfilling your CPD requirements as a RIBA Chartered Member.