02 November 2023
Anthony Staples, Associate at self-described 'socially responsive' practice RCKa, believes architects are uniquely well placed to add value to social enterprise and community-based projects thanks to their inherent problem-solving skills.
If involved early enough, preferably "Stage minus-zero" as he puts it, architects can bring a creative approach to the community engagement process, mapping out the needs of a community in a way that goes way beyond making the most of physical spaces.
"If we can go on a journey with stakeholders and find an outcome that empowers them to meet their needs," Anthony says, "we can give them a building or project that will create a sustainable legacy that will continue to empower the community beyond any short term grant funding."
How has social empowerment helped the local community?
Anthony will present Social empowerment as a key to sustainable outcomes at RIBA's Smart Practice Conference 2023 event between 21 and 22 November 2023. It is an approach that treats community assets – whether underused spaces or the latent skills and talents of the local community – as resources that deserve to be used sustainably.
As a case study, he will be looking at how RCKa converted a former post office in London's Shepherd Bush into the Nourish Hub. The hub is a new community hub tackling food waste and food poverty by rescuing and redistributing tens of thousands of meals a week. It also offers training in culinary skills to local people.
The building was a high street asset that the local authority, Hammersmith & Fulham, had been unable to lease until UK Harvest approached it.
The charity already had a business plan and had secured £1.1 million worth of capital funding from the London Mayor's Good Growth Fund. The council also provided significant financial support to the project.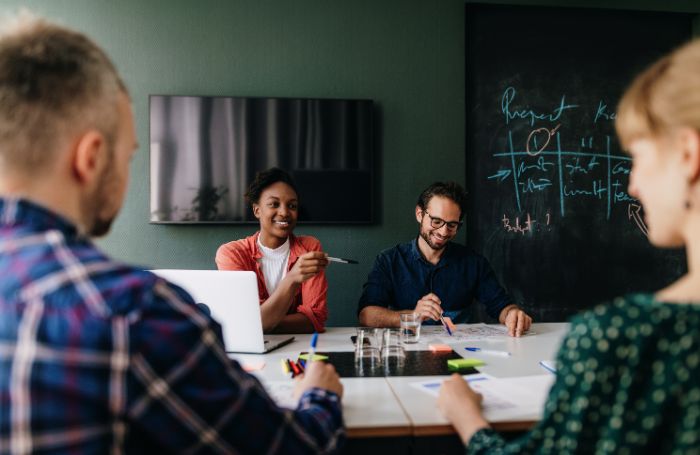 What is RIBA's Smart Practice conference?
Smart Practice is RIBA's annual conference for project architects and is designed to appeal to architects working in practices of different scales across all sectors. It takes place on 21 and 22 November 2023.

The theme for this year's conference is creating sustainable outcomes through crafts and materials. Over the two days, Anthony and his fellow speakers will discuss key topics such as embodied carbon, retrofitting, net zero and rammed earth.
These subjects will be explored through talks, case studies and conversations with leading architects in the field who are pushing our understanding of sustainable design and construction in different ways

This conference is RIBA CPD certified, and the two online half days total eight hours of structured CPD.
Book your ticket to Smart Practice now.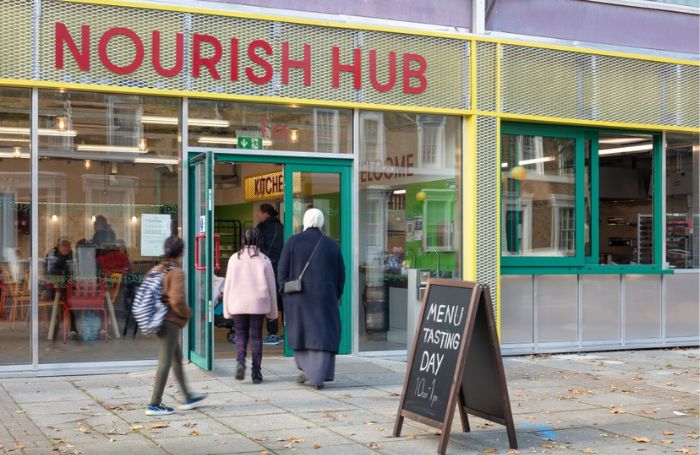 Why getting involved in community projects is a win-win
Anthony says RCKa did not want to approach the project as "Okay, we've got an asset, what can we do with it spatially?". Instead, the practice set about "getting under the skin of the business plan" to see how they could better exploit the asset to create more activities that would make the enterprise viable in the longer term.
The practice also set itself the task of community engagement and raising awareness of the project locally, so that by the time it opened the project had a list of local volunteers ready to help out and get involved.
"You don't want to spend all that money refurbishing a building and getting the project running if it's going to peter out at the end of a three-year funding programme," he continues.
"It's got to have some other income streams so that it continues to evolve and grow and has a legacy. Social empowerment is a good way of describing it."
The vision of the Nourish Hub evolved from being a 'community kitchen' that provides meals to also becoming a training centre that upskills local charity staff on nutrition and healthy meal planning.
It also facilitates employment opportunities through training and relationships with private sector employers and provides working spaces for training and events.
Anthony adds that it has been a real win-win situation for the local council. Instead of an unlettable space, it now has a building it has been using as a conduit for some of its own social services. It has young persons' programmes running through school holidays and adult education workshops for unemployed people looking for jobs in catering.
"Suddenly, we've got all sorts of people from all walks of life coming into this space. It's become an amazing self-sustaining community resource."
How to add value in a strategic overview
Anthony worries that the profession is at risk of becoming bogged down in competition to deliver projects with ever more complex technical demands.
This comes at a time when young architects, if his own office is anything to go by, are passionate about doing social good. For many, it is the motivating factor for getting into architecture.
"I think where we really add value is in that strategic overview we can give as the person who understands a little bit of everything," he suggests. "We come with a design background, so we have this creative problem-solving attitude that we can apply not just to the project brief, but to the business plan and the engagement process."
"Sometimes we have to say: 'hang on, looking at this project strategically, where is the value for the community, and how do we get them involved – and empowered?'"
Thanks to Anthony Staples, Associate, RCKa.
Text by Neal Morris. This is a Professional Feature edited by the RIBA Practice team. Send us your feedback and ideas.
RIBA Core Curriculum topic: Business, clients and services.
As part of the flexible RIBA CPD programme, professional features count as microlearning. See further information on the updated RIBA CPD core curriculum and on fulfilling your CPD requirements as a RIBA Chartered Member.