07 October 2021
One project leads to another. This might be almost too obvious to be worth stating, but this simple truth has been an abiding principle for Office S&M.
A focused, methodical approach has taken it from its foundations, fresh from university, to a striking portfolio that include developers, local authorities and domestic residential clients. The practice's work is split equally between private and public sector work; it is now a team of five and has completed over 45 projects in around eight years.
"We went from designing one shopfront to four shopfronts. Then the next project was a full high street," explains Catrina Stewart, who founded Office S&M in 2013 with a fellow MA student, Hugh McEwen. "We have always used projects as stepping stones."
The pair were learning as they went, with no funding. While they did not have a formal business plan, they knew that they wanted to work in a diverse range of sectors and they pursued every relevant or interesting opportunity they heard of.
"We quickly saw that each project can be a way of unlocking other projects and opening the door to other sectors," Stewart acknowledges. "It is important to see each project as something that is really special for the individuals concerned."
Catrina Stewart will be discussing how practices can punch above their weight at the RIBA's online conference Guerrilla Tactics 2021: Stop, Collaborate and Listen, on Wednesday 10 November 2021.
Office S&M's initial projects were all competition wins; the first being a grocer's shopfront in Leyton which was part of a wider high street regeneration project that Jan Kattein Architects were overseeing. Their work here demonstrates the value that a small intervention can bring to a practice's portfolio if it is carefully and thoughtfully executed.
"Take every opportunity as it comes in the early years," Stewart urges. "Say 'yes' as much as possible."
This is her advice to other practices that wish to grow in either scope or scale of work. There were many factors in her practice's transition from shopfronts to the multi-apartment and multipurpose schemes it now delivers. But in their first few years, it was hard work, unbridled enthusiasm and keeping a sharp eye out for interesting opportunities that made the difference.
Stewart also extols the virtue of collaborating with a wide range of fellow professionals. Innovative input from specialist consultants has made Office S&M's bold designs more impactful, and it has also opened up new work opportunities.
"We collaborate with really good people," Stewart states. "Every project needs expertise in different areas, and we take a more collaborative attitude towards our work with builders, makers, manufacturers and suppliers than many. We like to challenge our clients too, to a certain extent: encouraging them to become involved in materials research and decisions; pushing them to be bolder."
Like many emerging practices, they carried out plenty of small domestic projects - extensions and conversions - for private clients in their first few years.
"We would often find that, in talking about extensions, another potential project would surface: a small plot of land on the fringes of the city, for example."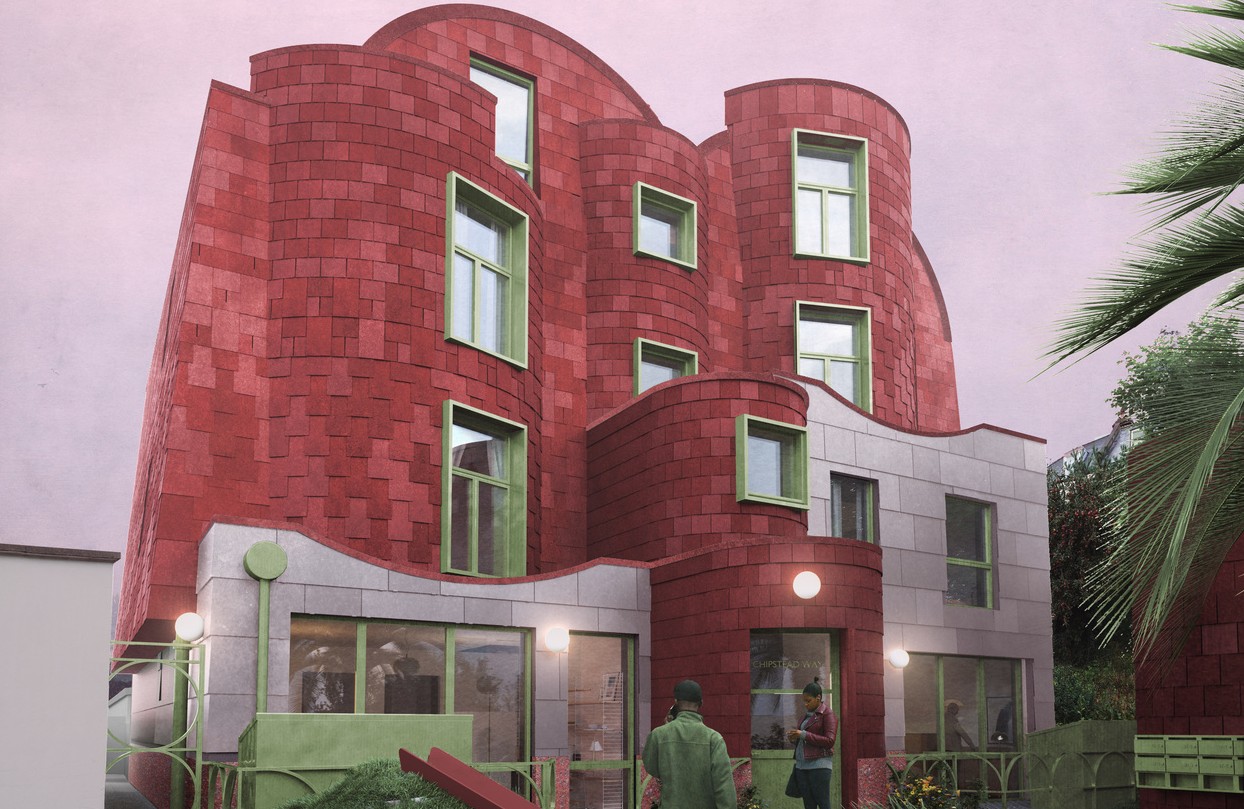 There are other major factors that have helped Office S&M punch upwards and grow quickly. One is the range of their work. Smaller projects such as their Overcast House infill extension sit in their portfolio alongside more ambitious projects for developers, such as the planned Chipstead Way housing in Croydon, a curvaceous eight apartment development, or their Mintworks workspace retrofit that prioritises occupant wellbeing.
"We work in lots of different sectors and find that experience gained in one can often be an asset to another. Working with a private developer on a multi-unit scheme gave us useful knowledge in pitching for council-led work and other public sector clients. And vice versa."
This has not only broadened the number of opportunities available to the practice but has allowed it to build up expertise and knowledge that is transferable; it has led to successful pitches in new sectors over time.
"We have also been able to adapt to shifting climates," she explains. "While we weren't working on that many workspaces or retail spaces during the pandemic, we carried out more residential work. That diversity has helped us grow."
Another notable characteristic of Office S&M that has driven its growth – and one that may seem counterintuitive at first – is making life difficult for themselves. Many of the projects the practice has worked on are solutions to tight spaces, awkwardly shaped plots and difficult sites in general.
Its Valetta House loft extension in Ealing, for example, was limited by size and shape, but boasts clever pockets of space, light wells to draw sunshine deeper into the building and playful materials that transcend the perfunctory nature of the typical loft extension.
Office S&M's website can legitimately present a narrative of problem solving and ingenuity to potential clients. It clearly addresses itself to three different sectors - developer clients, homeowner clients and council clients - and states what they believe each client type is looking for, showing that the practice can deliver what they need.
"We are always interested in working on projects that have a lot of problems," Stewart affirms. "They are more challenging but at the same time there is a lot more satisfaction in finding a solution. We try to see opportunities where others might see complications."
Thanks to Catrina Stewart, Director and Co-Founder, Office S&M.
Catrina Stewart will be providing further suggestions of how practices can empower themselves to punch upwards at the RIBA's online conference Guerrilla Tactics 2021: Stop, Collaborate and Listen, which takes place between 9 and 11 November 2021. Tickets are now available.
Text by Stu Robarts. This is a Professional Feature edited by the RIBA Practice team. Send us your feedback and ideas.
RIBA Core Curriculum topic: Business, clients and services.
As part of the flexible RIBA CPD programme, professional features count as microlearning. See further information on the updated RIBA CPD core curriculum and on fulfilling your CPD requirements as a RIBA Chartered Member.