23 September 2021
As the construction industry grows more aware of the practicalities of reducing operational energy and embodied carbon, questions surrounding the purpose of a building become more important. Many designers and engineers are asking existential questions about a building's lifespan and the resources required of it.
The answer, for many, is that less is more. Penny Gowler, Associate Director at engineers Elliott Wood, is a resource-focused engineer who sees questioning what she perceives as an abiding culture of overdesigning.
The notion that architects and engineers should be designing buildings to specifications that anticipate every feasible possible use will not, in her opinion, help the built environment play its part in tackling the climate crisis. Instead, she believes, designers should concentrate on optimising the structure for its intended purpose.
At the base of this reasoning lies the fact that the outcome with the lowest carbon footprint is ultimately no building at all. Accordingly, Gowler is an advocate for reuse of spaces and the energy efficient retrofitting of buildings.
However, given that new buildings will continue to be built, she emphasises the importance of making them as structurally efficient as possible. Designers should be questioning aspects of design that are structurally less efficient, especially if they are not necessary to the building's proposed use.
Designing large, column-free spaces is one example. This adds significantly to structural weight, which is where most of a building's embodied carbon will lie.
"Getting the grid right is very important," Gowler explains. "If you need a six metre grid for uses that are required today, but put in a ten metre grid in the name of future flexibility, you can be looking at a 100 - 150% increase in the weight of the structure. This is hard to justify when you ultimately do not know what the building might be used for in the future."
She suspects that the default expectations concerning structural loading will be increasingly challenged as the industry's understanding of embodied carbon deepens.
The British Council for Offices (BCO) has recommended criteria for structural loadings and column spans. But its recommended 2.5 kN/m² loading specification for above ground floors, for instance, is overkill for most office environments today, in Gowler's view.
With the trend towards hot desking and laptops having increased in our post-lockdown lives, she considers it unlikely that the typical studio office, for instance, would approach anywhere near 2.5 kN/m² and that there is an argument for something closer to 1.5 kN/m², which is closer to the much lower levels specified for residential development.
Challenging the BCO or Eurocode specification (2.5 – 3.0 kN/m²) for offices should be a professional judgement based on what is suitable for intended use, she argues. This is perfectly viable as long as there is buy-in from the client and discussion with local Building Control.
Gowler will be discussing this and other questions concerning Designing for Change on 29 September 2021, part of the two-day online RIBA Smart Practice Conference 2021: Stepping up to the Climate Challenge.
Her key message is that the pursuit of resource efficiency requires designing buildings to be no more complicated than they need to be. Keeping structures simple usually translates into regular grids and avoiding transferred loads and the need for large transfer load structures, which will give huge materials savings.
Richard Walder, Associate Director at Buro Happold, agrees with Gowler concerning simplicity and economy.
"Minimising floor spans makes a significant difference to a more efficient structure," he suggests.
Walder will be joining Gowler as a panellist at Smart Practice. His perspective is a little different, as he specialises in the conversion of existing spaces into scientific research laboratories. Accordingly, Walder is well aware of what makes a building adaptable, and which grids work for different uses.
"Different structural grids are better suited to different uses," he points out. "No one building type will have one particular structural efficiency. Nine metre grids are good for offices, but not for residential."
The prime consideration of what makes a building adaptable for future uses is, Walder suggests, volumetric space.
"It is much easier to retrofit a space for a new use if it has more height. But that is of course not very environmentally friendly: if everyone were to build all buildings a metre taller than they need to be, the embodied carbon would be very bad."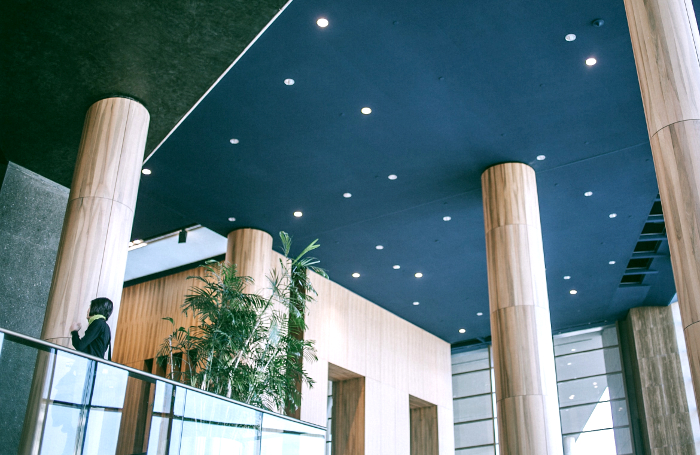 Nimi Attanayake, Director and Co-founder of nimtim architects, will also be on the Smart Practice panel. She provides a perspective from a smaller, emerging practice. For her, questions of carbon and structure can be summarised in attempting to do the most with the least.
"A huge amount of carbon is embodied in a building," she states. "We are always trying to unlock existing spaces, and trying to make our designs work harder and more efficiently."
There are many small design decisions which all add up when it comes to new builds, extensions and renovations for domestic work.
"We have tried to limit opening sizes, for example, so we can reduce the amount of steel work and use timber frame construction when possible," she reveals. "This means that we can't have huge expanses of glass."
"So instead, you need to ensure that views are nicely framed, and design stepped extensions that reduce the width of the span. You have to tie sustainability into the narrative of the project at the outset and get clients to buy into these ideas."
Thanks to Penny Gowler, Associate Director, Elliott Wood; Richard Walder, Associate Director, Buro Happold; and Nimi Attanayake, Director, nimtim architects.
The designing for change panel discussion will take place on 29 September 2021 at the two-day online RIBA Smart Practice Conference 2021: Stepping up to the Climate Challenge. Tickets are available now.
Text by Neal Morris. This is a Professional Feature edited by the RIBA Practice team. Send us your feedback and ideas
RIBA Core Curriculum topic: Sustainable Architecture.
As part of the flexible RIBA CPD programme, professional features count as microlearning. See further information on the updated RIBA CPD core curriculum and on fulfilling your CPD requirements as an RIBA Chartered Member.
First published Thursday 23 September 2021