19 August 2021
If the construction industry is to meet the challenge of net zero, it will need to employ a range of different solutions. The use of biomaterials – a term often used interchangeably with "nature-based," "natural" or "plant-based" materials – can radically reduce a building's embodied carbon. They can be grown sustainably and will typically be reusable, recyclable, or biodegradable at the end of a building's use.
As an engineer and senior researcher at Cambridge's Centre for Natural Material Innovation, Dr Darshil Shah works with scientists on developing and optimising biomaterials, such as engineered wood, bamboo and natural fibre composites, to make lightweight, sustainable alternatives to conventional materials.
The natural material that is most commonplace in today's construction industry is timber. It accounts for a large part of Shah's research, and he considers its structural potential to be key to a low carbon future.
"Structural timber is undervalued," he worries. "We need timber to capture the wider public imagination: more architects should consider timber as a 'first use' material."
Structural use of wood will typically involve cross-laminated timber (CLT), laminated veneer lumber, glued laminate timber (glulam) or similar variants, Shah explains.
"But the timber toolkit is expanding," he adds, "and we can expect to see a wider variety of species being used, with CLT being made increasingly from hardwoods as well as softwoods."
A larger variety of supply could also mean a reduction in the carbon emissions associated with transportation of materials.
While Shah does believe that more of the UK's land should be forested – responsibly of course – there are limits to how much timber the UK can produce. It is, relatively speaking, quite a "forest poor" area compared to many mainland European nations and will continue to import most of its timber.
He notes that there is a business opportunity here. It would make more economic sense to import the blanks for CLT and carry out the machining and processing locally, as this accounts for between 30 to 40% of their value. This would also help reduce waste occasioned by damage during transportation: notches and cracks could be better repaired and finished in a processing plant.
The government's ban on combustible materials and subsequent reviews have, Shah concedes, dampened many of the hopes of the timber sector due to the building height restrictions imposed upon timber usage. However, trying to build the world's tallest timber building is not the way forwards, as he puts it. He anticipates the "mid-rise sector" being where timber will come into its own.
"Buildings of between six to 10 storeys can be rapidly and efficiently constructed within a few weeks using CLT and modern methods of construction."
Part of his research has investigated the fireproofing of timber. One development is a graphene-based polymer coating that prevents a timber surface from igniting while conducting heat away from the material.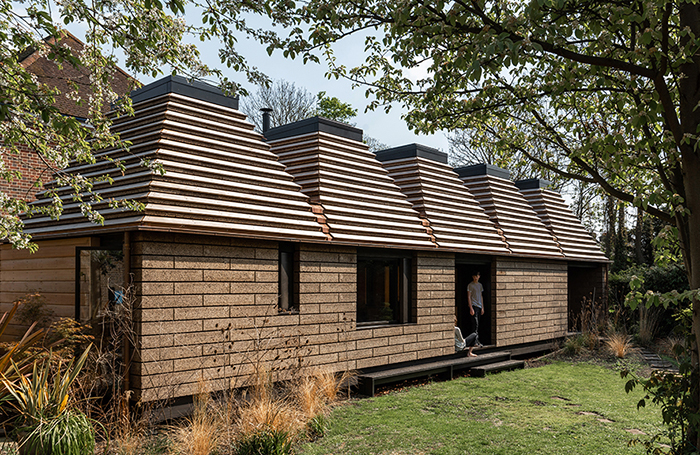 Shah is also researching possibilities in adhesive-free timber. Avoiding any glues or metal fasteners, a "welded wood" method can form a bond between two pieces of timber that is stronger than the timber itself. It is achieved by rubbing the pieces together at a very high frequency.
He anticipates a natural materials infrastructure of sorts developing in the UK, with factories in strategic locations processing structural timber; and fibre-based insulation grown and processed in the most appropriate regions. Straw, hemp and flax can all be processed as insulation: flax is best grown in the north of England; hemp in the southeast.
While insulation tends to be the most common use of fibrous natural materials, Shah points out that they can have semi-structural applications. Compressed straw bales, for example, can be used as wall panelling while demonstrator projects such as Cork House and Flat House have proven that cork, hemp, and straw have structural uses.
Flat House is a low embodied carbon three bedroom building that was rapidly assembled using prefabricated panels infilled with locally grown hemp. And Margent Farm, where Flat House was built, sells hemp fibre corrugated sheets that can be used for both exterior and interior wall cladding. They can be used externally to form a rain screen or internally as ceiling or wall linings, or other acoustic treatments.
Hemp has a range of valuable uses. Hempcrete is becoming increasingly well known as an alternative to concrete. This uses shives, a by-product of the hemp plant, which is mixed with lime as a binding agent and water. Shah points out that lightweight hemp blocks can be placed in a timber cassette frame to form an internal wall. Hemp-based plaster, using hemp sawdust with lime, can provide a variety of standard finishes.
Fibrous materials may also be used as reinforcing components as hemp can be used to support structural timber at specific joins; while hemp, flax, and straw can be incorporated in rammed earth to make it stronger.
Projects such as Tecla House, an innovative building designed by Mario Cucinella Architects, are proving the viability of earth as a contemporary building material. Tecla House was constructed by 3D printers using raw earth, and Shah points out that new technologies and construction methods can further unlock the potential of biomaterials.
Designing with biomaterials, it seems, will involve productive lateral thinking; finding ways to make the most of materials and helping them to play well with others.
Darshil Shah will be presenting more information about the use of biomaterials in sustainable design at the online RIBA Smart Practice Conference 2021: Stepping up to the Climate Challenge on 30 September 2021. Tickets are now available.
Thanks to Dr Darshil Shah, Senior Researcher at the Cambridge Centre for Natural Material Innovation.
Text by Neal Morris. This is a Professional Feature edited by the RIBA Practice team. Send us your feedback and ideas.
RIBA Core Curriculum topic: Sustainable Architecture.
As part of the flexible RIBA CPD programme, professional features count as microlearning. See further information on the updated RIBA CPD core curriculum and on fulfilling your CPD requirements as a RIBA Chartered Member.