Hiring architects in North London: What you need to consider
When hiring architects for your North London home improvement project, there are important things you need to consider. Here's a guide to assist you.
Consider hiring a local architect to make the most of your project
Improving your North London home may seem a daunting challenge. There are plenty of architects in North London who have a wealth of experience and are used to working with homeowners who haven't been involved in a building project before. With an architect's expert skills and experience to hand, you can progress through the design and construction of a house extension, loft conversion, or re-planning of your home confident in the knowledge that you are making the right decisions.
It's a good idea to appoint an architect early, so they can advise you on the extent of building work that will be needed. If you have a good idea of what you'd like to achieve, an experienced residential architect will help you draw up a brief and floor plan which will help visualise the potential of your home improvement project and give you an idea of the project cost.
Discussing your ideas with an experienced local architect from a RIBA-accredited Chartered Practice early on in the process can help generate creative ideas you may not have thought about.
Architects are skilled at generating different options and explaining them with sketches and computer drawings, so you can discuss them and choose those which work best and will fit your budget. Once you have appointed a qualified architect, your project will start to gather momentum as they guide you through the process.
Consider the project experience of the North London architects you hire
All architects have a fundamental understanding of building structure and the aesthetics of building design. However, there are different kinds of architects and architect firms who specialise in various types of building projects. If your project involves home improvement, remodelling or building a house from scratch, the expert you need to appoint for your project is a residential architect.
A qualified architect from a RIBA-accredited Chartered Practice will prepare a detailed set of design and construction drawings along with thorough specifications describing the detail of your residential house project. Your North London architect should have experience in residential architecture and work regularly with local building companies so that by the time you ask for tenders, you can be confident that the prices submitted will all be based on design and quality specifications. This will help you to keep within your project budget (more on this later).
The right architect for your project will provide you with expert professional guidance along with helpful independent advice at every stage, which will reduce the stress of working on such a challenging task and leave you feeling confident that you're making the right decisions for your North London project. To ensure that your designer is properly qualified, look for the word 'architect' on their letterhead or website. Only people who have completed extensive training can describe themselves as an architect as it is protected by law.
A large number of architects also become Chartered by joining the RIBA and some architect firms become RIBA Chartered Practices which gives clients an extra level of quality assurance. If you want to check that you are dealing with a qualified architect you can check the register at the Architects Registration Board. To find the right RIBA-accredited Chartered Practice for your project, use the free RIBA Find an Architect service. The service also provides you with their contact details to easily choose an architect and get your project moving.
Use an architect in North London to help manage your budget
A key concern for those undertaking renovations, house extensions or any sizable home improvement project is keeping to budget. In the early stages, estimating approximate costs needs a professional opinion. If you want to keep costs down and avoid the worry that you can't afford to do what you dreamed of, it's essential to get advice from a chartered architect, who will regularly be getting prices from North London builders for projects just like yours.
A well-managed project will ensure that you don't sign on the dotted line with a builder until you have all the likely costs agreed. Your architect will also help you put together a contract that prevents unreasonable extras being added to the bill during construction.
The RIBA's work with an architect pages will give you more information on the advantages of bringing in a qualified architect for your house refurbishment project.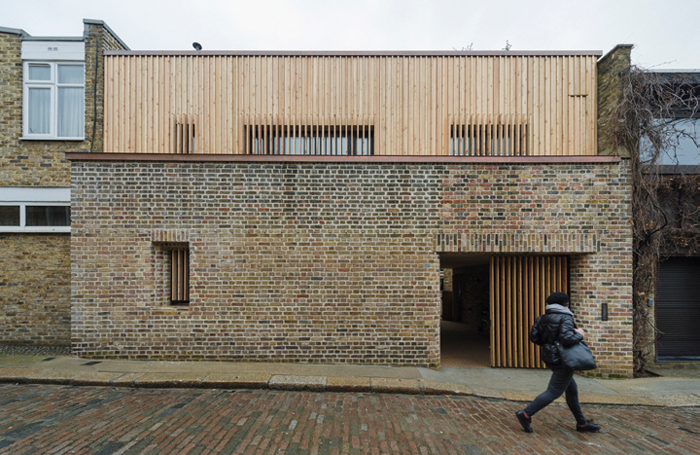 Consider the local regulations that will affect your house extension or alteration
If your North London house improvement project involves an extension, you may need to secure planning permission for the design and have the building work approved under the building regulations. Many domestic projects don't require planning approval, especially if they are at ground floor level only, or involve a loft extension that does not affect the part of the roof facing towards a road.
Local architects can identify those projects that will not need planning approval, otherwise known as 'permitted development'. If approval is needed, they will know how to create a design that has the best chance of getting it, and who to talk to at the council if some negotiation is required.
All residential architects in North London spend a lot of their time working out how their designs will be built and whether they will meet the approval of the building control officer. Having this knowledge and experience is essential to avoid planning approval being obtained for a scheme that cannot be built because it fails to comply with the building regulations.
How architects in North London charge for their services
Architects' fees vary depending on the scale and complexity of their involvement, the size of a practice, its reputation, and the expected cost of the building work. There are several different ways to calculate architect fees. If the architect is providing a full service, including managing the builder on-site and there is a well-defined budget, a percentage fee may be appropriate.
If the architect is only producing drawings, for planning permissions and building regulations purposes for example, an hourly rate may work better, although you should always ask for an estimate of the time the architect expects to take.
Occasionally a lump sum may be agreed, but for this to be fair, the project must be precisely defined before design work starts. As a guide, typical percentages for the full service may vary from 9% and 13% for a £50,000 budget, between 8% to 12% for a £150,000 budget, and 6% to 8% for £500,000. You should expect to pay between £65 and £85 an hour. All these figures exclude VAT.
(Source: The Fees Bureau/Mirza & Nacey Research Ltd)
Find and meet some London Architects
Once you've made the decision to hire an architect, the next step is to start looking for North London architecture Practices. But if you want to find an architect who is right for your specific project, you will need to narrow down your search. You need to look for architect practices in London that have relevant experience and are best suited to your tastes.
Once you have a shortlist of potential architects (use the RIBA's free Find an Architect service to make this easier) it is time to set up some meetings. You'll find Chartered Practices in areas such as Barnet, Enfield Haringey, Finchley and Waltham Forest.
Most practices will be happy to visit your home and talk through your ideas for an hour or so, often without charge. This service is enormously useful if you are trying to work out whether your expectations are realistic and affordable. The architects will look at a variety of design options and map out a project programme for you from start to completion.
So, if you are contemplating an alteration to your home and don't know where to start, select one of the RIBA-accredited North London architects by using the free RIBA Find an Architect service.