30 March 2023
RIBA has partnered with the Chartered Institute of Building to produce the Guide to Managing Safety-Critical Elements in Building Construction.
The guide promotes a structured approach to the design and construction of safety-critical components - that typically feature in building failures - via rigorous inspection and the mandatory recording of inspection evidence. The aim is to deliver genuine compliance with safety regulations that do not rely on a questionable paper trail.
Paul Nash MSc, FCIOB, and chair of the guide's editorial group says: "At its heart, this guide is about ensuring that the buildings we create are safe for those who use them. And that means ensuring that every element that goes into a building is designed and installed correctly and that this is independently verified before a building is occupied".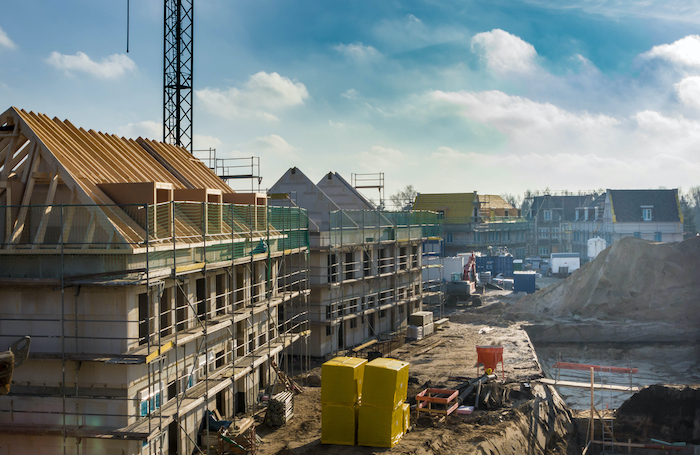 What are the systemic weaknesses in the approach to safety regulation compliance?
Authored by Simon Pitchers, the guide comes against a background of high-profile building failures. Professor John Cole, RIBA's lead contributor to the guide, says it has long been clear that there are systemic weaknesses in the way the industry approaches compliance with safety regulation, particularly the inspection process.
"The current situation sees gaps between appointments, leaving it not clear who is responsible and what level of information they must check. It is an unprofessional situation," he says.
John wants to see the industry moving towards standardised systems for the collection of information that can certify regulatory compliance. Consequently, the principles and processes that form the core of the new guide offer a template.
What role should clients play in the process of inspection?
The process must start with the client, who should have a specific plan for inspections and compliance checking, and how these processes will be resourced before any works commence. John suggests this is not being done at the moment.
Clients are called upon to make sure that appointments for all design and construction teams specifically require, within the scope of their duties, appropriate supervision, inspection, evidencing, and sign-off of compliant construction.
Therefore, the principles to be followed include stipulating in advance of construction the evidence that will be required (particularly important in areas that will be closed in) and identifying who will be responsible for carrying out inspections, and signing off all work that relates to any safety critical element.
No changes to the design or specification of the works are permitted without approval from the relevant designers, lead designers, and client and, where appropriate, building control.
Why hard evidence needs to be properly collated
Evidence of inspection is the central thread running through the guide. John has himself chaired a number of inquiries into building failures, including the notorious Edinburgh schools closures that followed a wall collapse (missing wall ties and inadequate site supervision) and defects subsequently being discovered at 16 other schools.
He says certificates can be presented and quality assurance boxes ticked, but in the absence of hard evidence that inspections have taken place, and that these inspections confirm the reality of what has actually been done on site, the ticks are just marks on a piece of paper.
"This will mean that competent people will have to take responsibility for signing off on inspections, and confirming what was the nature of those inspections," he adds.
The guide offers a list of evidence that should be recorded and collected beyond site inspections, such as relevant parts of specifications used for safety-critical elements, manufacturers' instructions and compliance details, and materials inspection reports when materials arrive on site.
The guide does not seek to ringfence areas of responsibility for any particular appointees. It also avoids discussion of specific roles to be played by Principal Designers and Principal Contractors, as this would have pre-empted legislation still to come.
Building safety: what needs to be done rather than who does it
John says the emphasis is on what needs to be done, rather than who does it, as responsibilities will vary in any case between different procurement models. The most important thing is that people are competent, he adds.
Neither does the guide attempt to give a definitive list of what should be considered a safety-critical building element. Instead, it presents examples of elements that have frequently been found to be defective on relatively recent projects and which presented a high risk to building users.
The usual suspects include examples such as ineffective fire compartmentation (firestopping, cavity barriers, smoke control), combustibility of cladding and insulating materials, and structural integrity of masonry cladding panels.
The guide then gives examples of the evidence that is typically needed to demonstrate regulatory compliance for various safety-critical installations.
John says the hope is that the industry will take up the new guide and give immediate priority to the need to provide assurance in relation to safe and compliant construction, and in so doing start to address its systemic weaknesses.
Download a copy of the Guide to Managing Safety-Critical Elements in Building Construction.
Thanks to Professor John Cole, Strategic Client Advisor.
Text by Neal Morris. This is a Professional Feature edited by the RIBA Practice team. Send us your feedback and ideas.
RIBA Core Curriculum topic: Legal, regulatory, and statutory compliance.
As part of the flexible RIBA CPD programme, professional features count as microlearning. See further information on the updated RIBA CPD core curriculum and on fulfilling your CPD requirements as a RIBA Chartered Member.