31 May 2023
The Royal Institute of British Architects is committed to platforming the work and stories of LGBTQ+ communities in architecture and the wider built environment.
During Pride Month 2023, we highlighted this work through events and projects, including those as part of collaborations with other organisations.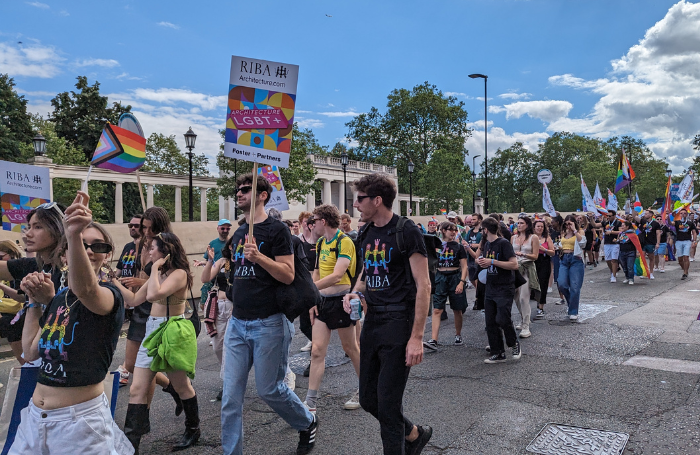 Events and programming
For Pride Month 2023, RIBA supported a series of events and programmes, including some in collaborations with other organisations, to highlight the achievements of the LGBTQ+ community within the built environment. See our programme of events below:
Pride in the Built Environment with RICS
7 Jun 2023, 12.30pm to 4pm
RICS HQ, 12 Great George Street, London
RIBA joined the Royal Institution of Chartered Surveyors (RICS) alongside other built environment organisations for an afternoon of constructive conversations on how leaders can influence wider inclusion efforts beyond their organisation. It was a great chance to learn what both professionals and organisations can and should be doing to establish habits and behaviours that create more inclusive cultures in the workplace.
Pride in London 2023 breakfast
1 Jul 2023, 11am to 1pm
University of Westminster, Marylebone Campus, London
This year, RIBA hosted a breakfast ahead of marching in the Pride in London parade, which was attended by over 100 members, colleagues and friends.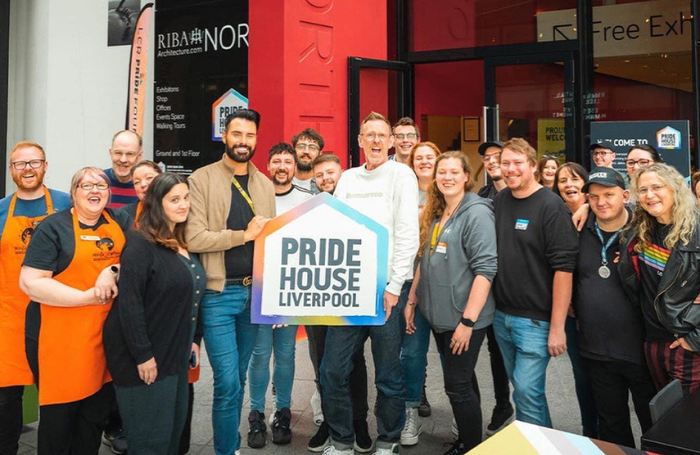 Previous events
Pride House Liverpool at RIBA North
During the month of May, RIBA North hosted Pride House Liverpool as part of the 2023 Eurovision Song Contest. This community safe space featured a cafe, bar, exhibitions, and community stalls delivered by LCR Pride Foundation.
Exhibitions
Throughout the year, RIBA has hosted a series of exhibitions with LGBTQ+ communities at the centre. See the list of past exhibitions below:
OUT of Space is an exhibition organised by the RIBA LGBTQ+ Community internal group and the RIBA Library and Collections team to highlight contributions of the LGBTQ+ community within architecture and the built environment.
Tales of Yester-Queer: A retrospective exhibition of the LGBTQIA+ clubbing scene in Liverpool (1980s and 1990s)
Tales of Yester-Queer formed part of the Pride House Liverpool programming at RIBA North in Liverpool for the 2023 Eurovision Song Contest.
It included a display of curated records, pictures, and archival material from the late 1980s and 1990s to document and celebrate the vibrant gay and lesbian clubbing scene in Liverpool, broadening modes of representation through a selection of LGBTQIA+ artefacts.
Check back soon for upcoming exhibitions looking at the LGBTQ+ community and the built environment.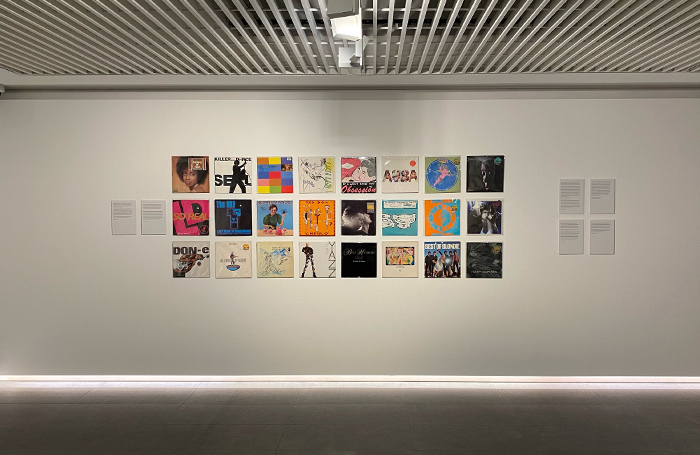 RIBA Collections
Our RIBA Collections team invites people working in the cultural and built environment sectors to share their reflections on materials in the RIBA Collections, with a particular view to amplify underrepresented voices. See our latest LGBTQ+ content below:
RIBA Collections: LGBTQ+ research guide
This guide signposts some of the resources and materials available through the RIBA's Library and Collections. It is likely that many more stories are yet to be discovered, remaining untold because of legislation that forced LGBTQ+ individuals to conceal their identities or risk prosecution.
Revisiting the RIBA Collections: Plas Newydd and the Ladies of Llangollen
As part of the Revisiting the Collections blog series, chair of RIBA's internal LGBTQ+ Community group Emily Jeffers explores how a cottage in rural Wales has led contemporary historians to re-evaluate how we project our own understanding of female queer relationships onto historic figures, particularly women, who have expressed intimacy in different ways.
RIBA Books
There are a number of books available that centre around LGBTQ+ themes - visit RIBA Books to take advantage of existing discounts. Explore some of the titles below:
Queer Spaces: An Atlas of LGBTQIA+ Places and Stories - The best-selling RIBA Publishing title of 2022 currently on its third reprint, this lavishly illustrated 'atlas' celebrates over 90 queer spaces from around the world.
Queer Premises: LGBTQ+ Venues in London Since the 1980s (Publishing June 23rd) - Queer premises provide vital social and cultural infrastructure - a queer infrastructure - connecting different generations and locations, facilitating the movement of resources, across and beyond the city.
Queer Footprints: A Guide to Uncovering London's Fierce History - This ground breaking guide will take you through the city streets to uncover the scandalous, hilarious and empowering events of London's queer story. Follow in the footprints of veteran activists, such as those who marched in London's first Pride parade in 1972 or witnessed the 1999 bombing of the Admiral Duncan pub in Soho.
Funny Weather: Art in an Emergency - Olivia Laing, prize-winning, bestselling author of the Lonely City and Crudo returns with a career-spanning collection of essays on the power of art in times of crisis.
Lives in Architecture: Nigel Coates - This autobiography is by one of the UK's most celebrated designers. Charting his life from a childhood spent in rural Worcestershire to his years as a student at the Architectural Association, the founding of radical architectural group NATO, his prolific professional career, and much more.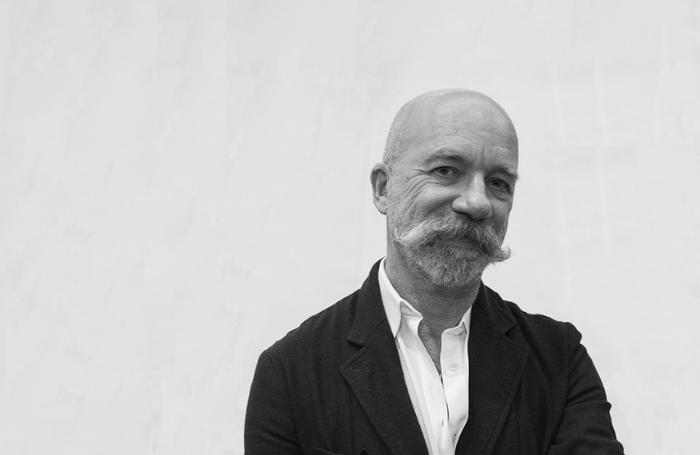 Supporting LGBTQ+ staff and communities
What does being an ally to underrepresented groups mean? And how we can action change for the better, within ourselves and our wider society? Put simply, it's about acknowledging our own identities, without taking up space, listening to lived experiences, and working to actively take down barriers.
See our latest list of resources below:
Listen to our RIBA Radio podcast episode below, where panellists discuss how queerness must be allowed to exist and be normalised at every level of the profession.
Visit our Equity, Diversity and Inclusion page to learn more about RIBA's EDI initiatives and access additional resources.