23 March 2023
Ramadan, the holiest month of the Muslim year, began this week (22 March) and lasts for 30 days. During this time, observant practice staff members will be fasting from sunrise to sunset.
Ramadan provides an opportunity for spiritual reflection, enhancing spiritual connection, engaging in good deeds, and appreciating necessities that many take for granted. Fasting is the most well known element of the holy month, and during Ramadan, most Muslims will refrain from all food – and even water - throughout the working day.
It is, therefore, important for practice managers and fellow team members alike to be sensitive and supportive at this time and make accommodations when scheduling important meetings, chasing deadlines with a sudden burst of extended-hours working, or organising daytime events that revolve around food and drink.
And, if staff want to greet their Muslim colleagues during Ramadan, "Ramadan Mubarak" is the most appropriate phrase to use.
How celebrating Ramadan can impact Muslim colleagues in different ways
Some HR consultants suggest that larger employers should have a formal set of Ramadan staff policies in place. However, Maryam Al-Irhayim, the RIBA Vice President for Students and Associates and Architecture Assistant at Gensler Europe, says everyone has a different experience of Ramadan, with people choosing to manage the month in different ways.
"The main thing in practice is that management and work colleagues are aware that Muslim staff members are undertaking something different, and are mindful that people may need some flexibility in the way they deal with work," she counsels.
Ramadan does not take place on fixed dates and is instead based on lunar cycles and usually advances by 10 days each year. In the UK at the Spring Equinox, the fasting period is around 12 hours – from sunrise to sunset – and is easier to navigate than mid-summer, says Maryam.
Although part of the reflective nature of Ramadan, fasting from sunrise throughout the working day can impact Muslim co-workers in different ways, including lower energy levels during certain times of the day. Employers are encouraged to look flexibly at finish times and to allow employees to choose when to take work breaks.
If Muslim staff members choose to work through lunch, for instance, they can be given an earlier finish time. If working late, beyond sunset, it is obviously considerate to allow people to take time out to break their fast.
It's also worth noting that not all Muslims observe fast. Some with pre-existing health conditions or current illnesses (or those who are pregnant) are exempt, and Maryam suggests that treating colleagues who fall into this category with equal sensitivity is welcomed.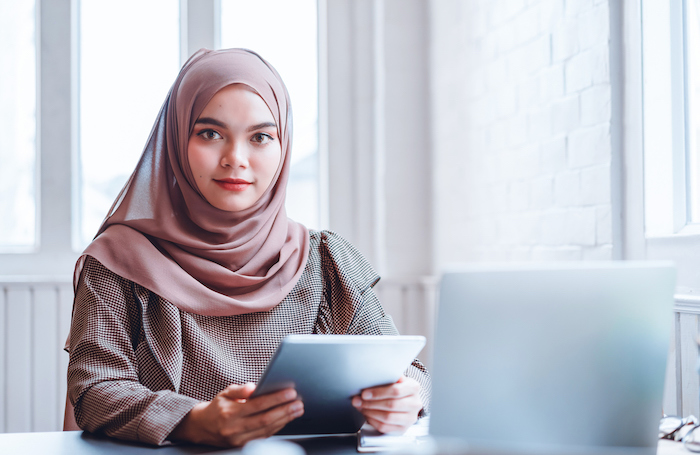 Why not arranging social events involving food is encouraged
People will tend to suffer from lower energy levels in the early days of Ramadan, says Maryam, after which the body tends to adjust. With this first hand account in mind, architecture practice managers and non-Muslim staff members should be aware that their Muslim colleagues are going through the most challenging days of the period at the present time, at the start of Ramadan.
Expecting Muslim staff to attend lunchtime meetings or social events involving food and drink may be viewed as inconsiderate and cause those observing Ramadan to feel excluded if they cannot participate or join in. Maryam points out that some Muslim staff members may be uncomfortable having to watch people eating in front of them.
Conversely, scheduling social events for the evening can also provide an opportunity to host inclusive occasions.
The fast is broken at sunset with a meal called iftar. This traditionally begins with water and dates, and is usually a family occasion where people can eat and drink freely.
Maryam suggests this is a great opportunity for Muslim staff to be able to have an iftar meal together, and even better if non-Muslim staff are encouraged to join in.
Indeed, Gensler intends to make food platters available for those who are working late and breaking their fast at work. The practice is also planning an open iftar for everyone, Muslim and non-Muslim staff members alike.
"It's good for people to be open to sharing the experience of what different cultures do, and to celebrate it," Maryam suggests. "It is also a chance for people to learn a bit more about Ramadan, which is not just about fasting but about reflecting on the blessing of having food when in reality not everyone has access to a hot meal, as well as more intangible things like reflecting on your faith and charitable acts. It is a good opportunity for a practice to encourage inclusive attitudes."
How Ramadan provides the opportunity for greater spiritual engagement
Muslims pray five times a day. Prayer can take place anywhere, but if a quiet space for spiritual reflection at times during the day could be made available, Maryam says, this would be welcomed. Practices with Muslim staff may already be familiar with this, but they should be aware that some Muslim staff members who may not normally pray in the office may become more religiously engaged during Ramadan.
This could mean Muslim colleagues will participate in additional late night or early morning prayers, which could precipitate the need for flexible working hours and breaks.
Why an awareness of Eid is also worthy of consideration
While there are sensitivities for both practice management and colleagues to consider during the whole month, the end of Ramadan and how it affects Muslim staff is also worthy of consideration.
The end of Ramadan is celebrated with the Eid ul Fitr, the festival of fast-breaking.
This is traditionally a holiday period and a time for family gatherings and gift giving. Employers should expect holiday requests at this time of year and make suitable cover arrangements if necessary. Employers need to be aware that as with the start of Ramadan, Eid dates will change from year to year.
Thanks to Maryam Al-Irhayim, Architectural Assistant, Gensler Europe.
Text by Neal Morris. This is a Professional Feature edited by the RIBA Practice team. Send us your feedback and ideas.
RIBA Core Curriculum topic: Inclusive environments.
As part of the flexible RIBA CPD programme, professional features count as microlearning. See further information on the updated RIBA CPD core curriculum and on fulfilling your CPD requirements as a RIBA Chartered Member.