01 June 2022
We're committed to platforming the work and stories of LGBTQ+ communities in architecture. On this page, we're sharing how we're currently doing this through projects and activities across the institute.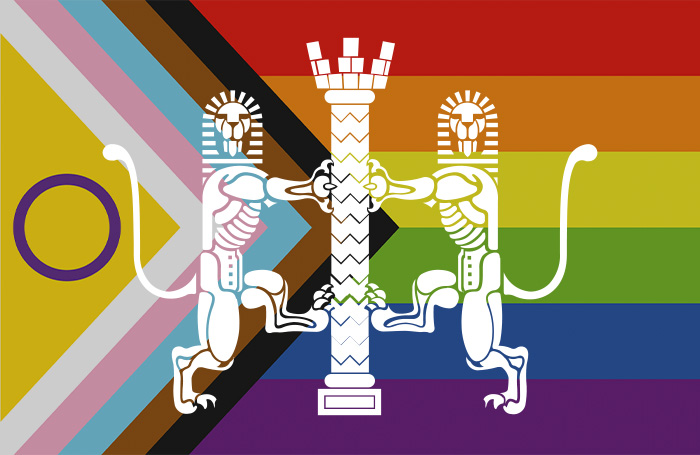 RIBA exhibitions 
Radical Rooms: Power of the plan is the RIBA's current exhibition, created through a partnership between architect Charles Holland and visual artist Di Mainstone. 
Exploring the power relations embedded within the layout of our domestic spaces, the exhibition uses stories from architectural history and highlights moments when the architectural plan has challenged or changed the conventions of domestic life.
The exhibition highlights the works of notable LGBTQ+ architects and designers such as pioneering modernist designer Eileen Gray and furniture/interiors designer Max Clendinning. It also features queer spaces such as St. Ann's Court, designed by Raymond McGrath in 1937.  
This exhibition runs until 30 July, plan your visit now.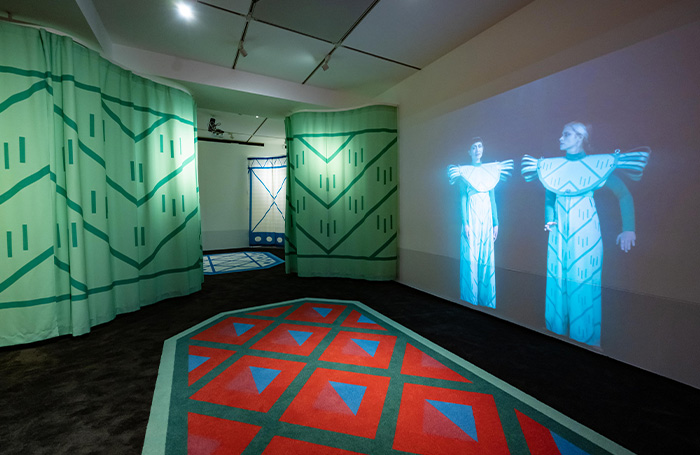 RIBA Collections 
Throughout history, architectural spaces have formed sites where LGBTQ+ communities have explored, celebrated, or concealed sexual and gender identities. 
RIBA Collections: LGBTQ+ research guide 
This guide signposts some of the resources and materials available through the RIBA's Library and Collections. It is likely that many more stories are yet to be discovered, remaining untold because of legislation that forced LGBTQ+ individuals to conceal their identities or risk prosecution. 
Articles looking at LGBTQ+ lives from within the RIBA Collections: 
"The Partners": Seely and Paget 
The firm Seely and Paget played an important role in British architecture from the 1920s to the 1960s, from their controversial transformation of Eltham Palace for Stephen and Virginia Courtauld in 1936, to their work as successive surveyors to the fabric of St Paul's Cathedral. 
Discretion by design: St Ann's Court 
This is the story of how two men navigated homophobic attitudes in commissioning a modernist new home in the 1930s, illustrated by photographs and drawings from the RIBA Collections. 
We explore how the dome of Florence Cathedral reveals the presence of queer stories at the symbolic heart of the Western architectural tradition. 
Revisiting the Collections: The queer aesthetics of Strawberry Hill House 
Strawberry Hill House in Twickenham, southwest London, can be read as a "queer architectural rebellion", raising important questions about the connection between architectural innovation and queer identity.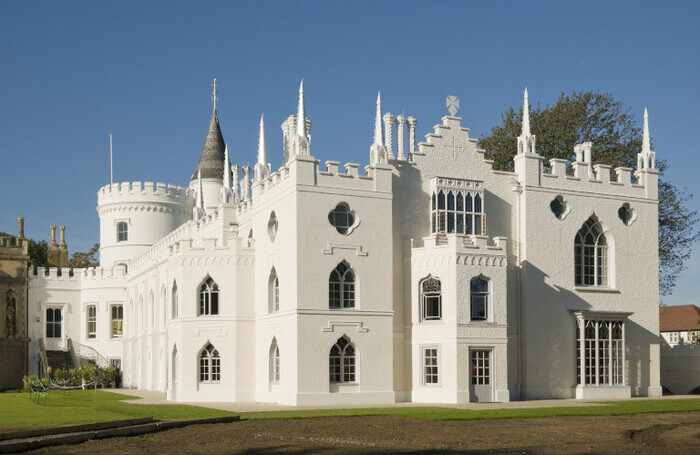 RIBA Books 
There are a number of books available to buy via RIBA Books that centre around LGBTQ+ themes - explore some of the titles below:
Queer X Design: 50 Years of Signs, Symbols, Banners, Logos, and Graphic Art of LGBTQ - Published in celebration of the 50th anniversary of Stonewall and the Gay Pride Parade, this is the first-ever illustrated history of the iconic art, symbols, and design that represent more than five decades of LGBTQ pride and activism. 
Queer London: A Guide to the City's LGBTQ+ Past and Present - This book delves into the cultural history of queerness in the capital, including events, organisations or venues that have sometimes been forgotten or overlooked, but which were of key importance to the community. 
Lives in Architecture: Nigel Coates - Launched by RIBA Publishing this month, this autobiography is by one of the UK's most celebrated designers. The book charts his life from a childhood spent in rural Worcestershire to his years as a student at the Architectural Association, the founding of radical architectural group NATO, his prolific professional career, and much more.* 
Queer Spaces: An Atlas of LGBTQIA+ Places and Stories - Launched by RIBA Publishing in May 2022, this lavishly illustrated 'atlas' celebrates over 90 queer spaces from around the world.*
*Use code Pride2022 for 20% off at RIBA Books checkout.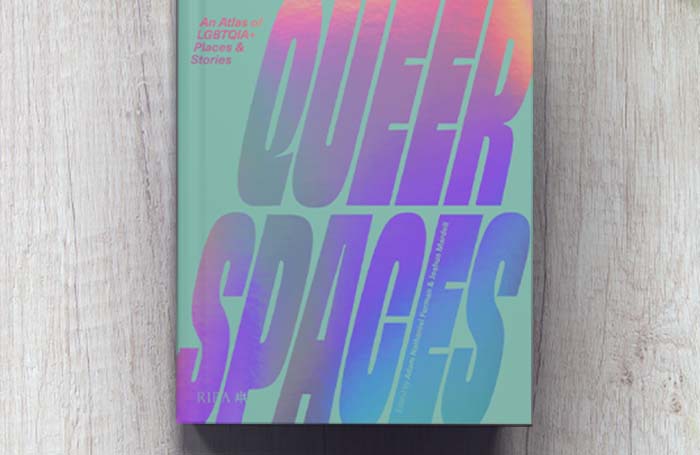 Upcoming events
London Pride
2 July 2022, from 9am BST
In partnership with Architecture LGBT+, Flannery and Foster + Partners, we will be walking in the 2022 London Pride parade.
Join us at 76 Portland Place for Pride Breakfast, from 9am to 10:45am.
Register free to attend Pride Breakfast and to learn about the London Pride parade.
Making Radical Rooms: In conversation with Di Mainstone and Charles Holland
5 July 2022, 7pm to 8.30pm BST
RIBA, 66 Portland Place, London
Join visual artist Di Mainstone and architect Charles Holland, as they reveal the design process behind making the latest RIBA exhibition Radical Rooms: Power of the plan.
Buy tickets for Making Radical Rooms.
Curator tour of Radical Rooms: Power of the plan
12 July 2022, 6pm to 7pm BST
RIBA, 66 Portland Place, London
Join RIBA Curator Margaret Cubbage, for an intimate tour of our latest exhibition Radical Rooms: Power of the plan.
Register free for this curator tour of Radical Rooms.
Architectural Association School of Architecture - Queer Spaces book launch
13 July 2022, 6pm to 7:30pm BST
AA Bookshop, 36 Bedford Square, London
Join the Architectural Association for a drinks reception at the AA Bookshop to celebrate the launch of Queer Spaces, introduced by Monia De Marchi, Head of First Year at the AA.
Register free for this event at the AA School of Architecture.
Construction's at UK Pride, Newcastle and Pride Breakfast
23 July 2022, 10am to 3pm BST
Newcastle upon Tyne
Join Building Equality North East, Architecture LGBT+ and supporting built environment companies at the UK Pride March in Newcastle upon Tyne.
Register free for the Pride Breakfast at UK Pride, Newcastle.
UK Black Pride
14 August 2022
UK Black Pride – Europe's largest pride celebration for LGBTQI+ people of African, Asian, Caribbean, Latin American and Middle Eastern-descent returns for its annual in-person protest and celebration in August at Queen Elizabeth Olympic Park.
See how you can get involved with UK Black Pride.
Pride events across the UK
There are Pride events taking place across the UK this summer, from Brighton to Glasgow. Take a look at the Pride Events Calendar to find an event near you.
Allyship
In March, for International Transgender Day of Visibility, we filmed an interview with transgender architect Danni Kerr where she highlighted the importance of people becoming trans allies: "We need your support - if you're prepared to be visible as a trans ally, that's fantastic. You're prepared to be heard as a trans ally. And, if you're prepared to be seen in the same space as transgender people, that speaks volumes."
So – what does being an ally to underrepresented groups mean? And how we can action change for the better, within ourselves and our wider society? Put simply – it's about acknowledging our own identities, without taking up space, listening to lived experiences and working to actively take down barriers.
Resources to support you:
Listen to our RIBA Radio podcast episode below, where panelists discuss how queerness must be allowed to exist and be normalised at every level of the profession.
Visit our Equity, Diversity and Inclusion page to learn more about RIBA's EDI initiatives and access additional resources.