23 September 2021
"Ethics, decency, people and communities. These are the values that run through everything we do," states Pedro Gil, founder of Studio Gil. "Our workforce reflects our values, as do our collaborations."
It can be challenging for a small practice to find steady work in order to cover overheads and pay salaries. So it is encouraging to hear Gil ascribe much of his five-person practice's success to the pursuit of common interests; and more specifically the community-focused projects that he is passionate about.
He can point to a direct line from projects carried out for community groups such as Latin Elephant and the Carnaval del Pueblo Association to his practice's appointment in projects for Lendlease, Peabody and local authorities. There is a sense of good karma in Studio Gil's list of clients which demonstrates the value of working with and for local communities.
"People understand what we stand for," Gil affirms. "Larger practices may seek us out when their brief requires a social value agenda. But we always make a point of getting to know who we are working with; we want to understand them and what their values are. There has to be sufficient alignment and overlap."
It is a measure of the practice's success, achieved on their own terms, that it is in a position to turn down some of the approaches it receives. If the collaboration is not right, Gil will give a 'gentle no' but will try to recommend a practice that might be suitable.
Since it was set up in 2009, it has built up a portfolio of single and multiple dwellings projects, community buildings, schools and office fit-outs, and public realm projects both permanent and temporary. It has also maintained a long-running partnership with Carnaval del Pueblo, with which it has curated a series of festival events for Latin American communities in London.
There is a ripple effect to this work. When consortia of community interest groups, developers and/or large practices are seeking like-minded collaborators, a practice with demonstrable experience that is plugged into the right networks is clearly the logical one to approach.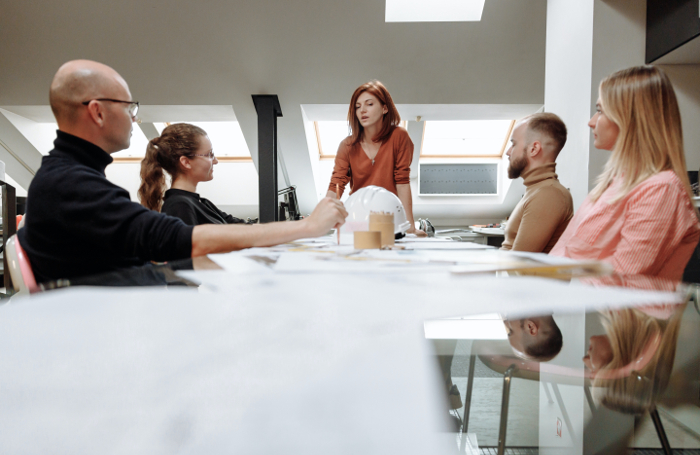 Gil points to the importance of networking here. He states that it is allies and networks that have often introduced him, or his practice, to larger practices or developers. It is important to remember that networking connections do not necessarily lead to work in a straight line. Lendlease invited the practice to enter a competition that it did not win. But, on the strength of its shortlisted entry, it commissioned the practice to design an external performance stage for one of the parks being created as part of the Elephant and Castle area regeneration.
The practice's largest collaboration to date is with a lead architect known for working exclusively on social housing, which will see them working on a major 200-unit estate renewal project in South London.
"Working with communities is not an immediate passport into public sector work – it does not automatically get you past the structural barriers of procurement," Gil points out. "Being an RIBA Chartered Practice might help with that. But such projects are very worthwhile: a way of giving back to society. They demonstrate a commitment to social value and local authorities become aware of your existence."
For Dinah Bornat, Director of ZCD Architects, it was the pursuit of research interests that ultimately led to challenging projects and interesting collaborations with larger partners. Her research into child friendly cities and placemaking for young people has brought numerous engagement, consultancy and design projects to ZCD's door.
"Lots of practices want to work on big public sector projects: it is a crowded field," she points out. "We believed in our research into the way external spaces work and how people – especially children – use them."
Bornat echoes Pedro Gil's advice on networking. Speaking at conferences and publishing their research brought the practice to the attention of the HCA (now Homes England) and Catalyst Housing.
Practices would be wise to keep in touch with their early career contacts: Bornat's research was noted by a former university colleague at Levitt Bernstein, which has led to a longstanding collaborative relationship with the practice.
Sharing public platforms with like-minded practices is clearly good for further introductions to potential collaborators. Gil explains that, while sticking to the community projects he is passionate about has brought interested collaborators to them, the practice has recently started to seek out collaborators themselves. It has been researching the practices with whom it shares common values and making contact.
Pedro Gil and Dinah Bornat will be talking about the value of collaboration and how small practices can best collaborate with larger teams on Thursday 11 November at the RIBA's online three-day conference Guerrilla Tactics 2021: Stop, Collaborate and Listen. Tickets are available now.
Thanks to Pedro Gil, Director, Studio Gil and Dinah Bornat, Director, ZCD Architects
Text by Neal Morris. This is a Professional Feature edited by the RIBA Practice team. Send us your feedback and ideas
RIBA Core Curriculum topic: Business, clients and services.
As part of the flexible RIBA CPD programme, professional features count as microlearning. See further information on the updated RIBA CPD core curriculum and on fulfilling your CPD requirements as an RIBA Chartered Member.
First published Thursday 23 September 2021