Taking the temperature of refugee shelters
15 March 2018
Tens of millions of people are currently living in temporary settlements around the world with the average length of stay of a displaced refugee now extending to 17 years. Research into more considered designs for 'homes' that can substitute for emergency tented cities has never been more relevant.
Last year, a team led by David Coley, Professor of Low Carbon Design at Bath's Department of Architecture & Civil Engineering, won the Housing Category of the RIBA President's Awards for Research for a study of the thermal performance of post-disaster relief shelters.
The study 'Toward healthy housing for the displaced' highlighted the fact that thermal performance is largely overlooked despite the huge impact it has on comfort and health. The team reviewed existing literature and conducted its own thermal surveys of two camps in Jordan, finding that refugees endured internal temperatures of 46 degree Celcius in summer and dangerously high levels of carbon dioxide in winter as ventilation was abandoned in the struggle to stay warm.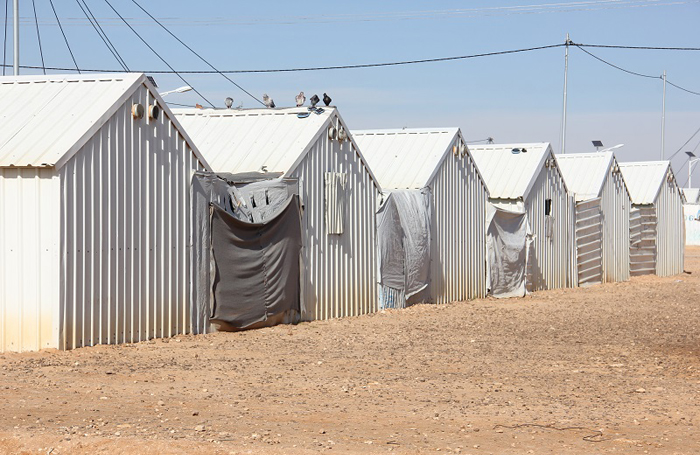 David Coley reports that work on more hospitable shelters is continuing at Bath.

The 'A Science of Shelter Design' team, which includes anthropologists as well as architects, has been working with charities and commercial companies on potential shelter designs and has established a testing facility in Swindon. The team also has a controlled-environment room that allows the testing of half-size shelter prototypes.
Coley wants to develop a rigorous methodology for UN agencies in the field to use when asking refugees what they need most from a shelter, which will feed into design specifications that are supported by quantitative measurements.
The UN's agenda for shelter has moved on from the 70s and 80s, when the emergency response was characterised by food aid and the most basic of shelters for the victims of famine in Africa. These days refugees typically spend one and a half years in a tent before something more suitable is considered, but every crisis is different and agencies tend to prioritise protection from the elements and security over thermal comfort.
'The UN has become much more adept at providing emergency shelter and food, but with long-term camps becoming more prevalent, where many young people have spent their entire life in temporary shelter, agencies are having to move towards different definitions of what is acceptable,' says Coley. 'You can see this in Jordan where we do a lot of our work.'
The Bath team surveyed 75 families divided between camps in Azraq and Zaatari in their shelters in summer and winter. The aim was to understand the relationship between families and their shelters: how they used them, the effect of seasonal changes, and what adaptations they had made themselves.
With growing pressure to address insulation and thermal mass to make lives more bearable, Coley argues that while the science may be simple, methodologies are needed for agency workers to find appropriate solutions without unintended consequences.
Privacy issues, for instance, are very important for female family members in many cultures and poorly-placed windows meant to provide ventilation end up being occluded with cardboard or not installed altogether, Coley points out.
There are political considerations, too. If politicians have assured the resident population that refugee camps are not meant to be permanent, however long they may exist, any construction technique that suggests permanence, such as blockwork, will not be acceptable whatever its economies.
The Bath surveys in Jordan also highlighted the importance of private, semi-outdoor spaces. Grid-laid shelters led to families building their own extensions to stop passers-by looking in. These spaces create a desirable shaded but well ventilated area in the summer and protection from winds in the winter.
So simple, zero cost layout changes can be used to address cultural and social aspects of accommodation as well as thermal performance, Coley explains.
The issue of displaced people is one that regularly appears in submissions to the RIBA President's Awards for Research. With this year's annual theme of Ethics and Sustainable Development the RIBA hopes to attract more submissions concerning this most urgent issue. Entries are now invited online until 3 June 2018.
'The President's Awards for Research provide an important opportunity to celebrate and share practice-based and academic research across the globe,' says Flora Samuel, RIBA Vice President, Research.
'With a focus on Ethics and Sustainable Development, the competition this year will set the tone for socially responsible architecture in the coming years.'
This year's annual theme complements the recent launch of the RIBA Commission on Ethics and Sustainable Development, which will consider how the architectural profession can best reflect its core values of public interest, social purpose and sustainability, including its engagement with the UN's Sustainable Development Goals.
Full details on how to present your research are set out in the submission guidelines, or visit the President's Awards for Research page to learn more about the awards.
All winning papers from last year's awards are now available, open access, in the Journal of Architecture.
The Bath University researchers will also be presenting an update of their work at an evening event entitled 'Refugee Shelter: Design, building and engagement' hosted by the RIBA on 30 April. They will be joined by others involved in shelter design and building, to discuss experiences and moving forward. If you are interested in attending this event, you can register on Eventbrite.
Thanks to David Coley, Professor of Low Carbon Design, Department of Architecture & Civil Engineering at the University of Bath.
Text by Neal Morris. This is a Professional Feature edited by the RIBA Practice team. Send us your feedback and ideas
RIBA Core Curriculum Topic: Architecture for social purpose.
As part of the flexible RIBA CPD programme, Professional Features count as microlearning. See further information on the updated RIBA CPD Core Curriculum and on fulfilling your CPD requirements as an RIBA Chartered Member.
Posted on 15 March 2018.