12 August 2021
Creating video content introducing your practice or showcasing specific projects no longer needs to cost a large amount of money or take up much of a practice's time.
It can communicate in a very direct way, arguably conveying much more about the practice than a portfolio or written biography. It can show potential clients who are not familiar with architectural ideas and language how a practice works, who they are and can prove they can deliver the project the client wants.
Professional filmmaker Jim Stephenson will begin a video commission by sitting down with the architect client and discuss:
what is the story that needs to be told?
which architectural elements should be featured?
whose voices should be heard?
Stephenson is one of the best known architectural filmmakers in the UK and, alongside his wife Sofia Smith, he runs the architectural film production studio Stephenson&. For the Marmalade Lane cohousing project in Cambridge, by Mole Architects, the occupants of the building did most of the talking, bringing the project to life by sharing their own experiences of the co-housing community.
"This is never scripted," Stephenson explains. "That never works. It's kept informal, in a documentary fashion."
Architect and filmmaker Dion Barrett, Director of Studio 50two, agrees.
"When somebody is reading a script it is very obvious," he points out. "But, while people are often nervous about talking on camera, with video you can take your time. There is no problem doing it again."
A film shoot for a small project could take less than a day, Stephenson suggests. This could generate not just one film, but a package of different short videos that could be used for specific social media platforms: content specially edited for TikTok; up to 60 seconds for Instagram; and longer videos for YouTube or Vimeo.
A practice can build a programme of different video releases for different platforms over a length of time, all from the same shoot. If a practice is really constrained by time or budget, they might consider a film without dialogue, that just uses still photographs. This can work very well; one example being the short film Stephenson made for McLean Quinlan of their one-off Kent Downs House.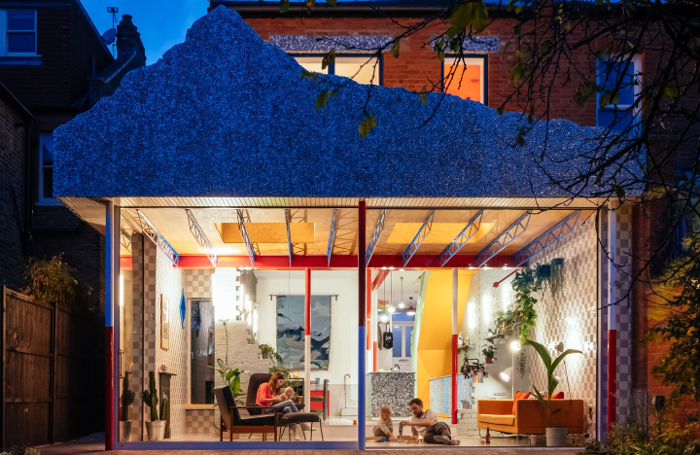 Dion Barrett, being both a working architect and a filmmaker, can shoot footage at different stages right across the project to generate plenty of multiple-use video content.
"You can maximise content from a small project by shooting during the design and onsite stages – not only after completion," he suggests.
Barrett likes to show process and activity in videos. He points out that the public often mistakenly think of architects as office-bound designers. Video can show clients that architects spend a lot of time onsite, which can be a powerful way to reassure them and inspire their confidence in a practice.
Stephenson has filmed numerous practice profiles, in which architects can simply talk about their work. These can provide an appealing, digestible introduction to a practice for anyone encountering it for the first time.
For example, during lockdown – a period in which the general public's appetite for video content appeared insatiable - Morris + Company founder Joe Morris discussed the ideas that are key to the working of his practice in a series of seven video essays.
Barrett urges practices to think about their USP (unique selling point): this is what a practice profile video should be communicating. He is starting to put together video content for the practice he works for, the Solihull-based Fabric.
"The videos will be a way to make the practice more personable, allowing viewers to relate to us. Our USP is that we offer design and build, and the videos will get that across."
If architects are uncomfortable about speaking on film, then they should remind themselves that they are the experts here, Barrett suggests.
"If you are talking about a project that you are designing, remember that anything you say is probably going to be interesting. There are years of training, design reviews and education backing up our enthusiasm. Give it a go: you can always shoot another take."
Jim Stephenson will be talking about filmmaking for small practices on the CPD day of this year's RIBA Guerrilla Tactics conference: Stop, Collaborate and Listen, which takes place at the RIBA from 9 to 11 November 2021.
Thanks to Jim Stephenson, architectural photographer and filmmaker; and Dion Barrett, Project Architect at Fabric and Director of Studio 50two.
Text by Neal Morris. This is a Professional Feature edited by the RIBA Practice team. Send us your feedback and ideas
RIBA Core Curriculum topic: Business, clients and services.
As part of the flexible RIBA CPD programme, professional features count as microlearning. See further information on the updated RIBA CPD core curriculum and on fulfilling your CPD requirements as an RIBA Chartered Member.
First published Thursday 12 August 2021