09 September 2021
Timber has a key part to play in the future of sustainable construction, as a building material with a low embodied carbon content.
It is important to consider where it works best: where and how it can be deployed most effectively and economically. This is the opinion of Andrew Lawrence, Global Timber Lead at Arup, and a vocal advocate for structural timber.
Transforming existing buildings
He sees structural timber playing a key role in the re-use of existing buildings. And as the coronavirus pandemic has left a question mark over the future of many large retail and office spaces, timber could have a large part to play in the adaptation of interior spaces.
It is an excellent material for adding additional mezzanine floors to high-ceilinged warehouse spaces, for example. It can also be a good choice for single-storey rooftop extensions. Many roofs may not be strong enough to accommodate an extra storey; a context in which timber's relative light weight can help.
Timber also regularly proves its worth in bringing new life to unloved existing buildings. Lawrence points out that the UK Wood Awards have showcased examples of uninspiring 1960s houses that have benefited from imaginative use of timber finishes.
He will be speaking about the future of timber use in design at the RIBA online conference Smart Practice 2021: Stepping up to the climate challenge, on 30 September 2021. The two-day conference will explain numerous sustainable design principles; and will investigate the many environmentally friendly materials that architects can use.
Low rise: the natural home of timber
Interestingly, it is an economy of scale that Lawrence singles out as the prime factor governing effective timber use. Timber is, he points out, very competitive in terms of cost effectiveness for the simple reason that it is 'self finishing'.
Used internally, it does not require finishes. This can be a large cost saving. It is partly for this reason that he believes low-rise buildings to be timber's natural home: a two or three storey school or an office up to five storeys.
"Most of what is built across the world is low rise," he points out. "High rise buildings in city centres are by and large the exception. There are particular parts of market where timber use is most prevalent: new houses, extensions and educational use."
For Lawrence, if a finish is used for internal timber, it should only be light touch. A finish will impede the wood's recyclability and, in Lawrence's opinion, looks much less appealing.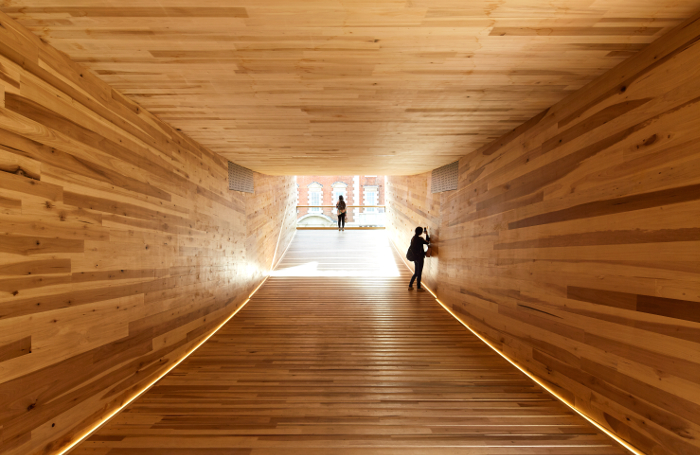 Timber composites and hybrids
Lawrence supports the use of cross laminate timber (CLT) but does not believe it is the default solution for every building. He is also interested in the sustainability gains to be made from timber partnering with concrete in composites and hybrid structures that exploit the positive qualities of both materials.
"We have to recognise that timber is a finite resource. We should be using it where it makes most sense."
Timber concrete composites are not a wholly new idea, but are barely used in the UK. But a composite beam can reduce the amount of concrete that would normally be used by 60 to 70%, dramatically lowering embodied carbon while maintaining the advantages of concrete, such as thermal mass.
"If you can swap in timber for some of the concrete in a composite floor slab, for instance, you can keep the good vibration performance of the concrete while reducing weight and embodied carbon."
The knock-on effect of a lighter structure means that less concrete is needed in foundations, which can therefore be much smaller. There is also no reason why such composites could not use concrete substitutes such as hempcrete. More timber and less concrete used also means fewer carbon emissions associated with the transportation of materials.
At a time when the construction industry is facing the challenge of finding ways to reduce embodied carbon, for advocates such as Lawrence it is clear that structural timber will have an increasingly important role to play.
Next week, the RIBA will publish a second professional feature with Andrew Lawrence explaining timber's durability and relationship to moisture.
Thanks to Andrew Lawrence, Director, Arup.
Andrew Lawrence will be speaking at Smart Practice 2021: Stepping up to the climate challenge on 30 September 2021. Tickets are available now.
Text by Neal Morris. This is a Professional Feature edited by the RIBA Practice team. Send us your feedback and ideas
RIBA Core Curriculum topic: Sustainable Architecture.
As part of the flexible RIBA CPD programme, professional features count as microlearning. See further information on the updated RIBA CPD core curriculum and on fulfilling your CPD requirements as an RIBA Chartered Member.
First published Thursday 9 September 2021