09 December 2021
The Equality Act legally protects people from discrimination in both the workplace and in wider society. It sets out the different ways in which it is unlawful to treat someone.
In discussing neurodiversity and design, this is an important fact to bear in mind. Indeed, it is crucial to any access and inclusivity considerations.
As Stephanie Kyle, architect and Inclusive Design Consultant at Maber Architects points out, any client who owns a building could be subject to prosecution following a complaint from a user about a building's accessibility. The act stipulates nine protected characteristics, one of which is disability; it is also important to note that many people with a neurological condition do not consider it to be a disability.
Receipt of building control approval is not a grant of exemption from prosecution under the Equality Act, and a UK government notice warns that Part M of Building Regulations does not signify compliance with the obligations of the Equality Act.
Neurodiverse inclusive design is Kyle's specialism. This can refer to a range of conditions, including autism, dementia, ADHD (Attention-Deficit/Hyperactivity Disorder), and a number of sensory processing disorders.
"It is hard to find guidance about neurodiverse inclusive design," she concedes. Most available guidance concerns access and inclusivity in its broader sense. She points to the Centre for Accessible Environments as a good learning resource for inclusive design, and to the British Standard BS8300 for providing much more detail than the minimums of Part M.
"BS8300 begins to consider questions of neurodiverse users, such as the implications of colour contrasts," she explains, "and the potential discomfort induced by strong patterns on walls and floors".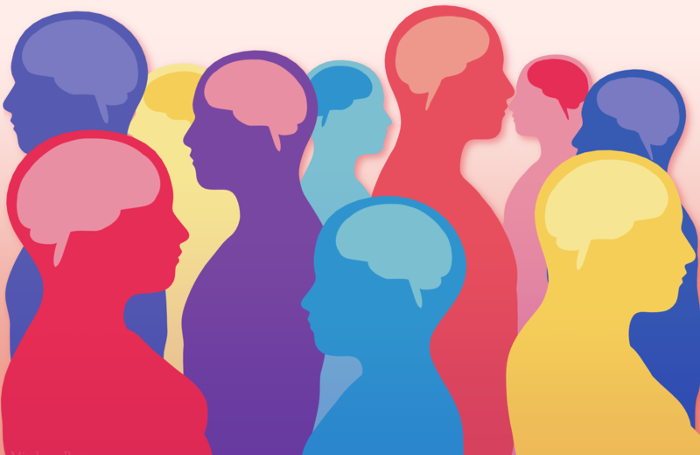 Colour and pattern is one areas in which neurodiversity considerations can sometimes be very simple, she points out. Specifying a calm paint colour can make a huge difference to a user's experience.
"Barrier matting is another example," she continues. "Black entrance mats can be misinterpreted by a user with a sensory perception condition or Alzheimer's as a hole. Issues of colour choice do not only effect visually impaired users."
Steven Maslin, Principal Inclusive Design Consultant at Atkins, offers similar warnings about visual design elements that can be misperceived. He recalls one university environment in which the paving used strong alternating colours.
"At first glance it looked like a flight of steps, and somebody with sensory processing difficulties such as dementia may have struggled to decipher what they were."
He points out that visual 'noise' is an impediment for those with sensory processing difficulties. "Striation of patterns causes visual noise," he states, "whereas natural patterns tend to cancel each other out. One of the benefits of biophilic design is that it can often be restful for the eyes. Biophilia can – albeit not always - be very effective from a visual point of view".
Maslin is the author of the book Designing mind-friendly environments, which seeks to fill a much-needed gap in this area, providing detailed explanations about different neurological conditions, differing architectural contexts, and the many spatial, sensory and environmental considerations (whether visual, acoustic, tactile or temperature-related, to list but a few).
"Bring about calm in your design," he recommends. "Try to work with a calm palette to start with and reduce sensory noise."
Embedding noise in the visual realm can induce stress. Migraines, for instance, can be triggered by sensory overload. But sensory overload is of course not unique to sight. The experience of sound can be stress-inducing or disorientating.
"There are more than five senses," Maslin suggests. "In addition to sight, sound, touch; smell and taste we need to also consider balance, proprioception (our sense of our body in motion) and interoception (our sense of the interior of our bodies)".
He also reminds us of temperature, considering it useful to distinguish it from touch.
"Time is an important sensory consideration too, especially with regard to light. Our brain uses light to regulate our relationship to time. Dementia can challenge people's understanding of the time of day, so a designer should think about access and impositions of light at different times of day and night."
The experiences of those with autism or dementia have taught practitioners valuable lessons about how placemaking can help people process memory, Maslin states. Creating calm spaces does not mean abandoning distinctiveness: building users with neurological conditions require a sense of place to create memorability.
"The challenge can be to create distinctiveness but ensure it is not overpowering," Maslin counsels. "Create opportunities that are elective: spaces that provide sensory delight or stimuli but where a user has the choice to enter them. These spaces should not be imposed."
Thanks to Stephanie Kyle, Inclusive Design Consultant, Maber Architects; and Steven Maslin, Principal Inclusive Design Consultant, Atkins.
Text by Matt Milton. This is a Professional Feature edited by the RIBA Practice team. Send us your feedback and ideas.
RIBA Core Curriculum topic: Inclusive environments.
As part of the flexible RIBA CPD programme, professional features count as microlearning. See further information on the updated RIBA CPD core curriculum and on fulfilling your CPD requirements as a RIBA Chartered Member.