Recovery Roadmap Phase 1: Response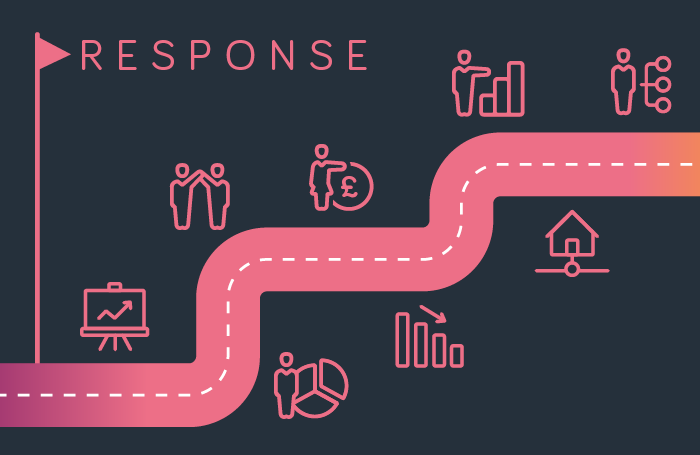 Phase 1: Response
The RIBA Recovery Roadmap is an online digest of resources that has been developed in response to the impact of the coronavirus pandemic on architects. Drawing on insights from experts and practitioners, the content has been created to help practices plan their route through the crisis to recovery – and future resilience.
The first 'Response' phase includes guidance and suggestions to help you ensure your practice can continue working and stay in business after being affected by the immediate impacts of the crisis.
Steps
1. How to carry out a financial 'health check' of your practice
This feature sets out ways to evaluate the resilience of your business
2. How to benchmark your business against other practices
This feature discusses how to use the data in the RIBA Benchmarking Tool to inform your next steps
3. How to prioritise staff wellbeing during the coronavirus crisis
This feature discusses strategies to support staff through challenging times
4. How to access financial support during the coronavirus crisis
This feature sets out practical guidance on applying for Covid-19 business support schemes
5. How to reduce practice overheads during the coronavirus crisis
This feature explores ways to sustainably reduce expenditure
6. How to deal with non-payment by clients
This feature explores ways to monitor payments and secure fee income
7. How to ensure business continuity during lockdown
This feature includes guidance for maintaining operations while your office remains closed
8. How to engage and motivate staff remotely
This feature explores ways to lead your team through lockdown and beyond
What next?
If you have already taken the steps to maintain business continuity in response to the crisis you may be ready to move forward to planning for Recovery: Phase 2 of the RIBA Roadmap. Alternatively, you can return to the homepage of the Recovery Roadmap for a full overview of the contents.
Tell us what you think
We are keen to hear about your experience of lockdown. Your insights and experiences of responding to and recovering from this crisis are invaluable and help to inform the content we produce. Please send us your feedback and ideas with any feedback or experiences you are willing to share.
RIBA Continuing Professional Development
As part of the flexible RIBA CPD programme, the content in the Recovery Roadmap counts as microlearning.
Find out more about the updated RIBA CPD Core Curriculum and fulfilling your CPD requirements as an RIBA Chartered Member.
Don't forget to record your CPD online on any device after you have read the Recovery Roadmap contents.