15 September 2021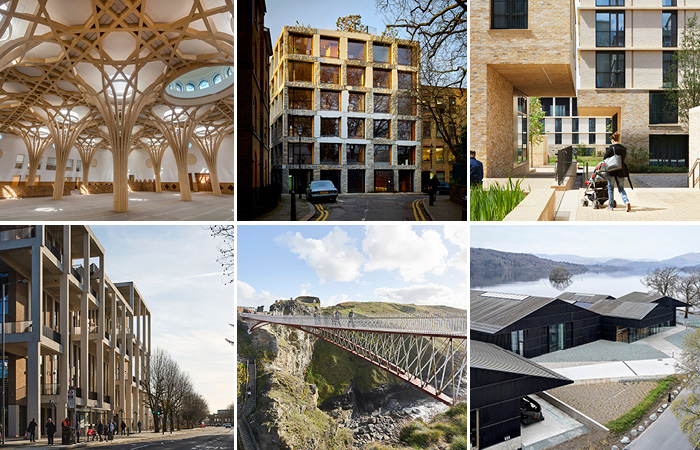 The Royal Institute of British Architects (RIBA) has today (Thursday 16 September) announced the six buildings contending for the coveted 2021 RIBA Stirling Prize, awarded to the UK's best new building. Now in its 25th year, the RIBA Stirling Prize, supported by Almacantar, is the highest accolade in architecture.
The six buildings in the running to be crowned the UK's best are:
RIBA President Simon Allford said:
"The 2021 RIBA Stirling Prize shortlist demonstrates the innovation and ambition that lies at the heart of exceptional architecture.
From a busy city mosque in Cambridge to a remote coastal bridge in Cornwall, the six projects vary tremendously in their location and use – but they are united in their ingenuity and creativity, their consideration of their local environment and historical context, and their use of high-quality materials. In their architects' attention to detail, and their clients' tenacity and commitment, these six projects set themselves apart.
As we navigate major global challenges, from a global pandemic to the climate emergency, this shortlist demonstrates the critical role that UK architects play in creating thoughtful and sustainable places and spaces.
From the holistic sustainability of the Windermere Jetty Museum to the creation of a new urban community in Cambridge; from the unconventional use of historic building materials and techniques at Clerkenwell Close, to the creation of dynamic social spaces at Kingston University Town House, these projects push the boundaries of our discipline and demonstrate the positive impact that quality architecture has on people and our planet."
The 2021 RIBA Stirling Prize will be announced on Thursday 14 October 2021 at Sir Basil Spence's Coventry Cathedral Coventry Cathedral, as part of the UK City of Culture 2021 celebrations.
ENDS
Notes to editors:
For further press information contact Isabel.Campbell@riba.org

+44(0) 20 7496 8349

Images of all the shortlisted projects along with jury citations can be downloaded here: https://riba.box.com/v/StirlingShortlist2021
Footage of all the shortlisted projects can be downloaded here: https://spaces.hightail.com/receive/udOQkao10Y
First awarded in 1996, the RIBA Stirling Prize is the UK's most prestigious architecture award. Given to the architect of the building thought to be the most significant of the year for the evolution of architecture and the built environment, the RIBA Stirling Prize is judged on a range of criteria including design vision, innovation and originality, capacity to stimulate engage and delight occupants and visitors, accessibility and sustainability, how fit the building is for its purpose and the level of client satisfaction.
Previous winners of the RIBA Stirling Prize include: Goldsmith Street by Mikhail Riches (2019) Bloomberg by Foster + Partners (2018); Hastings Pier by dRMM (2017); Newport Street Gallery by Caruso St John (2016); Burntwood School, London by Allford Hall Monaghan Morris (AHMM) (2015); Liverpool Everyman Theatre by Haworth Tompkins (2014); Astley Castle by Witherford Watson Mann (2013); Sainsbury Laboratory by Stanton Williams (2012); Evelyn Grace Academy (2011) and MAXXI Museum, Rome (2010) both by Zaha Hadid Architects; Maggie's Centre at Charing Cross Hospital, London by Rogers Stirk Harbour + Partners (2009); Accordia housing development by Feilden Clegg Bradley Studios/Alison Brooks Architects/Maccreanor Lavington (2008).
This is the first time Carmody Groarke, Ney & Partners and William Matthews Associates have been shortlisted for the Stirling Prize. Three of the practices have each been shortlisted once in previous years - Marks Barfield Architects in 2000 for the London Eye, GROUPWORK for Barrett's Grove housing scheme in Stoke Newington and Grafton Architects in 2013 for the medical school at University of Limerick, Ireland. Stanton Williams won in 2012 for the Sainsbury Laboratory, Cambridge.
The RIBA Stirling Prize is sponsored by Almacantar.
The Royal Institute of British Architects (RIBA) is a global professional membership body that serves its members and society in order to deliver better buildings and places, stronger communities and a sustainable environment. Follow @RIBA on Twitter for regular updates.
Coventry UK City of Culture 2021 commenced on 15 May 2021, running for 12 months. The 365-day cultural programme will reflect Coventry as a diverse, modern city, demonstrating that culture is a force that changes lives. Coventry is the UK's only city of peace and reconciliation, and known internationally as a city of welcome, a city of activists and pioneers, innovation, and invention, and now a City of Culture. Coventry is the city where movement began, from innovation in the transport industry to a history of welcome, it has moved people for centuries. For a whole year, Coventry will celebrate with events, music, dance, theatre, and large-scale spectacle. As well as the expected celebrations, it will throw a spotlight onto city voices with a range of hyper local experiences and ways to get involved across every neighbourhood. And it's not just Coventry. This epic celebration will also witness the entire region getting involved and benefitting from the opportunities that being City of Culture brings. Our year of culture will be co-created with the people of Coventry and bring about long-term social, economic, and cultural benefits. coventry2021.co.uk