14 October 2021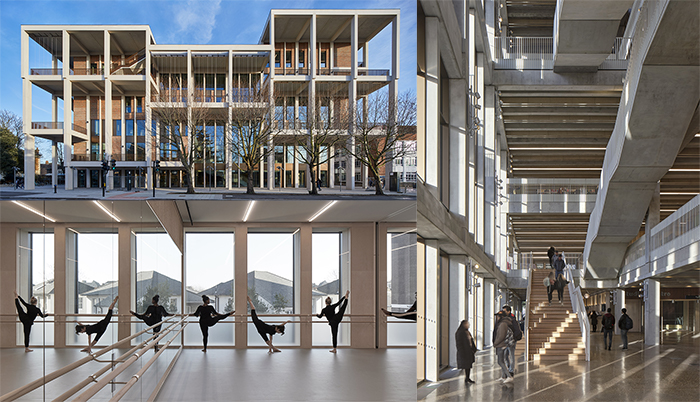 The Royal Institute of British Architects (RIBA) has named Kingston University London – Town House designed by Grafton Architects, as the winner of the 25th RIBA Stirling Prize.
A progressive new model for the design of higher education buildings, the dynamic student 'Town House' expertly captures the spirit of learning and the value of community cohesion.
Grafton Architects have designed a purposefully democratic and open space, as its name suggests: Town – referring to the building's civic dimension, and House – reflecting a sense of home and belonging. Many of the students at Kingston are the first in their family to attend university and this building sends an important message to them, their educators and the local community, that this is a place where everyone is welcome and valued.
Set back from the street, the project extends the public realm, generously blurring its boundary with the pavement and inviting everyone in – students, locals and visitors alike. There are no barriers. A 200m long six-storey, deep colonnade offers shadow and shelter, with terraces and gardens above creating shelves of connected public space. The facades are permeable: open and transparent at the lower levels – revealing views to the passer-by of the engaging activities taking place inside – becoming more shaded at upper levels.
Equally open and spacious inside, users and visitors are greeted by the public forum, leading to an amphitheatre. From the ground floor, eyes are drawn up through the building – through voids and staircases – to complementing social and study spaces. Exemplary acoustic design enables the bustling public forum, quiet library, archive, dance studio and theatre to co-exist, and enrich the experience of the users.
Generous volumes allow people, light and air to flow naturally through the building, which also uses a thermally-activated concrete frame to reduce operational energy use. This highly-adaptable building will stand the test of time and provide an inspiring environment for students, residents and visitors for years to come.
Speaking on behalf of the 2021 RIBA Stirling Prize jury, Lord Norman Foster, said:
"Kingston University Town House is a theatre for life – a warehouse of ideas. It seamlessly brings together student and town communities, creating a progressive new model for higher education, well deserving of international acclaim and attention.
In this highly original work of architecture, quiet reading, loud performance, research and learning, can delightfully co-exist. That is no mean feat. Education must be our future – and this must be the future of education."
Grafton Architects, said:
"We imagined a place where students would feel at home. This building is about people, interaction, light, possibilities. It is about connecting to the community, the passer-by, an invitation to cross the threshold; a three-dimensional framework with layers of silence and layers of sound. Space, volume and light are the organisers. The building edges are not boundaries but active gathering spaces, terraces, galleries. Being outside under the big sky is always just a few steps away. Kingston University gave us this educational vision which we translated into a spatial open matrix. We are absolutely delighted the Kingston Town House has won the prestigious Stirling Prize."
Kingston University Vice-Chancellor, Professor Steven Spier, said:
"We had an incredibly ambitious brief – to create a space for students that would allow them to benefit from knowing each other, a library to inspire learning, dance studios and a softening of the threshold between gown and town. Grafton Architects delivered just such an innovative programme. The result is a breathtaking new building for Kingston University.
The Stirling Prize confirms Town House as a world-class building and, therefore, a fitting foil to the aspirations of our students, many of whom are the first in their families to go to university. It is invigorating to witness the creativity, collaboration and shared learning this open, inviting space fosters. Our students have embraced Town House, relishing the opportunity to find their place within it and make its many spaces their own.
Working with an architecture practice of Grafton Architects substantial expertise and international stature on what was their first building in the United Kingdom has enabled us to attain our bold vision for Town House – an achievement of which our students, staff and the wider community are truly proud."
Kingston University Director of Estates and Sustainability, Sean Woulfe, said:
"Commencing the process of finding an exceptional architect by using a RIBA design competition demonstrates the value Kingston University places on excellent design. It is in the institution's DNA. We wanted Town House to be unique and, in Grafton Architects, we found a practice that understood our ambition. They have led the delivery of a Stirling Prize-winning building that seamlessly incorporates such disparate uses as a library, dance studios and studio theatre. Town House has transformed the image of the University in the borough, becoming a catalyst for changing the way we do things.
Designing a statement building that manages to properly acknowledge its context without pastiche was very important to us. Grafton Architects' selection of reconstituted stone for Town House's colonnade acknowledges the grade II listed Surrey County Hall building opposite, without compromising the contemporary expression of this new building.
The University's sustainability commitments have been another key consideration. The colonnade provides solar shading, cooling the building and reducing energy consumption, with other features including a photovoltaic array, a large sustainable urban draining system, two roof gardens and landscaping designed to support increased biodiversity.
The building was brought to life by Willmott Dixon Construction, with its design features enhanced by excellent construction quality, particularly the fairfaced blockwork, the ground floor polished concrete slab, together with the oak flooring and stair-treads and plywood panelling, which provide visual warmth. The contractor delivered on Grafton Architects vision, understanding the importance of ensuring the quality of the finish across all aspects of the building met the highest expectations."
Kingston University London – Town House was chosen by the jury from the following outstanding shortlisted projects:
The jury for the 2021 RIBA Stirling Prize was: Lord Norman Foster (Chair), Simon Allford (RIBA President), architect Annalie Riches (2019 RIBA Stirling Prize winner) and artist Dame Phyllida Barlow. The jury was advised by architect Mina Hasman (Sustainability Expert).
Grafton Architects won the 2013 RIBA Competition to design the Town House. It is the Dublin-based practice's first built project in the UK. Grafton Architects was the recipient of the Royal Gold Medal for architecture in 2020.
#StirlingPrize
ENDS
Notes to editors:
Contact: Isabel.Campbell@riba.org 07481 608780
The RIBA Stirling Prize, first established in 1996, is the UK's most prestigious architecture award. Given to the architect of the building thought to be the most significant of the year for the evolution of architecture and the built environment, the RIBA Stirling Prize is judged on a range of criteria including design vision, innovation and originality, capacity to stimulate engage and delight occupants and visitors, accessibility and sustainability, how fit the building is for its purpose and the level of client satisfaction.
winners of the RIBA Stirling Prize include: (2019) Goldsmith Street by Mikhail Riches with Cathy Hawley; (2018); Bloomberg by Foster + Partners; (2017) Hastings Pier by dRMM; (2016) Newport Street Gallery, Vauxhall, London by Caruso St John Architects; (2015) Burntwood School, Wandsworth, London by Allford Hall Monaghan Morris (AHMM); (2014) Liverpool Everyman Theatre by Haworth Tompkins (2013); Astley Castle by Witherford Watson Mann (2012); and Sainsbury Laboratory by Stanton Williams (2011).
RIBA Stirling Prize is sponsored by Almacantar, a property investment and development company, specialising in large-scale, complex investments in Central London, with the potential to create long-term value through development, repositioning or active asset management. Since launching in 2010, Almacantar has acquired a number of prime assets with untapped potential in the heart of London, with live projects including: Centre Point, Marble Arch Place and One and Two South Bank Place.
The RIBA Stirling Prize ceremony is supported by Champagne Taittinger.
The Royal Institute of British Architects (RIBA) is a global professional membership body that serves its members and society in order to deliver better buildings and places, stronger communities and a sustainable environment. Follow us on Twitter for regular RIBA updates.