02 December 2021
BIM (Building Information Modelling) can bring many benefits to practices large and small, including increased efficiency, flexibility and quality assurance. Small practices looking to punch above their weight should be looking at BIM as the future, argues Jonathan Holt, Director at Holt Architecture.
Speaking at the RIBA's recent conference Guerrilla Tactics 2021: Stop, Collaborate and Listen, Holt explained that once you have invested time learning the processes, BIM can pay off in economies of scale: delivering high quality outputs at much greater speed than a small team could otherwise deliver.
Speed, efficiency and winning work
Pitching for work is one area in which BIM can be of significant help. An individual team member at his practice can now deliver a highly detailed, striking looking BIM model in just a couple of days for a presentation. This, Holt concedes, would have needed more team members and much more time without the use of Revit and the BIM libraries that his practice has developed.
"From an initial model, we can produce numerous design options and get immediate feedback from the client," Holt enthuses.
"We can rapidly generate visualisations, area schedules and approximate quantities, and even start testing daylight and solar gain. Information-rich BIM models can make a huge difference to pitches."
Polina Pencheva, Associate at Morris+Company, agrees that BIM can be valuable in winning work.
"We increasingly find that it is expected," she states.
"Our tagline is 'BIM is business as usual'. It has helped us win work, ever since our first three BIM projects."
Pencheva spoke alongside Holt at Guerrilla Tactics, explaining ways practices can prepare for introducing BIM into their projects.
"BIM's chief benefits are the efficiencies and workflows it provides. If you use data correctly you can rapidly create visualisations and schedules. If a client requires changes at Stage 3, really late before a deadline, you can be much more agile in providing them."
Point cloud surveys
Holt's practice mostly designs retrofits in central city locations, often in conservation areas and sometimes on listed buildings. The practice has been working to collaborative Level 2 BIM from year one.
Many of the advantages BIM provides Holt's projects stem from point cloud surveys. Commissioning a point survey of the existing building, specifying the level of detail required, is where the process typically starts.
Point cloud surveys are not as expensive as many architects might suspect. The survey will produce a very large data file which will be loaded into Autodesk Recap. Once inputted, they provide a detailed model to an accuracy of one or two millimetres.
Holt will frequently commission two or three point cloud surveys at different stages. The first survey, both inside and outside, might be used to build a model for concept and detailed design.
Following internal stripping out, a second survey might be carried out with 'retro-target points' (physical reference markers placed on the building) that allow the practice to map its own model accurately onto physical space.
This second model could then be exported and sent to subcontractors and manufacturers, accurately identifying all of the touchpoints for a new internal structure for example.
A project might benefit from a third survey to check that all manufactured elements actually fit perfectly.
Holt cautions that point cloud surveys are not infallible. He recommends visiting the site and carrying out measurements to spot-check a survey's accuracy. An inaccurate survey could lead to disastrous results.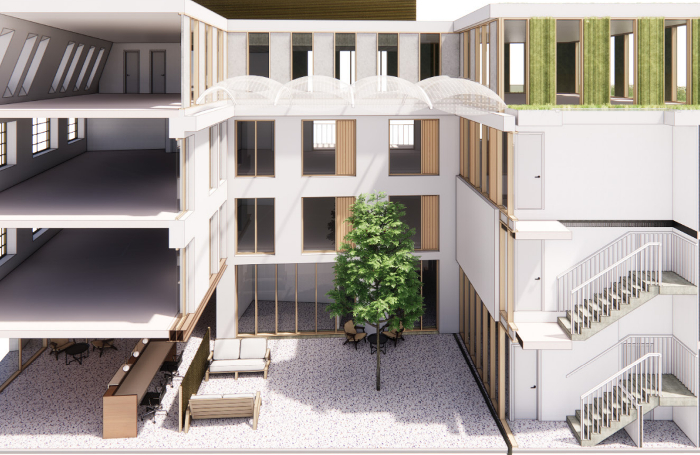 The importance of collaboration
Every project will need a BIM execution plan, Holt advises, with the other consultants and subcontractors being told exactly what level of development is expected of them and what responsibilities they have. Then modelling coordinates will be shared so that everyone's models will integrate.
Clash detection is another area in which BIM can be invaluable. Holt will draw up a schedule that ensures any clashes with other consultants' work is spotted.
"Getting other consultants to respond to clash detection can occasionally be difficult," he reveals. "The other consultants need to have it written into their appointments that they should coordinate with you right through construction.
"Structural engineers and service engineers might perhaps not be used to being told that something needs to move in a vertical plane by 2mm. The client needs to be on your side about this."
How should a practice start its BIM journey?
Both Holt and Pencheva emphasise that BIM is a process, not a suite of software. They both recommend using LinkedIn learning resources.
Pencheva stresses that if a practice has the opportunity to work with a client or larger practice that is interested or experienced in BIM workflows, they should take it; and while doing so, glean as much as they can. Enthusiasm across their own team is also very important.
"Can you appoint a steering group of users in your office, and designate them as BIM champions?" she asks.
"If you have no uptake it will be an uphill struggle. You can prepare yourself for BIM practices – thinking in terms of libraries and families of components - by adopting consistent naming conventions and filing systems."
Thanks to Jonathan Holt, Director, Holt Architecture.
Text by Neal Morris. This is a Professional Feature edited by the RIBA Practice team. Send us your feedback and ideas.
RIBA Core Curriculum topic: Design, construction and technology.
As part of the flexible RIBA CPD programme, professional features count as microlearning. See further information on the updated RIBA CPD core curriculum and on fulfilling your CPD requirements as a RIBA Chartered Member.