Only by understanding its real cost rates can practices put together a sensible fee bid, urges Michael Holmes, Associate Director at Whitemoor Davis and former Finance Director at Grimshaw
Holmes has been instrumental in developing the RIBA's Fee Calculator, which has now launched in a 'beta' form and is being trialled by Chartered Practices that have registered an interest.
The Fee Calculator allows practices to input baseline data including salaries, overheads and, crucially, properly calculated staff cost rates. Combining this data with a project profile then allows the Fee Calculator to generate fee calculations.
These are aligned to stages of the RIBA Plan of Work plus the mark-up or profit margin a practice chooses to apply. Once a fee calculation has been approved by a client, data can be exported directly into RIBA Contracts Digital.
Cost recovery
Before you can consider profit, you have to understand cost recovery, Holmes insists. There are fundamental basic principles to follow here:
total costs of projects should add up to the total costs of running the practice
if all costs are recovered and accounted for, then all profits flowing from projects will add up and automatically equate to the profits of the business
Project costs should be worked out using cost rates on timesheets. You may not like timesheets, Holmes sympathises, but they are essential if you want to know that cost rates are working properly.
Overheads
The base data that practices must enter into the fee calculator are staff/salaries, hours worked, and overheads. All functional practices understand overheads, Holmes believes. These are all of the costs that are independent from project costs, such as: rent, PI insurance or IT systems.
For the purposes of the RIBA Fee Calculator, all salaries are left out of overheads, including those of non-fee-earning staff. Holmes stresses that overheads must be constantly updated and kept up to date, and there should be an estimated forecast for the following year.
Costs per employee hour
These costs can be arrived at after all salaries and overheads have been inputted into the Fee Calculator, which will then calculate the true cost rate for any individual person booking time on a project.
Crucially, this cost that has to be recovered by the business comprises: salary plus that person's share of practice overheads.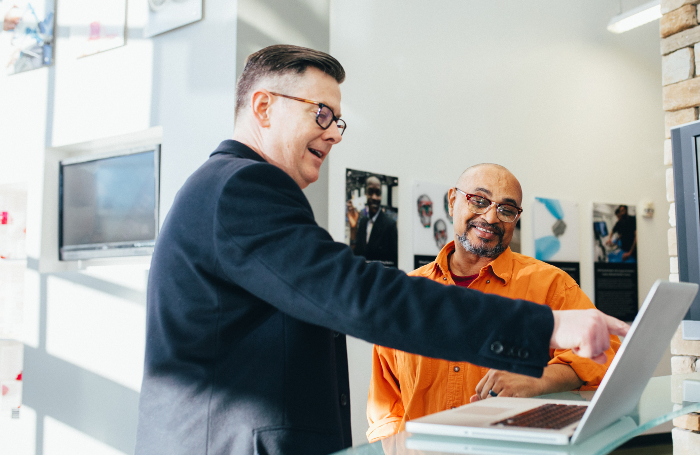 Utilisation percentage
Next comes what Holmes terms "utilisation percentage". This figure is another step towards ascertaining true cost rates. It is an estimation of how much of their time a person spends working on projects.
When holidays, sickness, training/CPD, and non-fee-earning activities such as marketing or business development are taken into account, it will become clear that nobody spends 100% of their time working on projects. A typical utilisation percentage, says Holmes, might be 80%. Non-fee-earning staff will, by default, have a utilisation percentage of zero.
The principle at work here is that only the utilisation percentage will be recovered from projects, so any remainder must be included with overhead costs. The Fee Calculator will do this automatically. For calculations to work, staff must input all of of their time into timesheets, not just time spent working directly on projects.
Holmes says in his experience, the single largest overhead cost for professional services firms will be the percentage of fee-earner time that is not spent working on projects. Clearly, it is important to be as accurate as possible here.
The actual cost of doing work
This completes the base data required by the Fee Calculator. The major advantage the practice now has is the ability to work out the actual cost of doing work. Fees can be generated from a resource profile for the project, combined with cost rates per individual and the addition of any project-specific costs such as planning fees, subcontractors and site visits.
This now leaves the practice with the opportunity to add considered percentages for risk contingency, inflation for anything but short-term projects that will not cross any annual cost-increase datelines, and profit.
Holmes adds that small practitioners who are paid through dividend payments can still use the Fee Calculator by inputting a salary equivalence figure.
Negotiating with clients is a matter for architects, not calculators. But Holmes believes the RIBA Fee Calculator does a good job of pre-arming negotiators with a knowledge of their actual costs. This will also allow practices to work out, with some accuracy, when to walk away from a project, what their break-even figure would be and when a project will be a profitable earner.
The RIBA Fee Calculator will be available to RIBA Chartered Practices. Practices can register their interest now. An RIBA webinar introducing the Fee Calculator offers members a grounding in the principles of resource costing as the basis for fee proposals.
Whitemoor Davis is a partner of RIBA Business and can provide services such as accounts and payroll for your practice. Find out more about the accountancy services RIBA Business provides.
Michael Holmes will be delivering a presentation on 'Calculating and Managing fees at this year's online RIBA conference Guerrilla Tactics 2021: Stop, Collaborate and Listen, which takes place from 9 to 11 November. Tickets are available now.
Thanks to Michael Holmes, Associate Director, Whitemoor Davis Ltd.
Text by Neal Morris. This is a Professional Feature edited by the RIBA Practice team. Send us your feedback and ideas
RIBA Core Curriculum: Business, clients and services.
As part of the flexible RIBA CPD programme, professional features count as microlearning. See further information on the updated RIBA CPD core curriculum and on fulfilling your CPD requirements as an RIBA Chartered Member.
First published Thursday 1 July 2021