24 November 2022
What was RIBA Radio?
First broadcast in November 2021, RIBA Radio was a lively mixture of music, interviews, discussions, and debate. Hosted by our then Director of Inclusion & Diversity, Marsha Ramroop, the series featured over 90 special guests from across the worlds of architecture, design, arts, culture, and sport, as well as key leaders from the worlds of equity, diversity, and inclusion (EDI).
The conversations focused on promoting diversity and inclusion within the architecture profession, underpinned by the key themes of CQ (Cultural Intelligence).
You can listen back to each of the 29 episodes below. They are also available on Spotify, Apple Podcasts, and Google Podcasts.
What's happened since? 
We have continued to collaborate and work with many of the special guests who joined us on RIBA Radio. From Muyiwa Oki becoming RIBA's President-Elect, Hamza Shaikh hosting our first Stirling Prize livestream show, to Phineas Harper being awarded a RIBA Honorary Fellowship, and Sumita Singha becoming an RIBA Board member. Having their and many others' ongoing input to drive change in both the organisation and the sector has been fantastic. 
Off the back of conversations and ideas generated during RIBA Radio, we have also worked with members and partner organisations on a range of activities and initiatives aiming to make the profession more equitable, diverse, and inclusive. See some examples of this work below. 
Improving work/life balance 
Can a four-day week work for architectural practices? 
Four-day weeks are a hot topic in the workplace and are increasingly piloted by businesses in all sectors. Sam Goss, Founding Director of Bristol-based Barefoot architects explains why the practice made the jump, how they make it work and what the benefits are. 
Design your life: An architect's guide to achieving a work/life balance 
Bursting with tips, ideas and how-tos on all aspects of designing a working life that suits you and your business, this book explains in clear and accessible language how to avoid the common pitfalls of long hours and low pay. 
Improving gender equality 
Gender and ethnicity pay gap data 
We published our annual gender pay gap data, and for the first time, our ethnicity pay gap data. Doing so has enabled us to identify and work to address disparities within our organisation.  
Women's History Month activities 
We shared actions we've taken in a number of areas, including supporting people in the profession experiencing menopause, caregiving and acknowledging the burden of unpaid women's work, and slowing and reducing the off-ramping of women mid-study and mid-career. We also supported the International Women's Day social media 'Break the Bias' campaign. 
Radical Rooms: Power of the plan 
At our London HQ, we held a series of events and talks, centering around our exhibition, Radical Rooms: Power of the plan. This exhibition explored the power of the domestic plan and re-examined the role of women in architecture by showcasing three distinct homes designed by women with elements brought to life by visual artist Di Mainstone. 
She is an Architect exhibition 
RIBA China Chapter hosted an exhibition in Shanghai, celebrating women in architecture as part of the chapter's Women in Architecture Digital Nexus programme. 
Breaking down socio-economic barriers 
RIBA Awarded record amount of financial support  
This year, RIBA awarded a record amount of financial support to architecture students as a means of reducing the financial burden of studying architecture. In the academic year 2021-22, a total of £294,750 was awarded to 107 Part 1 and Part 2 students across seven RIBA funding schemes; this unprecedented financial support benefitting students from across the UK was made possible by the generosity of donors to RIBA. 
LGBTQIA+ spaces 
Queer Spaces: An Atlas of LGBTQIA+ Places and Stories 
In May, we published a book on queer spaces across the globe. Written by Adam Nathaniel Furman and Joshua Mardell – the book features 90 queer spaces including an independent bookshop in Glasgow, an ice cream parlour in Cuba, and a cathedral in ruins in Nicaragua, occupied by the underground LGBTQIA+ community.  
We celebrated Pride Month - highlighting and celebrating the work of LGBTQ+ communities and sharing allyship guidance and resources. For the first time since 2019, alongside Architecture LGBT+, we hosted a Pride breakfast and walked in the London Pride parade.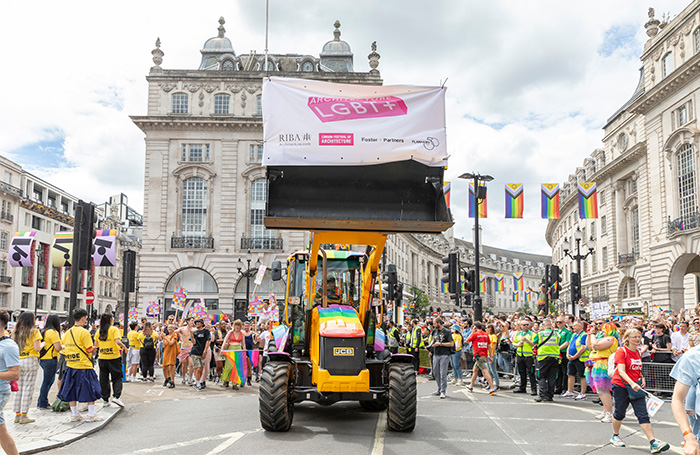 Inclusive and accessible design
Architect Tarek Merlin talks about inclusive design – looking at how architects can embrace creating spaces that accommodate different users and uses.
In this online seminar, which was part of our programme for Neurodiversity Celebration Week, leading access consultants and architects Jane Simpson and Helen Kane provided an accessible guide for architects to neurodiversity and design.
The Disordinary Architecture Project
To mark International Day of Persons with Disabilities, RIBA member, Zoe Partington, Co-Director of The Disordinary Architecture Project and member of the RIBA North West EDI Group shared the group's mission and work to date.
Decolonising architecture
Unpacking Imperialism – The British Empire in RIBA's building and collections
In May, the RIBA Collections and RIBA Learning teams explored, through a series of articles and a short film, how the history of RIBA is intertwined with the British Empire – and how this is manifested in our headquarters at 66 Portland Place in London, through both the architecture and historic materials held in the RIBA Collections it houses.
Celebrating and supporting Black architects
This October, we celebrated Black History Month - sharing previously untold stories from our RIBA Collections, as well as looking to the future, with a note from RIBA's President-Elect, Muyiwa Oki.
Extending the reach of EDI
RIBA is working towards improving our EDI networks and public programming in the regions - with the Local Initiative Fund forming a core part of this – enabling UK branches and international chapters to support local activities and events. Examples include a recent JEDI Talk in the North East where Grace Choi was joined by guest speakers, including RIBA President-Elect Muyiwa Oki to explore the topic of tokenism.
In February, the North West EDI group hosted a blog takeover by [Moment]um Collective, a student group who are calling for a more inclusive and diverse profession. RIBA South West are currently seeking architects with an interest in helping to develop EDI programming in the region that will improve workplace practices.
What's next?
A year on, RIBA Radio has facilitated the creation, development, and recognition of EDI work both by RIBA and its network of diverse members and colleagues in architecture and beyond.
This summer RIBA joined five other leading membership bodies in the built environment to commit to improving equity, diversity, and inclusion in the sector by launching a joint three year action plan. Through data collection, improving EDI standards, and a better understanding of the transition from education to employment, RIBA and its fellow signatories will tackle the systemic barriers that perpetuate discrimination and underrepresentation in the built environment.
Under the leadership of our new Director of Inclusion and Diversity, Robbie Turner, we can continue to build on these actions in a meaningful and productive way.
For more information about RIBA's equity, diversity, and inclusion initiatives, visit our website or contact us at inclusion@riba.org.