20 June 2022
Memo to Members – Monday 20 June
Hello.  
I hope you had a good weekend.   
First up this week – elections. This year's process for electing your new representatives is now well underway. Candidates for all positions were announced earlier today, and the first hustings event will take place tomorrow. I urge you all to engage. Find out more about the candidates, register for hustings (24 hours before) and, most importantly, make sure you vote on 28 June.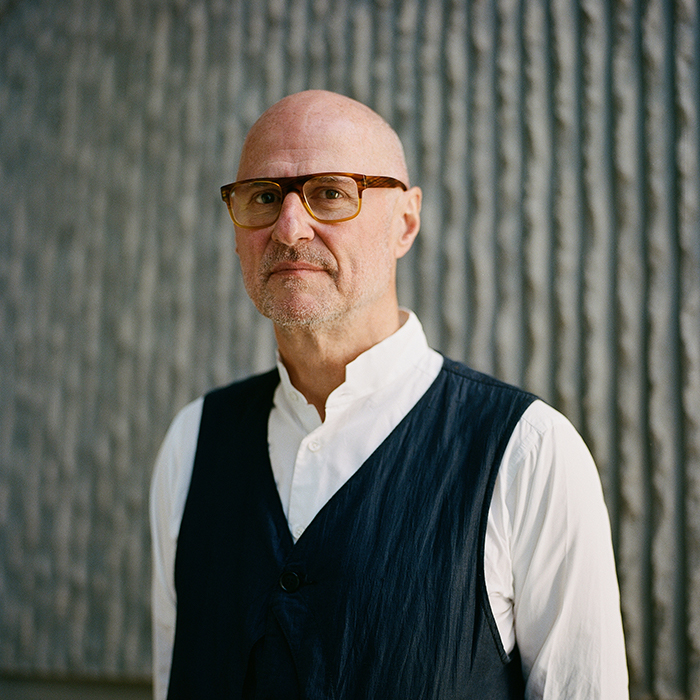 Now, I'd like to take a moment to reflect on the celebration held last week for our 2022 Royal Gold Medallist, acclaimed Indian architect Balkrishna Doshi. Following my two day whirlwind trip to India in May to present the medal to Mr Doshi in person, last week we celebrated his achievements with a virtual event linking us here at 66 Portland Place, London with Doshi's studio in Ahmedabad, India, and a global online audience of 400 viewers. The event featured tributes from architects around the world, including Frank Gehry, Álvaro Siza, and Benedetta Tagliabue; a discussion about his extraordinary life and philosophy, and an audience Q&A. It was really special – watch the recording of the Royal Gold Medal ceremony.
Looking ahead to this week. On Thursday we'll be announcing the 2022 RIBA National Award winners – an outstanding cohort of buildings that push boundaries and set new benchmarks for architecture worldwide. I hope practices find time to celebrate their achievements, I send massive congratulations to you all.    
A brief section on RIBA business. Board met last week to talk planning and strategy, and Council will be meeting on 28 June. I look forward to sharing the developed iteration of RIBA's Biennial Plan – a clear set of priorities and activities that will enable us to deliver on the overarching vision: to educate and support architects, to promote architecture, and to celebrate excellence. I anticipate this will be within the next few weeks. I also wanted to direct you to a new, dynamic page outlining key elements of the transformation programme. I am often asked what RIBA means by 'transformation' and why decisions are being made – this should help to answer some of those questions.   
Finally, a reminder to explore the RIBA Business and career resilience hub. Requested by members, this new digital hub details relevant resources around business resilience that can be applied in your practice and in your career. New content, events, and resources will be added when commissioned.  
That's all for now. As we enter the summer months and summer holidays begin, we'll be making these updates fortnightly. I look forward to catching up with you next on the 4 July.  
As ever, please leave me feedback and questions. I want to ensure this weekly note is useful and relevant – and focusses on the issues that matter to you.  
Best wishes,   
Simon  
Memo to Members – Monday 13 June

Hello all.   
I wanted to start this week's memo by reflecting on tomorrow's anniversary: it's been five years since we witnessed the devastating fire at Grenfell Tower where 72 people tragically lost their lives. It was a day that none of us will forget and one that has prompted long-overdue changes to our building safety regime and the way we practice as architects – for the better. What's the fundamental lesson I take from Grenfell? We all have a responsibility to better understand the construction of our designs, and the process of realising our ideas. I'm well aware that huge expectations are being placed on construction, and architects specifically, meaning support will be critical. Over the coming months, RIBA will be providing appropriate guidance and helping ensure architects have the skills required to fulfil the Principal Designer role.   
Like many of you, I have read UCL's report on the Bartlett. The report has been widely commented on, both by the school and the wider architectural community. Every educator and education provider has a duty to support the wellbeing and safety of their students, as well as their academic development, and have effective mechanisms in place to eradicate unacceptable behaviour. Like other creative disciplines, architecture education relies upon critical appraisal of students' work, but this needs to be properly managed. We've all got to pull together to bring about a culture change. You can read my response, which also notes RIBA's current work to explore a new Education Code of Conduct for validated institutions, similar to the RIBA Code of Practice for Chartered Practices. 
This week we're also hosting a roundtable with our Corporate Members – an opportunity to engage with individual practitioners and find out what matters to them, right now. It's all part of RIBA's aim to refine its membership offer, to ensure it provides (at every level) the guidance and tools practices need – think "practice in a box". Today we see the launch of the RIBA Business and Career Resilience hub, something requested by members via our VP Membership. It details relevant resources around business resilience that can be applied in your practice and in your career and will be updated as, and when, new content is commissioned.    
I am also meeting with RIBA's Interim Director for Education, Jenny Russell, RIBA's Trustee for Education Sumita Singha, Chair of RIBA Board and former VP Education, Jack Pringle, and others this week to talk about plans for an upcoming event on rethinking future models of education. I read the findings of the ARB's survey on the topic last week with interest, as I hope many of you did too. As I stressed in my initial response, the transformation and modernisation of architectural education, including more flexible, accessible, and inclusive study routes with a focus on competence and sustainability will help us attract the best talent and support a more representative profession. Flexibility and affordability must be our shared focus. I'll be writing about this in my next RIBAJ column – landing at the beginning of July.    
A couple of reminders to end on:    
The deadline to apply for a seat on Council or to become the next RSAW or RIBA President is 5pm tomorrow. Please do consider putting yourself forward. The first hustings for RIBA President will take place at 1pm GMT on Tuesday 21 June and you'll need to register 24 hours before.   
On Wednesday at 1pm GMT, we'll be hosting our online Royal Gold Medal ceremony from London, United Kindgom and Ahmedabad, India to celebrate 2022 Royal Gold Medallist, Balkrishna Doshi. This event is free.    
The consultation on the ARB's proposed revisions to Professional Indemnity insurance requirements closes on 4 July – we'll be responding, and we urge you to do the same. While revisions are critical to enable us to move forward as an industry, we must get it right, or else we risk forcing smaller practices into closure or moving to the unregulated sector.   
Please leave me feedback and questions. I want to ensure this weekly note is useful and relevant – and focusses on the issues that matter to you.   
Best wishes, 
Simon 
Memo to Members – Tuesday 7 June

Hello.   
I hope you enjoyed the long weekend.   
Thanks for the feedback on my previous posts – please keep it coming. The aim is to share what is going on, in and around the RIBA and what I am focussing on.   
Firstly this week, I want to touch on plans for the RIBA Collections. As many of you know, this world class collection of over four million books, journals, photographs, drawings, archives, models, and other objects is currently stored in several locations: 66 Portland Place, 76 Portland Place, the Piper Centre, Victoria & Albert Museum, and in a commercial store in Upper Heyford. Not only does this mean our material is somewhat inconveniently dispersed, but current storage facilities are fast becoming too small to house and showcase future donations.    
Reuniting the collections in a long term home and improving how they are accessed and displayed remains central to the long term House of Architecture vision. From school groups to researchers – our members and the public from across the globe must be able to benefit and seek enjoyment from the RIBA's growing asset both physically and digitally.    
This week's 'news,' so to speak, is therefore about the RIBA's and V&A's mutually agreed decision to end our V&A+RIBA Architecture partnership. The RIBA will seek a new facility where access and presentation of the collections can be improved. I want to take this moment to personally thank the V&A – RIBA's partners for over 20 years – for their collective passion and drive to support architecture. Both institutions have so much to offer and it's our shared ambition to continue to collaborate in new ways in the future.    
Now, refocusing on this week's agenda.   
Yesterday, I attended a roundtable with Minister Lee Rowley at the Department for Business, Energy and Industrial Strategy (BEIS). We spoke about hindrances to productivity including how businesses often think in the short rather than long term about investment or innovation. If we have less investment, it's not surprising we have lower rates of productivity. One question became clear: how can we incentivise businesses to improve productivity? The solutions? Suggestions ranged from setting up a productivity commission on statutory footing, to promoting the sharing of best practice and knowledge among SMEs, to providing government-backed business advice. My own preference is for a Business Improvement Cluster – a different take on the successful BIDs (Business Improvement Districts) There is clearly more work to do in this area and we will continue to work with government to drive these ideas forward – watch this space.  
I'm also really looking forward to hosting the latest Building Stories: The Awards Talks event tonight, where I'll be speaking with the architects behind two of the 2021 Stirling shortlisted projects, Windermere Jetty Museum in the Lake District and Key Worker Housing in Eddington, Cambridge. This particular session will be held in-person from 6pm at 66 Portland Place – do join us if you can.   
Looking ahead to next week, Tuesday marks the fifth anniversary of the Grenfell Tower tragedy – a particularly prominent anniversary given where we are with changes to the building safety system. Further changes to the Building Regulations announced by the DLUHC last week include mandatory Evacuation Alert Systems in new residential buildings above 18m and new statutory guidance to restrict the combustibility of materials used in and on the external walls of those between 11 to 18m in height. While these changes must be broadly welcomed, they still don't represent the comprehensive review of Approved Document B for which RIBA's been long calling for. As we approach another anniversary of the tragedy, we continue to call for clarity: we must end the broad range of interpretations to meeting fire safety regulations.  
A couple of reminders to end with. On Wednesday next week, I will be hosting the 2022 Royal Gold Medal online celebration, live from Ahmedabad, India and London. We'll be celebrating renowned architect Balkrishna Doshi, through awarding him the 2022 Royal Gold Medal and speaking directly with him about his lifetime achievements and his philosophy on architecture. The event is free to attend and open to all, so please do join us.  
RIBA is also celebrating LGBTQ+ Pride throughout June – highlighting the work of LGBTQ+ communities, sharing allyship guidance and resources and spotlighting Pride events.   
Finally, don't forget to submit your application for Council seats and/or Presidency by 5pm next Tuesday, 14 June. RIBA needs you.    
Very best 
Simon  
Memo to Members – Monday 30 May
Good afternoon – hope you had a great weekend. 
This is the second in a new series of short updates – from my desktop to yours. I note as you read this, I am on a half term break with my family. So, I'll share what I have been focusing on recently, and highlights from the RIBA's agenda right now. 
Last week I joined this year's Regional Award winners at a special event to celebrate their achievements and announce each region's Building of the Year. Winning a RIBA Award is a major accomplishment – it has definitely been one of my own career highlights – and I was seriously impressed by the talent on show in this year's selection. Visited by expert juries when the buildings are in use, our awards programme sets the standard for the sector – my congratulations to everyone involved. The winning projects are now being considered for the RIBA National Awards - to be announced next month.  
Last week I also responded to the Environmental Audit Committee's latest report - Building to net zero: costing carbon in construction. The RIBA participated in the committee's call for evidence, and we were pleased to see that our key recommendations on embodied carbon have been adopted – a crucial area where the government's policies on sustainability in the built environment have, to date fallen short. We will continue to work with government and the wider construction industry, to I hope, implement and deliver these recommendations.  
I've also been continuing to meet with members from around the globe. Last week I met with members from Australia, New Zealand, and the USA. These discussions offer brilliant insights into how RIBA can best support and promote the work of members wherever they work or live. And lots of suggestions and ideas are emerging. 
I also met again with Past-President Marco Goldschmied. Marco is always super generous on many fronts. As many of you will know he has most recently done a lot of hard work and smart thinking on PII. Indeed he introduced me to the key advisors and thinkers who are helping us construct a new approach to the PII challenge.  
Up next: RIBA Elections. The nomination window for potential candidates to stand for election opens tomorrow. As someone who stood on the sidelines before getting stuck in, I highly recommend putting yourself forward for a seat on RIBA Council or to become the next RSAW President or RIBA President. Key to the institute's success is ensuring that people with a range of backgrounds, experiences, and skillsets are contributing and getting involved. Whether you stand or not, please do vote when the time comes (reminders will be sent). RIBA is a democratic institute – and by taking part in the elections, you can help shape the organisation you want to see. 
As I mentioned in my last update, the institute's transformation continues at pace - not least in terms of making best use of our property assets. This is all part of work to reduce our annual deficit and make sure we are investing our resources where they are of greatest benefit to members. This week we have been progressing with our plans to sell 76 Portland Place, and reviewing the storage of our ever growing world class architectural collections and archives. 
In a major development for our HQ at 66 Portland Place, we officially appointed Benedetti Architects last week to lead the project to modernise and transform our building into a thriving and accessible House of Architecture. I'm asked why we are investing in this building, when we are also facing financial challenges. 66 Portland Place is our long term home and, under the terms of the lease, an asset we cannot sell. To be frank, it's underperforming – decaying, leaky, and inaccessible – and urgently needs some work to bring it up to scratch. As a membership body that exists to promote excellence in architecture for the benefit of the profession and the public, our house needs to be in order. The next step is to build on our brief (to create an exemplary low carbon, inclusive space for debate and inspiration) taking on board all the feedback received so far and engaging smaller practices to assist with specific aspects. The vision for the House of Architecture spans beyond the London building. While 66 Portland Place will often play host, we will also have a developing programme of engaging, audience-focussed exhibitions and events, delivered both physically and digitally, for all those with an interest in our work.   
That brings me on to John Harris, a former RIBA Curator who sadly passed away earlier this month. You may have seen his obituary in the national media. It was under John's expert guardianship that our architectural collection – our greatest asset – grew into one of the world's finest. My thoughts are with his family and all those who knew and worked with him. I believe he would have been a supporter of RIBA's House of Architecture – getting even more people to engage with our archives.   
Finally, I wish you all a restful bank holiday weekend when it comes. If you are celebrating the Queen's Platinum Jubilee, keep an eye on RIBA's Twitter and Instagram, where our RIBA Collections team will be sharing some beautiful original illustrations of the street decorations designed for the Queen's coronation in 1952 by British architect Sir Hugh Casson.   
Please leave me your questions – I want to make sure these updates focus on the things that matter to you. 
Best wishes, 
Simon 
Memo to Members – Monday 23 May
Hello. I thought a short and regular update about what I've been doing and what's happening in and around RIBA might be a good thing to share. So, by no means exhaustive and in no particular order, here's my first instalment.
PII is top of the list for many architects and it's a key priority for me too. RIBA has a group working hard on this, led by Jennifer Dixon, architect, Council, and Board member. The group is developing a radical idea on risk management, linking competence to dispute resolution mechanisms which we think could really help – I'll update more as soon as things develop. On the same topic, last week the ARB announced proposed changes to insurance requirements for architects (read my initial response). We know that not all practices can secure limited fire safety cover at present so we will be responding to the consultation by 4 July and I urge you to respond directly too. If you want to join a conversation with other members about this, log in to the Member Hub. If you haven't signed up to a discussion forum yet – now's a good time.
EDI, including widening access to the profession, is a central focus for RIBA. Last week I met with the Department for Levelling Up, Housing and Communities to talk of plans for the future regulation of the profession. Widening access to the profession and enhancing competence were key themes, and we expressed our strong desire to help lead architectural education reforms to allow more flexible study structures that support better access and inclusion. Apprenticeships and the disruptor courses can sit alongside the more traditional models of learning – offering people more affordable but equally relevant pathways into the profession. Next steps: we'll be promoting such change through our engagement with the ARB on its Review of Initial Education and Training. I've also heard from lots of members who are already running various outreach access courses and engaging the next generation in primary and secondary schools. Moving ahead, RIBA can help share and support these initiatives – we have a Council-led group looking at this.
I also wanted to touch on RIBA's transformation. When I stood for election as RIBA President, I was clear that the RIBA needed to be leaner, more agile, and more member focused. Well, I'm pleased to say that we are well on our way. The corporate team restructure is almost complete and we're in the process of reducing the property footprint – all to help get the annual deficit down from £8m to zero – a target that's firmly in sight. This financial challenge sits equal to the overarching strategy to harness the diverse skills and talents of engaged members and support you in what you do. I'll update you with key developments.
Coming up: we have a busy few weeks ahead.
We'll be kicking off Pride month celebrations tonight with a discussion on our recently published Queer Spaces book. Join us in person at 66 Portland Place.
Tomorrow architects, clients, consultants, and contractors will be celebrating the Regional Awards – see full coverage of the awards in RIBAJ. I'm looking forward to meeting many of you then. This is a key moment in the sun for many practices, particularly up and coming firms who have maybe never won an award before. The media love to cover these projects and clients appreciate the kudos and exposure too. Plus we get to show the public, decision makers, and potential new clients of architecture why using architects and commissioning great architecture is so very important. Hats off to everyone.
I'm currently delivering a (virtual) talk series for members around the world. Following conversations with members in the Middle East and China, I'll be speaking to members in the USA and Australasia this week. This is a real highlight of my role – connecting and learning from colleagues in our global community.
Speaking of which, I've just returned from the UIA Forum in Madrid, following a flying visit last week to India to present Balkrishna Doshi with the 2022 Royal Gold Medal. Mr. Doshi was unable to travel to London to receive the honour, so the medal (and I) went to him. We'll be formally celebrating his achievement next month – register now for the online ceremony. The Madrid event was a RIBA International-led contribution to the UIA Forum: a hybrid event titled Affordable Housing - Mismatch. It featured ten speakers from Europe, Asia, Australasia, and South America talking of designing, building, living in, and regulating housing. A reminder as Balkrishna Doshi advised that architecture begins only when life takes over – and that's a good thing to remember.
More from me next week. Please let me know if there is something you would like to hear about specifically.
Best wishes,
Simon