09 September 2021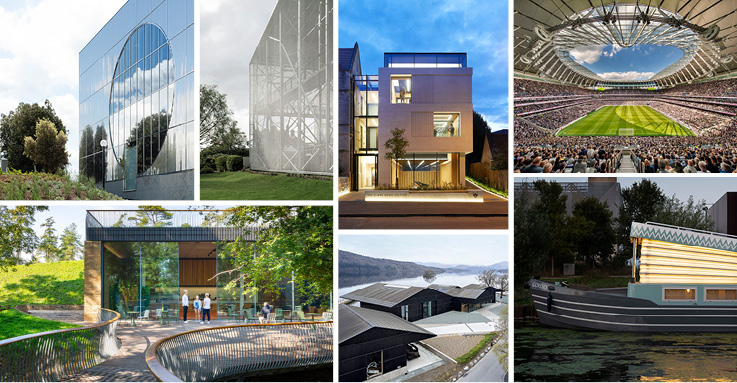 The Royal Institute of British Architects (RIBA) has today (Thursday 9 September) announced the 54 winners of the 2021 RIBA National Awards for architecture. The awards, which have been presented since 1966, recognise the UK's best new buildings and provide an insight into the UK's design and economic trends.
This year's projects showcase the extraordinary breadth and brilliance of UK architecture today. They include a church floating on an East London barge (Floating Church); Tottenham Hotspur's brand new 60,000 seat stadium (Tottenham Hotspur's Stadium); a house built within a steel water tower (The Water Tower); a council housing development for people displaced by HS2 (Caudale Housing Scheme); a small, cancer care centre that creates an oasis of hope and support (Maggie' Cardiff); and a semi-permanent structure protecting one of Scotland's architectural gems (The Hill House Box).
Key trends among this year's award winners include:
Sensitive restoration and adaptation of existing buildings
In Bath, a 45-year-old furniture factory has been re-energised for art students (Bath Schools of Art and Design); Winchester Cathedral has undergone sensitive adaptations to aid accessibility and understanding of its medieval heritage (Winchester Cathedral South Transept Exhibition Spaces); in Milton Keynes, the MK Gallery has had a major reconfiguration to transform user experience, whilst remaining true to the original masterplan; and in Canterbury, a 19th century former warehouse has been masterfully converted into a truly modern theatre space (The Malthouse, The King's School, Canterbury).
Investment in arts and culture
Aberdeen Art Gallery has undergone a major redevelopment to create new exhibition and education spaces and revamped back-of-house facilities; English National Ballet has a brand new facility at the Mulryan Centre for Dance to deliver world-class professional training; nestled in the heart of the Lake District, Windemere Jetty Museum provides a new home to tell the stories of boats and steam; and the new permanent exhibition space – The Story of Gardening for The Newt in Somerset – provides a unique, immersive experience where visitors learn about gardening's impact on culture.
State-of-the-art higher education facilities and schools
Kingston University Town House combines a series of interlocking vertical volumes to provide students with dynamic study, performance and social spaces; the Clore Music Studios at New College Oxford University intelligently squeezes bespoke performance spaces into Oxford's conservation area; Brighton College's new School of Science and Sport merges academic and athletic facilities to break down barriers between departments; and the new International College at King's School Canterbury disguises highly effective teaching and boarding spaces within a striking steel-clad structure to reflect the site's industrial heritage.
Speaking today, RIBA President Simon Allford said:
"Ranging from radical, cutting-edge new designs to clever, creative restorations that breathe new life into historic buildings, these projects illustrate the enduring importance and impact of British architecture.
There are a good number of well-designed school and university buildings that are powerful investments in the future, and I am sure they will inspire young people, their teachers and communities. I am also thrilled to see many of these make creative use of existing structures. Well-designed education facilities should be the rule rather than the exception – every child deserves an effective learning environment, and these projects provide rich inspiration.
Looking ahead, as we design the low carbon future, we must start by exploring the retention and reuse of existing buildings. And when a new building is essential, we need to make sure it will last and serve the future well – so it needs to be flexible and reusable. Long life; loose fit; low energy architecture is the present and the future. It is therefore very encouraging to see restoration and sensitive adaptation feature so prominently this year; with many buildings acknowledging their history, the needs of the present and the potential of their dynamic future.
Arts and culture enrich our lives so after 18 months of restrictions and isolation, the array of quality new museums, galleries and performance spaces is great to see and visit!
The 2021 RIBA National Award winners are an intelligent and refreshing collection of exemplary projects. I congratulate every client, architect and construction team for their talent and ambition."
The 2021 RIBA National Award winners are:
East
Cambridge Central Mosque by Marks Barfield Architects
Imperial War Museums Paper Store (Duxford) by Architype
Key Worker Housing, Eddington (Cambridge) by Stanton Williams
The Water Tower (Norfolk) by Tonkin Liu
London
95 Peckham Road (London, SE15) by Peter Barber Architects
Blackfriars Circus (London SE1) by Maccreanor Lavington
Caudale Housing Scheme (London, NW1) Mae Architects
Centre Building at LSE (London, WC2A) by Rogers Stirk Harbour & Partners
Centre for Creative Learning, Francis Holland School (London, SW1W) by BDP
English National Ballet at the Mulryan Centre for Dance (London, E14) by Glenn Howells Architects
Floating Church (London, E15) by Denizen Works
House-within-a-House (London) by alma-nac
Kingston University London - Town House by Grafton Architects
Moore Park Mews (London, SW6) by Stephen Taylor Architects
North Street (London IG11) by Peter Barber Architects
Royal Academy of Arts (London W1J) David Chipperfield Architects
Royal College of Pathologists (London, E1) by Bennetts Associates
The Ray Farringdon (London, EC1R) by Allford Hall Monaghan Morris
The Rye Apartments (London SE15) by Tikari Works
The Standard (London WC1H) by Orms
The Student Centre, UCL (London, WC1H) by Nicholas Hare Architects
Tiger Way (London, E5) by Hawkins\Brown
Tottenham Hotspur Stadium (London, N17) by Populous
Wooden Roof (London, N1) by Tsuruta Architects
Zayed Centre for Research into Rare Disease in Children (London WC1N) by Stanton Williams
North East
Lower Mountjoy Teaching and Learning Centre Durham University by FaulknerBrowns Architects
North West
Pele Tower House (Lake District) by Woollacott Gilmartin Architects
The Gables (Liverpool) by DK-Architects
The Oglesby Centre at Hallé St Peter's (Manchester) by stephenson hamilton risley STUDIO
Windermere Jetty Museum by Carmody Groarke
Scotland
Aberdeen Art Gallery by Hoskins Architects
Bayes Centre, University of Edinburgh by Bennetts Associates
sportscotland National Sports Training Centre Inverclyde (Largs, North Ayrshire) by Reiach and Hall Architects
The Egg Shed (Ardrishaig, Lochgilphead) by Oliver Chapman Architects
The Hill House Box (Helensburgh) by Carmody Groarke
South & South East
Brighton College - School of Science and Sport by Office for Metropolitan Architecture
Library and Study Centre St Johns College Oxford University by Wright & Wright Architects
MK Gallery (Milton Keynes) by 6a architects
Moor's Nook (Woking) by Coffey Architects
The Clore Music Studios New College Oxford University, John McAslan + Partners
The Dorothy Wadham Building Wadham College Oxford University, Allies and Morrison
The King's School, Canterbury International College by Walters & Cohen Architects
The Malthouse, The King's School Canterbury by Tim Ronalds Architects
The Narula House (Berkshire) by John Pardey Architects
Walmer Castle and Gardens Learning Centre (Dover) by Adam Richards Architects
Winchester Cathedral South Transept Exhibition Spaces by Nick Cox Architects with Metaphor Metaphor
South West
Bath Schools of Art and Design by Grimshaw
Redhill Barn (Devon) by TYPE Studio
The Story of Gardening Museum (Somerset) by Stonewood Design with Mark Thomas Architects and Henry Fagan Engineering
Tintagel Castle Footbridge for English Heritage (Cornwall) by Ney & Partners and William Matthews Associates
Windward House (Gloucestershire) by Alison Brooks Architects
Wales
Maggie's Cardiff by Dow Jones Architects
West Midlands
Jaguar Land Rover Advanced Product Creation Centre (Warwickshire) by Bennetts Associates
Prof Lord Bhattacharyya Building University of Warwick by Cullinan Studio
ENDS
Notes to editors:
For further press information contact Isabel.Campbell@riba.org

or +44 (0) 20 7496 8349

Images of all the winners along with jury citations can be downloaded here: https://riba.box.com/v/NationalAwards2021
The RIBA Awards have been running continuously since 1966, apart from 2020, when due to the COVID-19 pandemic they were postponed. The 2021 RIBA UK Awards (including Regional, National and the RIBA Stirling Prize) have been selected from the shortlist for the 2020 RIBA Regional, RIAS, RSUA, and RSAW Awards. No matter the shape, size, budget or location, RIBA Award winning schemes set the standard for great architecture all across the country. RIBA Awards are for buildings in the UK by RIBA Chartered Architects and RIBA International Fellows. Entries are to be submitted to the region or nation in which the building is situated. Winners are considered for the

RIBA Stirling Prize

.
The 2021 RIBA Stirling Prize shortlist will be announced on Thursday 16 September; the winner will be announced on Thursday 14 October 2021 at Coventry Cathedral, as part of the UK City of Culture 2021 celebrations.
The Royal Institute of British Architects (RIBA) is a global professional membership body that serves its members and society in order to deliver better buildings and places, stronger communities and a sustainable environment. Follow @RIBA on Twitter for regular updates.