27 June 2019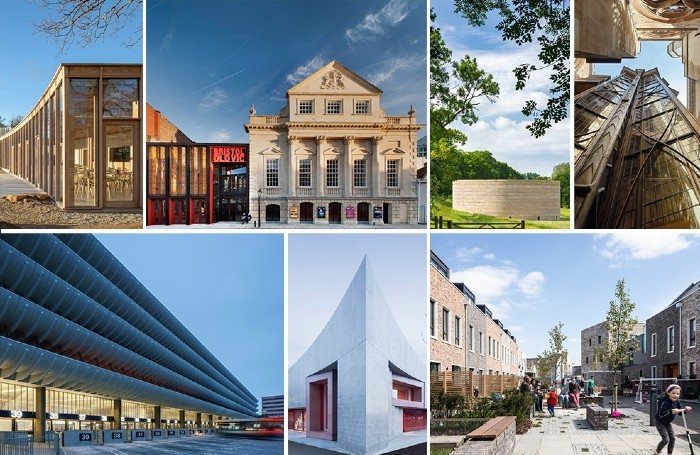 The Royal Institute of British Architects (RIBA) has today (27 June 2019) announced the 54 winners of 2019 RIBA National Awards for architecture. The awards, which have been presented since 1966, recognise the UK's best new construction projects and provide an insight into the UK's design and economic trends.
From a small rammed-stone pavilion on the site where King John signed the Magna Carta (Writ in Water) to the vast redevelopment of one of London's busiest transport terminals (London Bridge); from significant investment in cultural landmarks (Bristol Old Vic and V&A Dundee) to a new model for communal living (Marmalade Lane) – this year's award-winning buildings showcase the extraordinary breadth and brilliance of UK architecture today.
Key trends illustrated by the 54 2019 RIBA National Award winners include:
Restoration and regeneration of listed and historic buildings
The refurbishment of a listed 1960s bus station in Lancashire (Preston Bus Station); the revival of Battersea Arts Centre in London which had been left derelict after a fire in 2015; the restoration of Charles Rennie Mackintosh's Art Deco tea rooms in Glasgow (Mackintosh at the Willow); and a new tower at Westminster Abbey – the most significant addition to the building since 1745 (Westminster Abbey Triforium Project).
Ambition to create high quality cultural destinations
An unobtrusive visitors centre nestled in the Yorkshire landscape (The Weston at Yorkshire Sculpture Park); the subtle extension of a house-turned-art gallery in Cambridge (Kettles Yard); a stable block converted theatre in Leicestershire (Nevill Holt Opera); and the transformation of a 19th century fire station into a gallery and community building (South London Gallery Fire Station) are four of the 16 new additions to the UK's cultural scene.
Pockets of exemplary volume housing
Highly-sustainable terraced housing at Goldsmith Street for Norwich City Council; the reinvigoration of a listed post-war London housing block, Great Arthur House; and Cambridge's first co-housing community, a neighbourhood with shared facilities (Marmalade Lane).
Speaking today, RIBA President Ben Derbyshire said:
"Despite the political and economic challenges of recent years, our 2019 RIBA National Award winners show that UK architecture is highly adaptable, immensely talented and as community-focused as ever.
I am particularly heartened that more than one third (20 of 54) of our winners have creatively adapted existing buildings. Given the scale of the global environmental challenge, we must encourage sustainable development and investment in buildings of the highest quality – projects that will inspire and meet the needs of generations to come.
At a time when the country is crying out for innovative, high-quality affordable housing, I am pleased we have been able to recognise some exemplar schemes. I encourage all local authorities and developers to look to these projects for inspiration and rise to the challenge of building the homes people want and need.
Our 2019 RIBA National Award-winning buildings are innovators and mould-breakers – congratulations to every client, architect and construction team for their combined talent and tenacity."
The 2019 RIBA National Award winners are:
ENDS
Notes to editors:
For further press information contact Abigail Chiswell-White, Abigail.Chiswell-White@riba.org

, 020 7307 3811

Images of all the winners along with jury citations can be downloaded here: https://riba.box.com/v/NationalAwards2019
The Architects' Journal is media partner for the RIBA National Awards and professional media partner for the RIBA Stirling Prize
The RIBA Awards have been running continuously since 1966 and are judged and presented locally. No matter the shape, size, budget or location, RIBA Award winning schemes set the standard for great architecture all across the country. RIBA Awards are for buildings in the UK by RIBA Chartered Architects and RIBA International Fellows. Entries are to be submitted to the region or nation in which the building is situated. Winners are considered for the

RIBA Stirling Prize

.
The 2019 RIBA Stirling Prize shortlist will be announced on Thursday 18 July; the winner will be announced on Tuesday 8 October 2019 at the Roundhouse, London.
The Royal Institute of British Architects (RIBA) is a global professional membership body that serves its members and society in order to deliver better buildings and places, stronger communities and a sustainable environment. Follow @RIBA on Twitter for regular updates.